The Photographer and I visited Paris a few years ago. We spent most of our time walking, visiting museums, and eating, but I did a little shopping too. The most famous shopping streets are dominated by global brands that you can find in London and New York and even Washington D.C. But if you move on to narrower streets and deeper into neighborhoods, you will find smaller operations and local craftsmen. In the 4th Arrondissemont we stumbled upon Blancs Manteaux, a shop that I may have conjured up just by wishing: part showroom, part workroom.


I was sort of beside myself upon making this discovery: bolts of beautiful fabric — tweed, silk gazar, wool challis — propped up against the walls, a tantalizing peek down a staircase that led to the workroom humming with activity, one little dressing room, and one clerk, who helped adjust the clothes I tried on just so.

I wanted it all — all the clothes, the bolts, the clerk — but I limited myself to one jacket, pictured here.


This jacket is made of a heavy tweed lined with a voluptuous satin. In general, I would not use a heavy tweed for a bias cut or swing cut garment, but Blancs Manteaux made it work. The knowing French. It works, in part, because the jacket is narrow and fitted through the shoulders.
Allow me to walk you through a few details:
the jacket is double-breasted, but the space between the two columns is relatively narrow and aligned with the spread collar;
the hems of the sleeves align with the hem of the body to create a smooth crescent line;
the jacket's swing is facilitated by an inverted pleat in the back.
Sometimes I wear this jacket with a black crewneck sweater underneath, but the orange stripes create a brighter look. Grey pants would work well, too.
A side-note:
These boots
were such a good idea. The white stripe really enlivens the whole ensemble.
At the risk of seeming a little crazy, I am entrusting you with a secret:
I have two of this striped jersey.
The stripes alone were sufficient to engender a desire for a long-term relationship, but the elbow patches and contoured peplum prompted me to plan for permanence.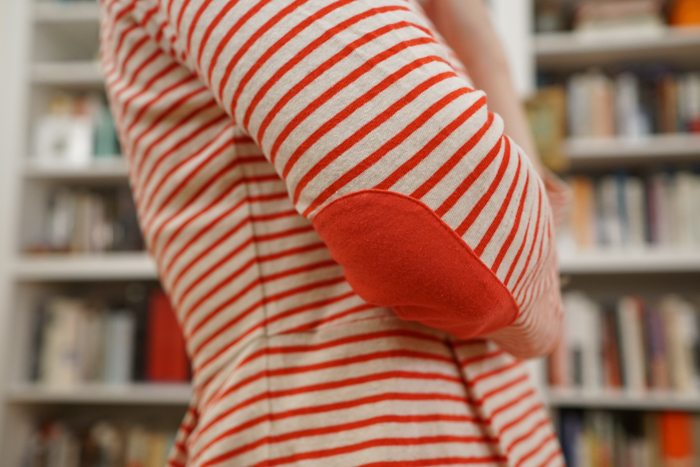 Jacket: Blancs Manteaux; Striped Jersey: Rebecca Taylor; Collared jersey (under striped jersey): Warren + White; Pants: JCrew; Bag: Tory Burch; Watch: Michele Serein 16; Boots: 8 from YOOX (boots no longer available in sizes 7 and 8, but
oxfords
are)