I had a second meeting with Fatima earlier this month and therefore have many things to show you this summer. They aren't new things exactly, but they are things you haven't seen because I bought them in 2019 (for summer 2020) or in 2020 (assuming 2021 would come eventually) and needed to adjust them (Directrice-style) before putting them on 360 degree display.*





For today, however, I am going to show you some old things.

I am also posting 12 hours early (when we all know I am more likely to post 24 hours late) to reward the optimists who check in on Sunday nights.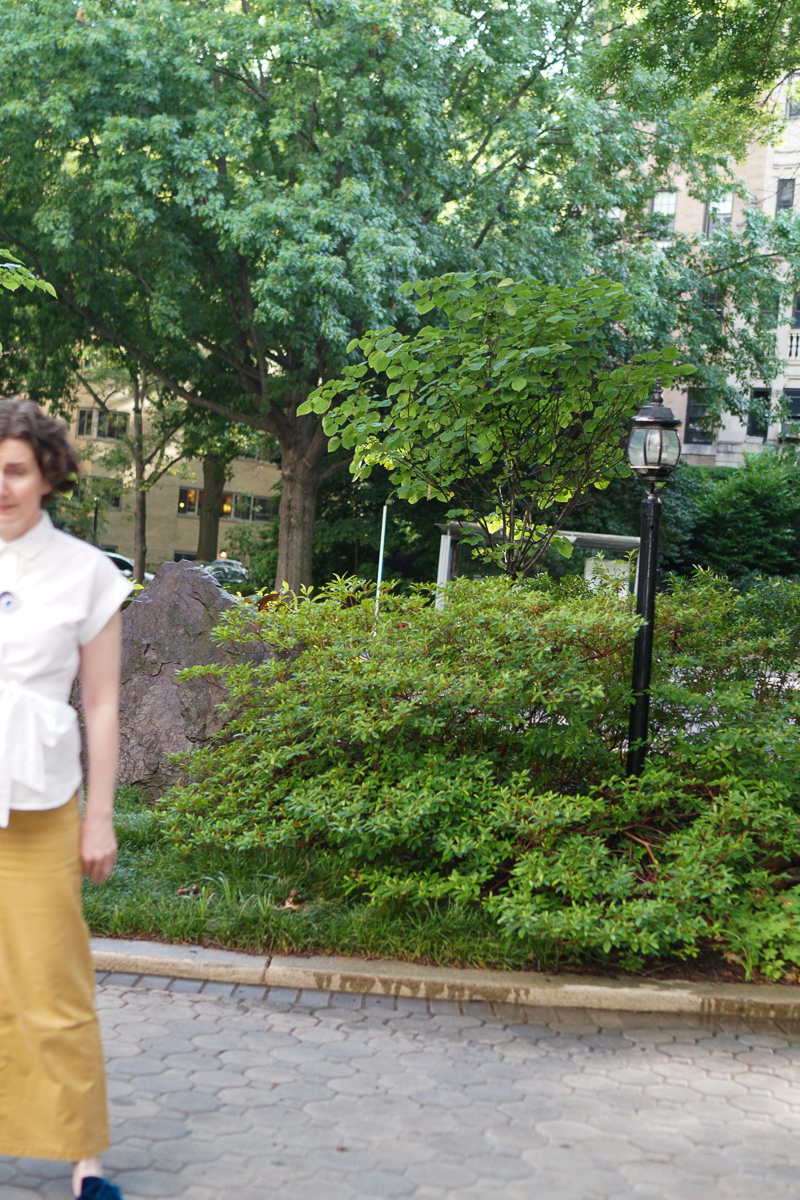 When last seen, this blouse was new and crisply ironed. Perhaps I should have ironed it today but . . . alas.
In 2019, I
summed this look up
as Ladies' Physical Education instructor, progressive boarding school, England c. 1916. I stand by that, but today Miss Norcross-Stokes seems to have stolen a pair of smoking slippers from a gentleman's study. So perhaps she is an amateur sleuth as well?+



These blue velvet mules (slides?) have become a constant companion in May/June 2021. For reasons I cannot explain, I have concluded that they are precisely the right shoes to wear, more days than not, for the last few weeks.


A touch of color adds a little something to the shirt, and perhaps causes people to overlook the wrinkled fabric.
I like monochromatic schemes — red-with-red, white-on-white, etc. — and thought this white necklace would look striking against white. The blue interiors in these rings provide some definition, which perhaps is necessary. The exterior of the rings is matte white ceramic and might have blended too successfully into the white cotton of the shirt.
This beautiful pendant is by Lynn Latta, a jewelry-maker and ceramicist raised and educated in southern California. Visit her
website
. It's all so beautiful and mesmerizing; you'll want everything. Her work is sold through a number of galleries. I bought my necklace from Ombre Gallery in Cincinnati — which you should also visit
on-line
. The gallery owner, Jenna Shaifer, represents a wonderful, diverse group of artists and makers and is delighted to answer questions, send supplemental photos and otherwise help customers explore and enjoy the works in her gallery.


I like monochromatic schemes, but I want all of the elements to be noticed!

Now take a moment to scroll back up to a full length photo. It's just a taste of blue, but the blues really PoP.

The cicadas have been out in full force, singing and flying. The singing is so loud at times that it competes with conversational voices. So, the singing I think must be considered a success from the cicadian perspective.

The flying? I'm not so sure. A cicada in flight looks like a helicopter that's lost its tail rotor. Fortunately, they don't really need to fly long or straight to fulfill their biological imperatives. They are flying into pedestrians, causing even the toughest-looking among us to cringe and swat frantically while yelping.
Change of Topic: I have been hankering for distinctive sunglasses (translation: bizarre sunglasses) and am finding The RealReal an excellent source. Where better to find weird sunglasses (note: we've downgraded from bizarre to weird) at good prices than a collection spot for other people's mistakes? Nowhere better.




Back to the outfit.

I wore this last fall — during our long, mild fall — with a denim jacket. Like so, with a different pair of mules.

The bow is peaking out from the jacket.



I am visiting my parents in New Hampshire this weekend and brought my trusty, beloved velvet mules.

Mère Directrice rates the mules "hideous" on the hideo-marvelous scale. She said, "I have to be honest with you." Quite right, quite right. She is continuing to mold my middle-aged mind while trying to prevent fashion crimes.
* Note: I've worn some of these things on Zoom, pinned and clipped like an editorial model in borrowed clothes. But that's no way to go out in public.
+ Perhaps it sounds like our heroine is a thief? I am sure she had a good reason for taking the smoking slippers.