Several weeks ago I posted some highly controversial musings on The Fatal Allure of Prints, in which I confessed a push-pull relationship with print dresses and suggested that the desire for prints might be sublimated more wisely in printed blouses.

I even suggested a few possibilities, including this one:
The lure of this printed camisole proved too powerful for me to resist.
The print is very old-fashioned, which makes it interesting as a slinky camisole. Because there is no such thing as Business Slinky, I've paired the camisole with a lightweight cotton lawn blouse. And to modernize the print, I am wearing it casually with khakis and bright flats.
I've had this white blouse for ages and wear it all the time. Some day it will simply disintegrate in the laundry and I will be bereft. I have scoped out a possible replacement, but it's horribly expensive.
On to happier thoughts! While the camisole requires coverage, it deserves to be seen — hence the filmy blouse. The camisole also has a shirt-tail hem, exaggeratedly long in the back. Perhaps the tail is too long and should be shorted two or three inches.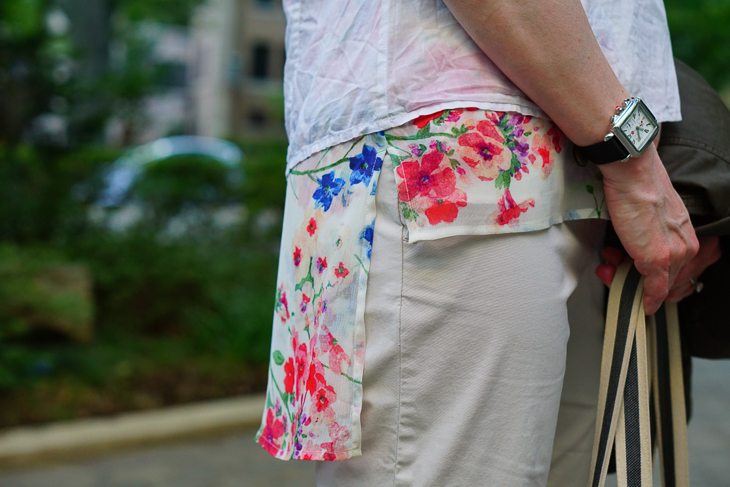 Because it's summer, I need a jacket when indoors.



And . . . scene!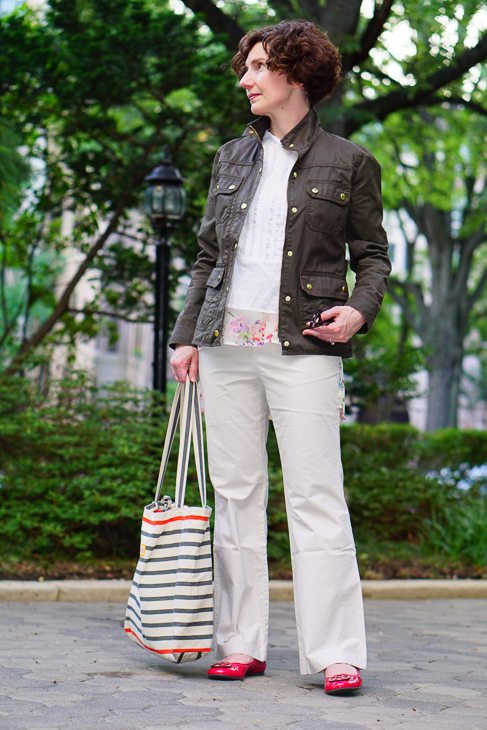 Have a fantastic weekend!
Jacket: JCrew Downtown Field Jacket; White blouse: JCrew; Floral camisole: Theory Vaneese Cami; Shoes: Tory Burch Reva flats; Bag: Les Toiles du Soleil