I promised you several weeks ago that I would lay before you the extraordinary virtues of red shoes.




Behold:
A pair of red shoes turns black separates (perfectly respectable clothes) into an outfit. (See this
earlier post
for an explanation of the taxonomy of dress.) This is the kind of outfit I put on when I am feeling very lazy.



Would this outfit work as well with shoes of another color? I can't say definitively, but my educated guess is no. There is something special about red shoes.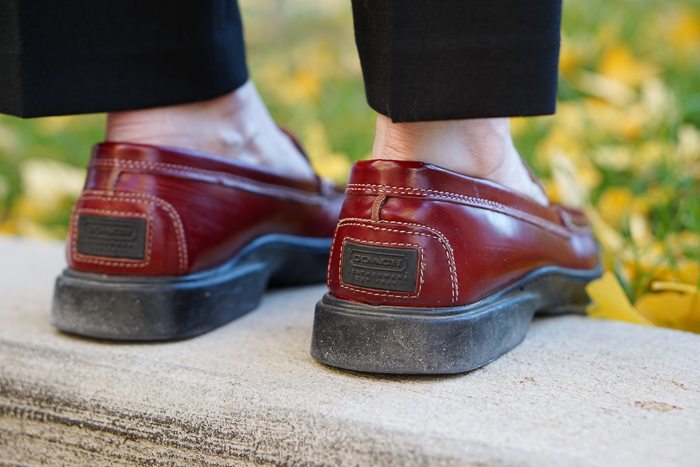 You may be thinking that with this dark ensemble and red shoes, a red bag would be right. Non. I think limiting the color to the shoes is the way to go, so I am carrying a black bag — but it's a bag with some pattern in it and therefore not flat black.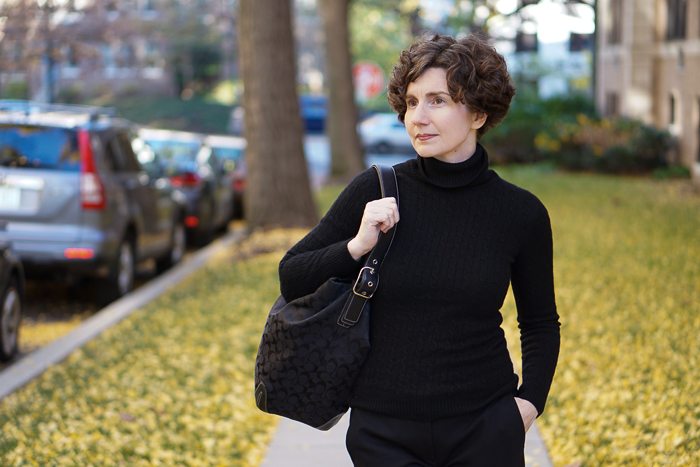 I wore this to work last winter, a couple of days before Christmas when Metro ridership is pretty thin at rush hour. I ran into a friend and he said, "You look like you're headed off to modern dance class." I think he must have been thinking of Audrey Hepburn's smokey cafe scene in Funny Face. But trust me, a black turtleneck sweater, slim black pants and red shoes (flats or loafers) is fool-proof chic.
If you haven't seen
Funny Face
, it's a treat — athough Audrey doesn't wear red shoes. She wears black penny loafers with white socks. The socks were a point of intense dispute (like,
crying
) between her and director Stanley Donen; Audrey thought they would look dreadful, but Donen understood that the contrast they created would animate her big scene. This backstory is charmingly told in
Dancing on the Ceiling
by Stephen Silverman, which is a fun read if you love classic Hollywood movies.


And if you are thinking, Directrice, I have two minutes each day to spend on entertainment so, no, I'm not going to watch that movie or read that book . . . let me offer you some red shoes.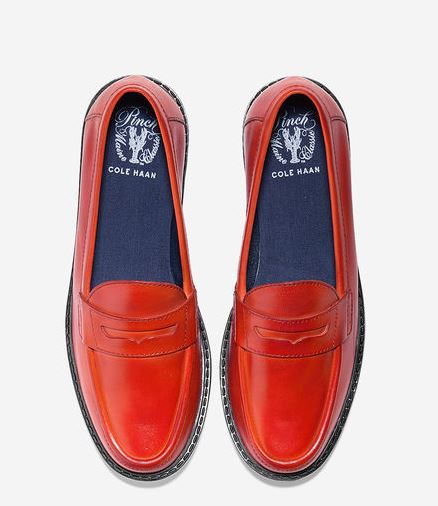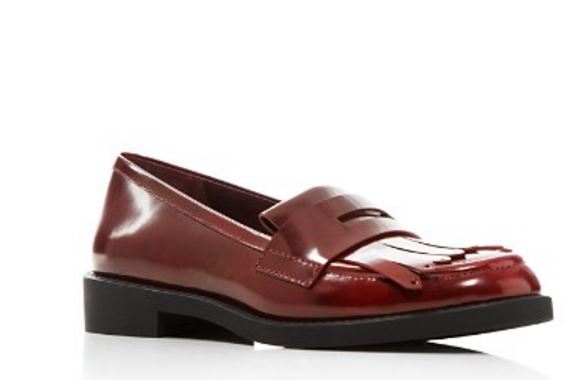 Sweater: JCrew; Pants: JCrew; Bag: Coach; Loafers: Coach