Greetings, Directorate! And a Happy New Year to all of you! I am sorry to have fallen silent for several months. I've been preoccupied. But I'm here now, returned to you with the full capacity of my brain and heart focused on the important business of getting dressed for work.

I have resolved for 2023 to have more fun getting dressed for work. When I tried to boil that down to a quantifiable goal, it came out of my mouth as "I'll wear two interesting things every day" — and unfortunately there were two witnesses to that ambitious statement. So here goes!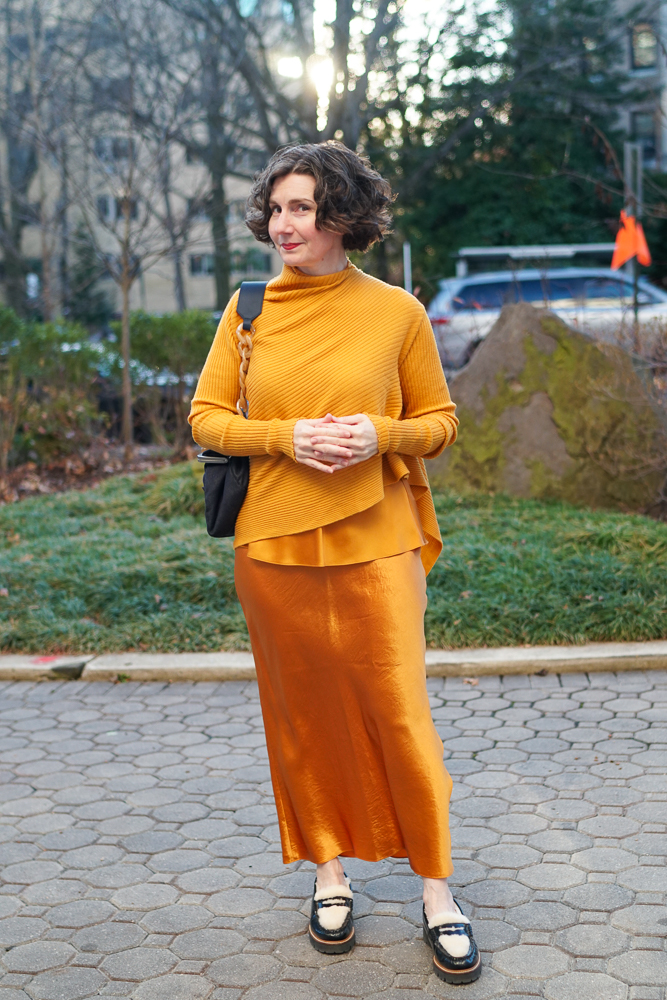 What inspired this rash resolution?
A major closet-cleaning. My closets were at capacity (CNN Fact Check: her closets were past capacity), which required a difficult pruning. I had to get rid of things that were: in good condition, fit well, and were liked by me. That's a painful undertaking and required looking at everything carefully. After culling 10 percent of the inventory, it was time to re-organize, too.
The "tops" that were previously just organized by
sleeve length, color, and fabric type
are now further divided into "apron-like things," "sculptural," "bustiers," and "general tops" (which includes camisoles, shirts, and blouses).
With more space for viewing and better organization, I was able to see how much fun I have been leaving in the closet.

Stay tuned. Today, here I am wearing some things that were already top-of-mind as fall acquisitions.

I love these shades of yellow-orange.

Dressed in slight variations of the same color, I look 10 feet tall. And you know that I am only a shade over 5'2″ — according to the nurse at my last physical.

I love bias cut skirts and now that formal/evening wear is well-established as a daytime look, satin goes to work.



Let's tote up the fun, shall we?

The shoes (from last year) are certainly fun.

And if you'll join me in a quick walk around m'self, you can see the sweater is fun as well.



And for extra-fun-credit, this plump denim bag.

I used to carry one large leather bag — a satchel or smart tote. Among the many pandemic adjustments in my life, I now almost always carry a small handbag (they keep getting smaller) and a large canvas or nylon tote. My "office" laptop and papers go everywhere with me.
For an extra-layer of warmth indoors, or as outerwear in the fall, a denim jacket finishes things off.
Remember: The key to layering is to make the layers smaller as you move out from the body so that the top/outer layers reveal the layers below. All the layers need to show — otherwise, the layers are just bulk. It's all explained
here
.

Sweater: Marques/Almeida from The RealReal; Camisole: Vince; Skirt: Vince; Bag: Weekend Max Mara Pasticcino Bag


And as a special New Year bonus, this recent portrait of our rescue cat, Philo. The Photographer has captured Philo's resting face: a little anxious, a little pert, and so, so dear.