When deciding whether to buy something new, I always think about utility: How often I am likely to wear this? Utility is often connected to versatility: a jacket that goes with more things, will be worn more. And a jacket that can be worn through more than one season is bound to get more use.


In the spring, I wear this tweed jacket with lightweight wool pants. Because it's cotton (predominantly cotton with some synthetic fibers providing structure and allowing the jacket to retain its shape), it can be worn in summer, too — but it needs to be lightened up.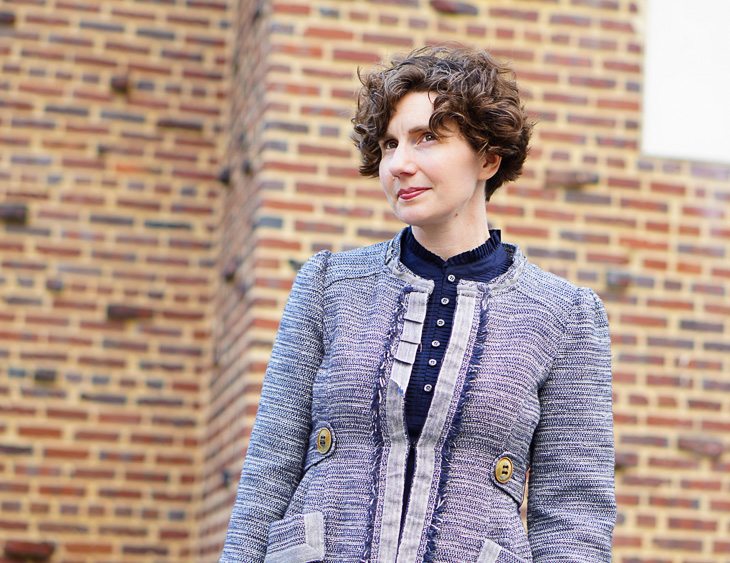 What's light in the summer? Let me think . . . think . . .


I've got it! WHITE.

These pants are cotton — heavier than poplin, but lighter and dressier than denim. They are actually ideal for the office during the summer, because they do not flirt with transparency, as lightweight, white pants sometimes do.
This blouse came from JCrew last summer, but JCrew sells tops like this every season. I love these silk and cotton tops because they are: (1) amenable to layering; (2) finished well with distinctive details; (3) available in a number of colors. I bought this one in
pink
as well as navy blue.
Don't imagine that you can beat the heat by not wearing a layer underneath your jacket. When you elect to wear a jacket during the summer months, you must be prepared to take it off if you find yourself outside for more than 10 minutes. You may also step onto a Metro car heading to Shady Grove and realize that everyone looks listless
not
because they are immiserated proletariats leading lives bereft of meaning and dignity, but because, um, the air-conditioning isn't working. Then, too, you will want to remove your jacket for relief . . . and possibly to enliven your fellow commuters' drab ride with a little impromptu Marxist street theater. So, no dickeys.
[Travelers' Tip: If you are visiting D.C. in the summer and find yourself in an un-air-conditioned Metro car: The problem is probably limited to that one car; you can scarper to an adjacent car on the train at the next stop.]
This blouse does have a certain eccentricity. The cut is completely straight up-and-down. So, as you can see, the fit is sub-optimal; it kind of looks as though I have a pillow strapped to my back underneath the blouse.
If I wanted to look a little more streamlined, there are two easy fixes. I could buy a narrow navy blue belt (patent leather) and cinch the waist or take the blouse to my tailor and have her take in the back with a couple of darts. But I haven't been moved to do either of these things yet. Perhaps Summer 2016!

In the spirit of summer, I am wearing fancy silver sandals. But if I had a meeting on my calendar, silver oxfords (which I do have) or navy flats (which I do not have) would bring this ensemble into full compliance with a business casual dress code.

A note on nail polish for summer pedicures: In the summer I like red (medium to dark) and chocolate brown polish. But during the cold weather months, I pick the most ridiculous colors for pedicures because why ever not? Last winter, I tried a gold, glittery polish for amusement's sake and then realized that I had inadvertently stumbled upon something kind of elegant. Gold is not so far from a nude/taupe shade, but is both brighter and softer.
Jacket: Nanette Lepore; Blouse: JCrew; Pants: JCrew; Sandals: Tory Burch "Reggie"; Bag: Coach Poppy Tote; Watch: Shinola Birdy: Nail polish: Essie "Jiggle Hi Jiggle Low" (a glittery gold) over "Steel-ing the Scene" (a silvery gold)