Another New Year! Another fresh start!





I bought this dress several months ago and lost track of what season it belongs to. You probably cannot see this in the accompanying photo, but it's a sleeveless dress. I am wearing a turtleneck under it.




A little sleuthing informs that this dress was SS2017, which seems questionable to me. The dress is sleeveless and unlined, but the fabric has a certain weight to it and is described as "satin." I have decided it's a cool weather dress if layered appropriately.


The first time I wore this dress, I paired it with a whisper-weight cotton turtleneck (black,
bien sur) and riding boots. And it was all wrong.

The combination of tall boots with the midi-length — which I admit is a challenging length — was too visually dark and unvaried. So, I swapped the boots for low, block heels and the cotton turtleneck for a lightweight merino wool turtleneck . . . and it was better, but still lacking something.

Under such circumstances, one should always try a belt.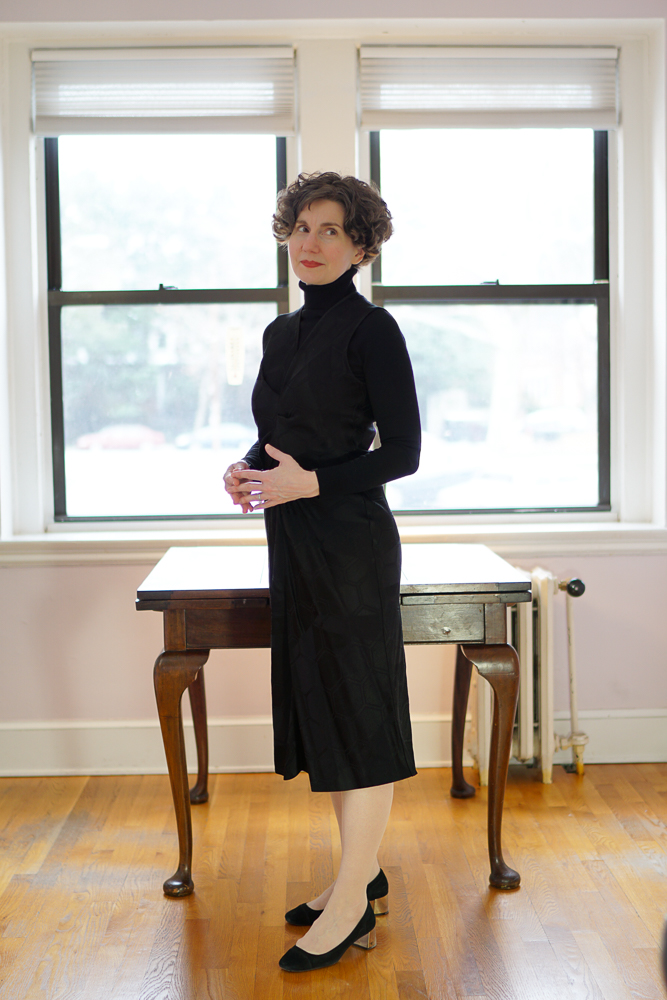 This belt is a little loose. If it were an inch tighter, it would be perfect. But this is the belt I have. Beggars can't be choosers.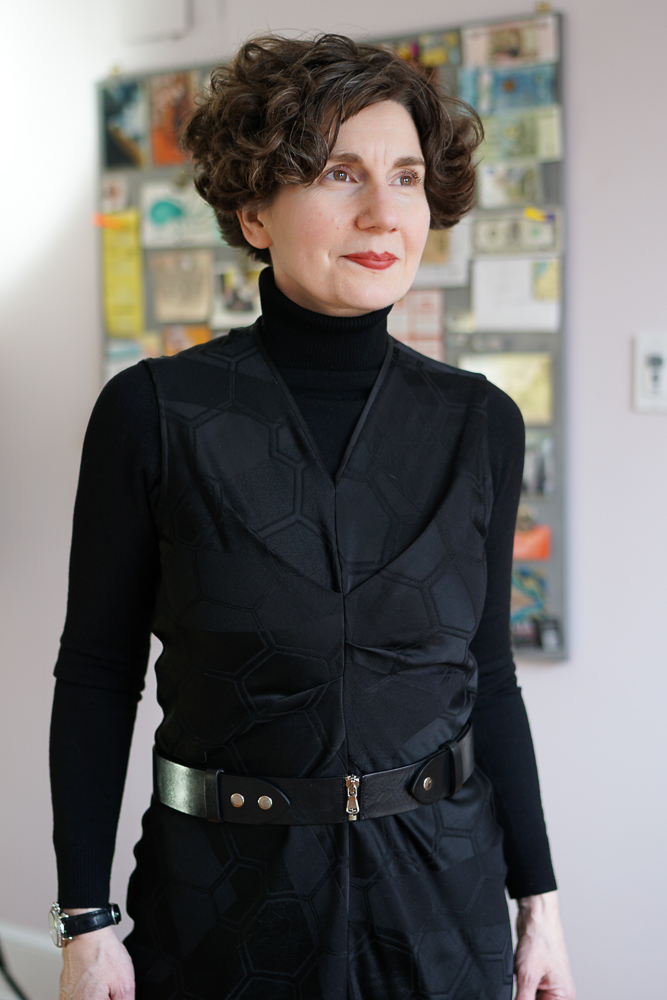 While fiddling with his settings, The Photographer captured a range of personalities.




I've moved into better light so that you can see the interesting fabric of this dress.

It's very mod, isn't it?



Come closer to see the details.

The product description described this as ruching, but I think it looks more like origami folding. Regardless, it's an interesting detail.


And the slightly too big belt. Because the belt closes with snaps rather than a buckle, I don't think it can be made smaller — even if I could find the right type of snap receptacle, where would I find the hydraulic equipment needed to punch the receptacle into place.* But perhaps this is a matter to take up with Fatima.

Please feel free to share your New Year's resolutions. Despite numerous ways in which I know I could improve myself, I haven't made a resolution yet. Remember: The key is finding something that will bring you some appreciable happiness or satisfaction, but not take a lot of time or effort.
Dress: Isabel Marant Ravenax V-neck Satin Dress; Turtleneck: JCrew; Shoes: Tory Burch; Belt: Mauro Griffoni
* Where? WhERe? At Expert Shoe and Luggage Repair on Northampton Street. Foolish, foolish Directrice.