The return of sweater weather! My favorite time of year!

In general, I am not a big fan of clothes that require
extraordinary levels of care
. By this, I don't just mean dry-cleaning. I mean clothes that cause the clerk at the cleaner's to jolt back when you lay them on the counter.
You know. When the clerk (or the clerk's expression) says,
How am I supposed to clean this
?


I saw this sweater on the JCrew website several weeks ago and bought it when a 30% discount offer popped up in my g-mailbox.

The colors are muted — camel and grey herringbone, which ordinarily might not have drawn my attention.

I think you can guess what caught my attention. That enormous, incongruous floral applique. How charming, right?

The Photographer is uncertain. He thinks it's just strange.
You're going to have to come very close to see what makes it remarkable. SEQuiNS!!!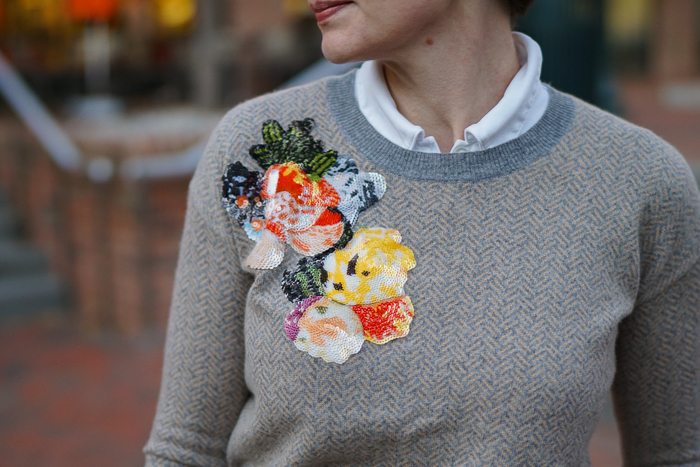 You may be wondering why I am posting a Casual Friday ensemble on a Monday?

My week is topsy-turvy. I'm in my home state (New Hampshire) for the last four days of this endless election cycle to do . . . well, frankly, whatever the New Hampshire Democratic Party tells me to do. I am accompanied by The Photographer and Pere Directrice.

Who knows what I will post on Thursday . . . WHo knOws.
Sweater: JCrew
Herringbone Sweater with Floral Patches
; Jersey: White + Warren; Jeans: JCrew; Bag: Coach; Shoes; Coach