Although I was a teenager in the 1980s, I have no loyalty to the clothes of that era. I resisted the revival of oversized and unstructured clothes when they first began to appear in late 2014/early 2015.



But fashion has a way of creeping up on you.

So is it any surprise that I find myself wearing a boxy tunic with khakis in SS16?

I am so comfy.


To rein in the volume of this tunic, a smart little jacket over it.

The tunic pops out in various directions, but I think that's good for two reasons: first, the white poplin frames the waxed cotton jacket; second, don't you remember that I told you it's good to show up for work looking pregnant every once in awhile?


The jacket can be worn unbuttoned.


Or snapped shut.


This tunic has some graceful details. The rounded neckline and split hem counteract the boxy (rectangular) cut. And then the back of the blouse is made of a different fabric, a woven, monochromatic plaid. I am wearing a pale pink camisole underneath which probably is not visible — but if it were, creates a pretty complement to the mossy brown color of the jacket and the khakis.

The tunic is a little "Mama in her kerchief/and I in my cap/had just settled down/for a long winter's nap."


My poor mother is probably saying to her iPad, She wears that pile of laundry to work? I don't know why the pants look so wrinkled. I just ironed them.

Should I stop this confessional here?

Non. Let's keep going.

I have this super-soft organic sweater from Eileen Fisher that I also like to wear when I feel slouchy. Here it is with a black cotton voile tunic.


This tunic is whisper-light and floaty, where the other, made of crisp poplin, is stiff.


In case you are wondering what the tunic looks like: mandarin collar and a bib front that closes with a dozen hook-and-eye closures.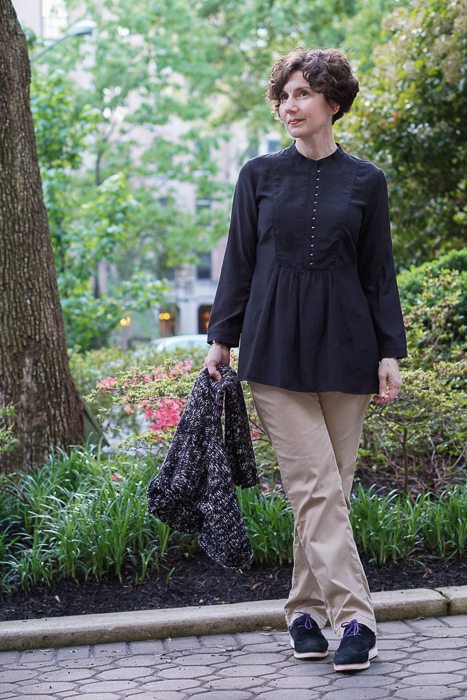 This turtleneck is loose and floppy enough to show the mandarin collar, which I think is a nice effect.
A final thought for you to consider: I have worn the cloud sweater with the poplin tunic. It's a lot of volume.
Have a fantastic weekend!
White tunic: Vince Cotton Grid-back Shirt (I am wearing an XS); Pink Camisole That You Cannot See: JCrew Silk Cami; Khakis: Banana Republic Straight-fit Chino; Black flats: Coach Noella flat; Black tunic: also Vince, but very old; Sweater: Eileen Fisher; Black suede brogues: Cole Haan, similar to Grandzero Wing Oxford