The summer was so busy that I didn't manage to write and publish some important posts. Things I've been meaning to show you for months and, in some instances, years. So I am going to flush out the summer ideas this week and then we'll embark on fall next week. Agreed?
In keeping with my previously articulated summer look "goals" (#hotcottonpoplindirectionaleurodresssummer), I look for Tove dresses on sale.+ Not willing to pay full price for these dresses, but I watch the Net-a-Porter sales and The RealReal, where they appear regularly.
I found this one last January on Net-a-Porter. This soft sea green — not really in my color-wheelhouse — spoke to me. It's such a tranquil shade, and reads blue/grey as well as green. For those who've recently specified wall colors, or have a Benjamin Moore fan-deck handy, it's kind of like Palladian Blue.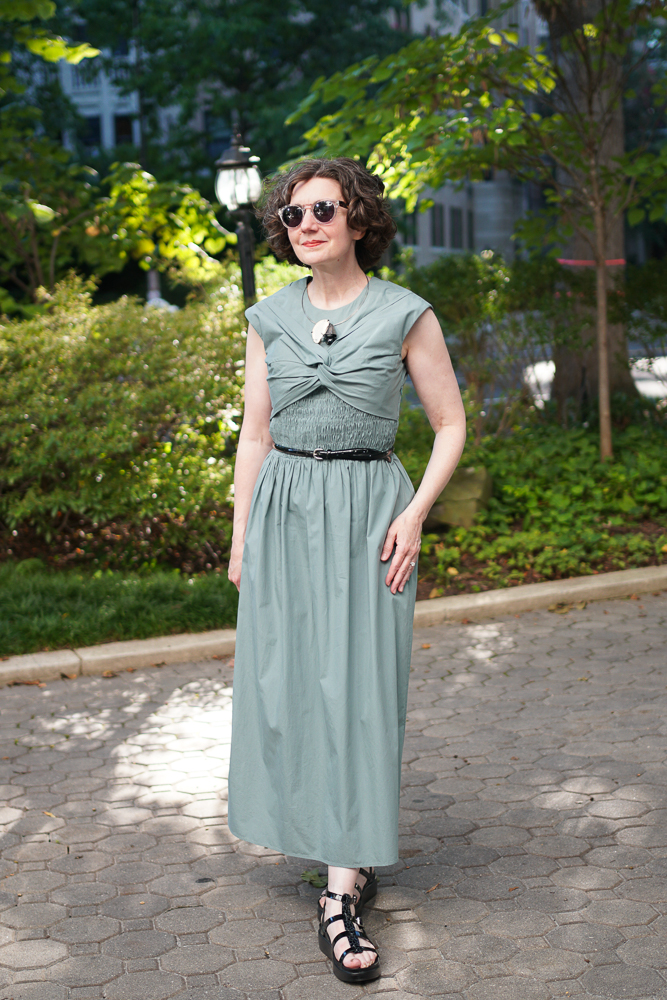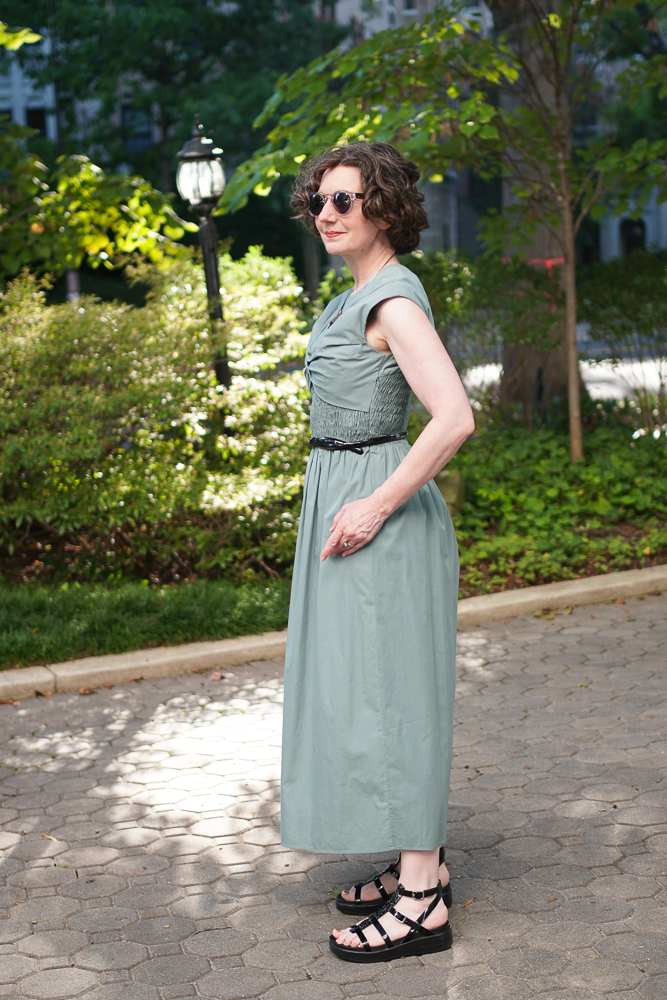 It's a good thing the dress was on sale because it needed to be taken in (shoulder seams and armscyes) and let out an inch at the waistline. It was very tight.  Who could have imagined that a dress with all this smocking would have a fixed (and unforgiving) waist!
These alterations were more complex than I expected and brought the overall cost of the dress back up to its original retail price — so good thing it was deeply discounted at the start.
All done, I am not entirely sure that I love the cut of this dress. I have very mixed feelings about the fabric draped across the bust. Is it good or bad? But regardless, I adore the feel of this dress. It's cool and crisp. Plus, it is the perfect backdrop for a necklace that The Photographer gave me for my last birthday.
Finding birthday presents for me is sometimes confusing and frightening for The Photographer, but he wisely sought the excellent advice and counsel of Ombre Gallery in Cincinnati. The staff made several suggestions from which he selected this Karen Gilbert necklace — an excellent choice. Although he did not know her name, he recognized her style. You may remember her name from other posts like this and this.
This pendant is comprised of agate (a slice of agate), labradorite beads, and oxidized sterling silver, threaded on steel wire.
You may need come closer to appreciate the specifics.
See how these shapes and materials work beautifully together? Each is interesting on its own, combined they create a traditionally-shaped (somewhat traditional) circular pendant.
While I have your attention, I wanted to revisit a play-dress from last summer. Remember this?
I showed this sundress last summer with a black tee shirt underneath. (You'll have to scroll through that old post; it's the third outfit.) See how much better this dress looks with a white tee? It's now my favorite dress for the weekend — laying around and running errands when I don't want to wear workout clothes.
Feel free to disagree but  . . . it's more fun to run errands in a cute dress than rags.
This kind of dress is great for a beach vacation, too. Perfect for an evening walk to Kohr's Brothers Frozen Custard at Rehoboth Beach.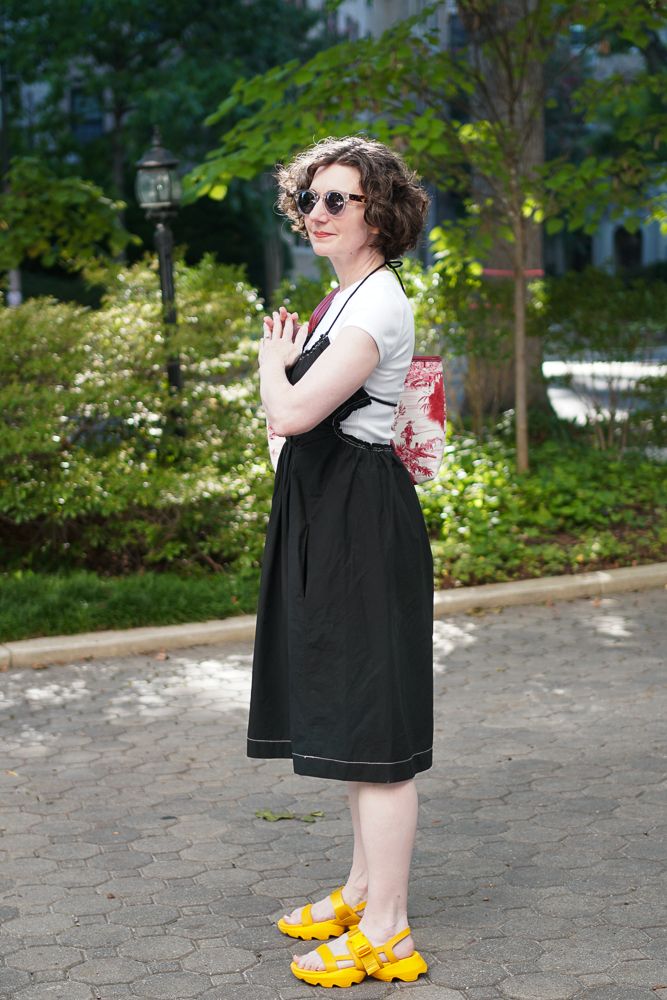 For those who've forgotten, this is the back.
The dress was intended to be worn with nothing underneath, and is very cute like that — but not on me.
*+ Some advice regarding Tove. The craftsmanship of Tove is high and the cotton poplins are very fine. But the designs are odd in several ways. First, the skirt of this dress (and another I bought, to be revealed to you in good time) is a double-layer of cotton poplin. For a long, full skirt, that's way WAY TOO MUCH fabric, making the dresses physically heavy and visually overwhelming. I had Fatima remove the under skirt. That's an easy fix — and if you can sew, you'd have enough fabric to make a skirt or a top. I have found that both Tove dresses and tops have small waists; this only matters if the waist is fixed, rather than gathered with ties. On Tove's most popular dress, the waist is gathered with ties.
Palladian Blue dress: Tove (look for it on The RealReal); Sandals: Donald J. Pliner; Necklace: Karen Gilbert from Ombre Gallery (Gallery 360 in Minneapolis also has a number of Karen Gilbert pieces); Black dress: 3.1 Phillip Lim; Tee: JCrew; Orange Sandals: Sorel Kinetic Impact Sport Sandal; Bag: Longchamp from The RealReal