I published this post in 2015 but have updated the photos and products to things that are currently available. The advice is as good now as it was then. And it was very good then!

A winter coat is a big investment and if you live in a climate where winter lasts a few months, ideally you will have more than one such coat. But everyone needs to start somewhere! So, if you (I) were going to buy one coat, what would it be?

Before we unpack this question, a few ground rules. Your coat shall be made of wool. In a perfect world, the wool would be cashmere or at least have some cashmere or camel-hair in the mix. If possible, the coat should be inter-lined with Thinsulate (miracle substance) which will provide great warmth and no bulk. If you find a beautiful cut, perfect in all respects except its buttons, you shall find replacement buttons for it and have a tailor sew them on for you. Make sure that the buttons are anchored by buttons on the reverse (inside) of the coat; it will minimize stress upon the fabric.

Setting aside the question of the particular style (reefer, swing, funnel neck, cocoon, etc.) of said coat, there are three basic choices that must be confronted: color or neutral; short or long; roomy or svelte. Despite the high level of uniformity coming out of style handbooks on many topics (white shirts! ballet flats! trench coats!), opinions on winter coats are varied and contradictory. Here's what I think.





Color v. neutral. If I could only have one coat, it would be black or a dark charcoal grey. But I am, nevertheless, a huge fan of the brightly colored winter coat, because what is more cheering on a bleak, cold day (visualize dirty snow on this sidewalks) than a jolt of color?

Practically, the choice between a neutral and a color should be determined with reference to your own clothes. If you generally wear black, dark grey and other neutrals, a brightly colored coat will complement your wardrobe. But if you wear a variety of colors, a black or charcoal coat will harmonize with everything you wear.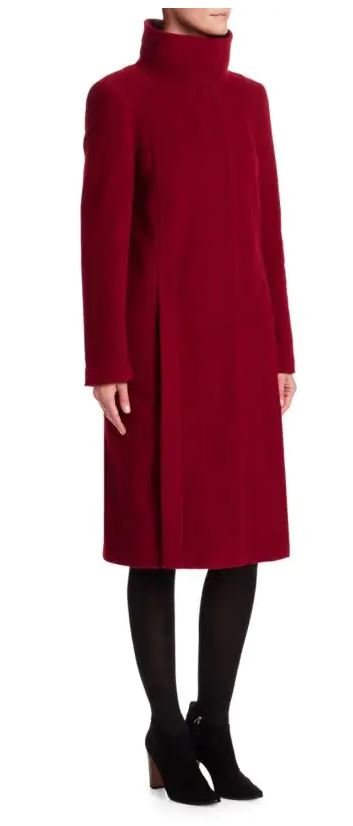 And now to confuse the issue, I will posit that camel is an excellent choice if you want something neutral, but less funereal than black.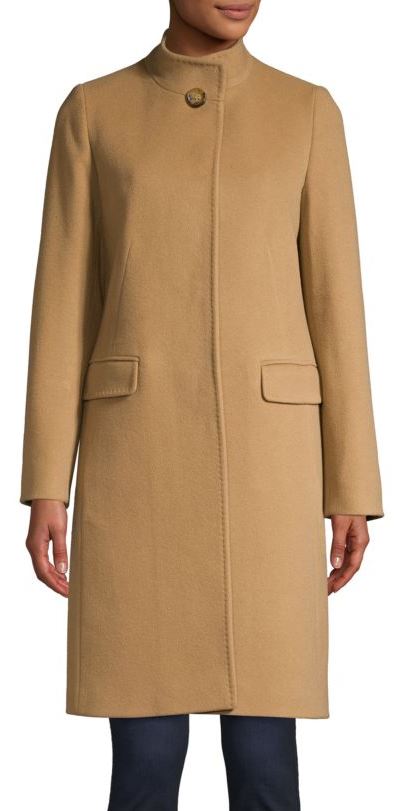 Short v. long.
If I could only have one coat, I would chose a long one — for both versatility and warmth. Nothing is smarter than a fitted, single-breasted, knee length coat, but it's not very warm when you are wearing a dress or skirt.
You may be wondering why I just showed you a bunch of short coats, then.
I showed them because they are beautiful!
And, if you never wear dresses, a short coat might suit you perfectly.



Here are some wonderful long coats.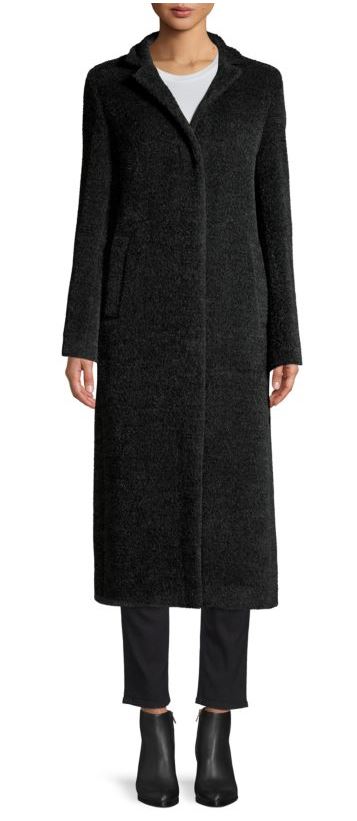 Are you suffering from decision fatigue yet?  It's real. Should you ever face a parole board, I hope you draw a hearing in the morning —
because by afternoon, the status quo will rule
.
Fitted v. Roomy. If I could only have one coat, I would choose a roomy cut that would fit over a suit jacket or bulky sweater. Here again, I am favoring practicality over chic.  Or perhaps it's giving preference to grace over chic. A beautiful loose overcoat worn over a suit is easy, elegant and mature. A fitted coat will look beautiful — until you have to take your suit jacket out of a bag (and what bag would that be?) and put it on at office after you've hung up your coat. That's ok if the office is your office, but less graceful when you are at someone else's office.

Here is a related question: What about statement jewelry under a coat? How do you manage that?

Good question! If it is bulky jewelry (which I sometimes refer to as Projectile Jewelry or Inter-Dimensional Jewelry) that stands out from the body, I put it in a box for safe-keeping, tuck the box in my work bag, and put the jewelry on at the office. Not convenient for a day with meetings out of the office, but just fine for a day at the office-nest.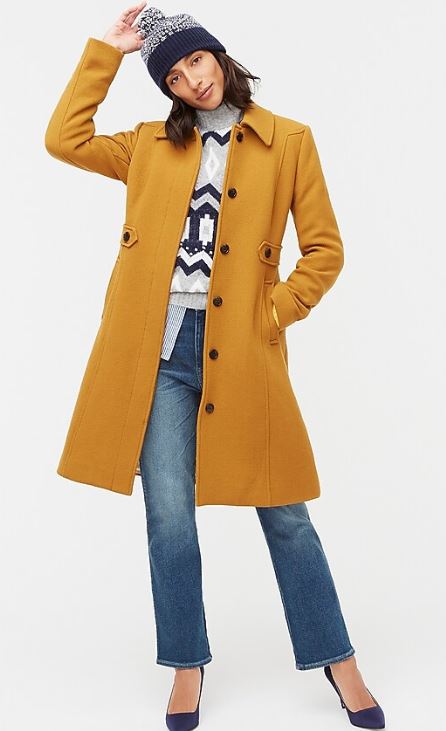 Now, returning to the shape and cut of the coat . . . this choice will be determined in part by your body type and in part by what remains after you've made the decisions listed above.  You should consult these historic You Look Fab posts for advice on the most flattering cuts for your body type:
Coat-ology Part I
and
Coat-ology Part II
. But I will offer two observations. First, a single breasted coat may be worn gracefully buttoned and unbuttoned; the same is not true of most double-breasted coats.  Second, a wrap coat may be difficult to close snugly;  when it's really cold, it's nice to be able to button your coat up to your neck, if not your chin.  If, however, you are likely to be pregnant or are prone to substantial weight fluctuations, the flexibility of a wrap style may be very appealing.
Labels that I really like for coats are Max Mara and Cinzia Rocca. Those impeccable Italians with their beautiful textiles. This year, however, I've seen a number of beautiful and reasonably priced coats by Arkis punto. I am also a huge fan of JCrew's double-cloth coats (fabric made in Italy), which are an extraordinary value for the cost.
One last tip. If you invest in a quality coat, be sure to treat it right. This means:
(1) dry-cleaning, at a minimum, at the end of the season or if it has been on the receiving end of a heavy downpour, a drenching from a puddle, or spilled coffee;
(2) storing it during the off-season in a canvas, mothproof garment bag;
(3) replacing the lining when it tears or shreds (the lining will be more fragile than the wool and will show wear long before a quality wool or cashmere will);
(4) properly anchoring the buttons (as described above) if the manufacturer did not do so.
Good luck! For those wondering about HATS, please review
this treatise
, published in 2016.
All coats shown above are from
Saks Fifth Avenue
except for the New Lady Day Coat, which is from JCrew.