All that's come before was merely prelude to the main event: gLAcIeRS. That's why we're here.*

After a few days in Buenos Aires, we boarded a plane and flew south and west to a Patagonian town called El Calafate. El Calafate (pop. 23,000 according to our guide) is in the Argentine part of Patagonia and is within easy distance of two significant glaciers.


On Day 1 in El Calafate, we drove — roughly 1.25 hours — to Perito Moreno National Park, where we boarded a boat to sail out and get close to Perito Moreno Glacier.

But just inside the park, we pulled over to get our first glimpse of the glacier.

Perhaps that first glimpse was not so impressive in a photo.
Perhaps this will impress you.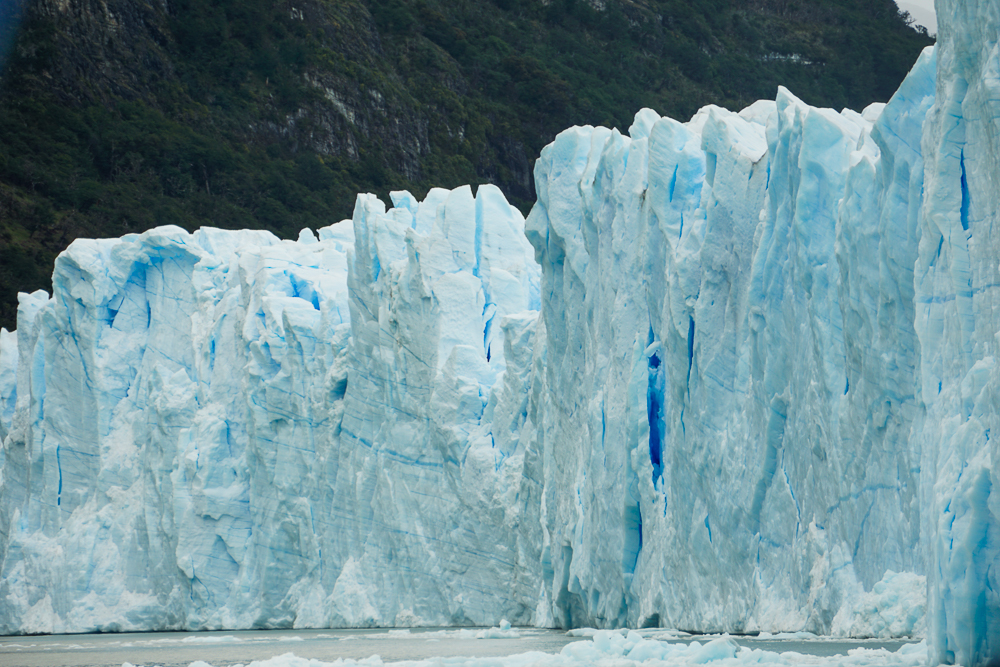 Still not impressed?
Perhaps seeing the glacier next to something more familiar?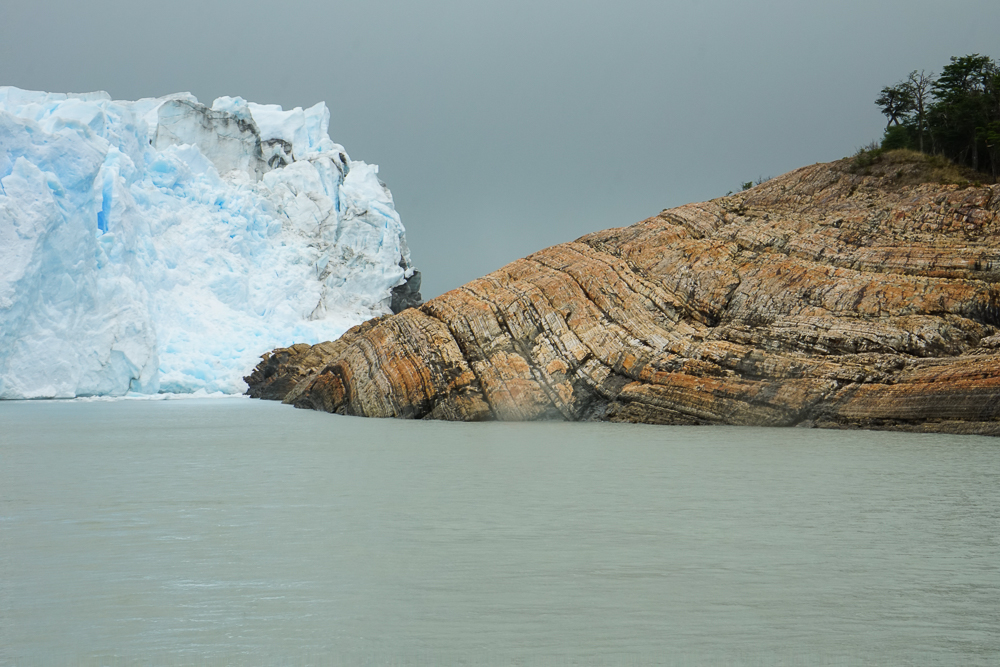 After our boat ride, we walked several trails in the park that brought us to another face of the glacier. As you probably know, glaciers are constantly moving and changing. Pieces of the glacier fall off regularly — a phenomenon known as "calving" — and glacier visitors stand in observation areas waiting to see this happen.
Calving is signaled by a tremendous cracking sound, which has everyone scrambling to locate the source of the sound — often deceiving — and train their sights on the right spot.

If a large piece falls, the crowd responds "Oooooo Ahhhhhhh." But if it is a small piece or no piece at all (just a loud crack), you hear a disappointed sigh.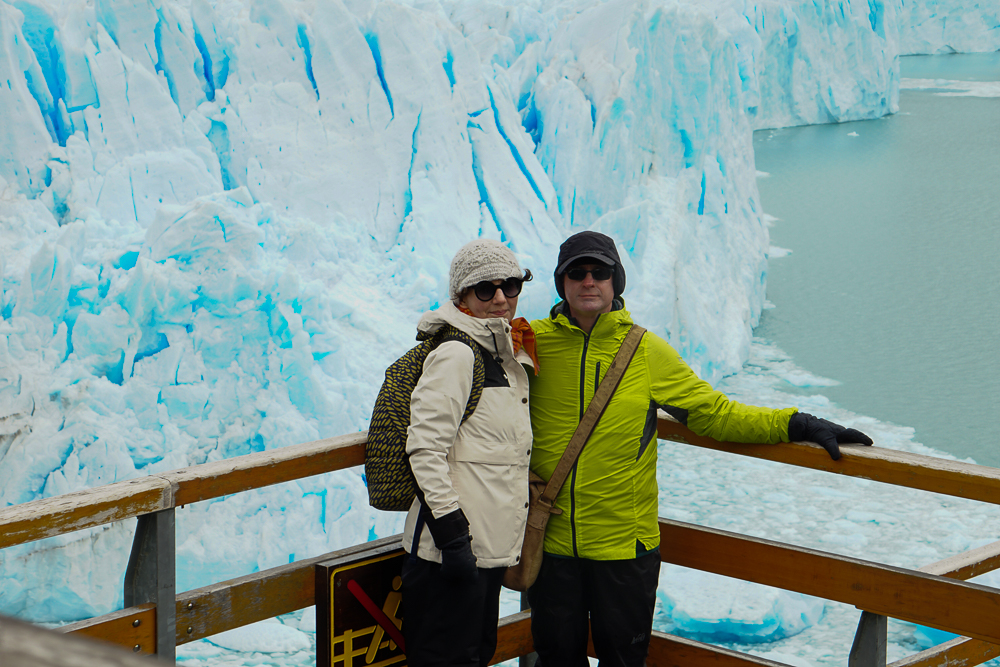 As you can see in these photos, the glacier is huge — equivalent in height to a 20 story office building covering an area as large as Buenos Aires. A "little" piece falling off the glacier could easily smash a boat (= sink boat) or kick up waves sufficient to overwhelm a boat (also = sink boat) so boats must maintain a respectful distance. While we watched the glacier, we saw several pieces fall off. And yet, Perito Moreno is the stable glacier.

The Upsala Glacier is not nearly so stable. It's also not as accessible. No boat would take us right up to its face, so we had to view it from a nearby mountain. To get to the mountain, we drove 30 minutes to a boat launch, sailed for two hours, and then drove in an ATV for one hour, and then walked 30 minutes to the lookout point.
Perhaps you are wondering what the ATV ride was like? Our travel agents told us it would be
exciting
.
The Photographer and I agreed that "exciting" wasn't quite the word. It was
frightening
, but
entertaining
and
wholly worthwhile
— now that it's done. The ATV held 16 passengers — 4 x 4 — and because we are small, we were invited to ride "up front" with the driver. The ATV never broke 10 miles an hour; we lumbered, like a mechanical elephant, over uneven terrain, up hills and down hills, around curves with sheer drops below for 60 minutes. It may seem hard to believe that driving slower than 10 miles an hour could be heart-stopping . . . but it is if you think your vehicle is going to flip, roll, or plummet.
Exciting.
These photos are not conveying the
excitement
. The Photographer made several movies, but we are having trouble with Internet speed and cannot download them now.


The ATV ride is not an activity for anyone suffering from motion-sickness or vertigo.

But for us, the views were worth it!


The Upsala Glacier is even bigger than Perito Moreno.


Because anyone could download photos of Upsala Glacier from the Internet, we are including a proof of life photograph.

Note: I am wearing skinny pants.**

In addition to visiting Upsala Glacier, we visited Estancia Cristina — formerly a large sheep farm, now part of the national park.

While walking the grounds, I noticed a group of visitors crowded onto this footbridge. While my Spanish is not terrific, I think I know enough to translate the sign hanging overhead.
* I guess we won't know for certain until the trip is over what the high point is/was. There will be photos of a drug-sniffing dog at the Argentina-Chile border and penguins farther south.
** I bought two pairs of hiking pants — which I call "action slacks" — for this trip. I will write a review of them!