Today's post is packed with aphorisms.

I told you
recently
that I was going to buy this dress.
My word is my bond.



The acquisition of the dress forced me to confront a problem that has been bedeviling me for years.



Surely I've had a dozen opportunities to rectify this situation.


Screeeeeeech! Imagine sound of: tires burning rubber, needle slapped across a record, helium balloon rapidly deflating.

You didn't think I was down-and-out over the shoes did you? I'm at my best when backed into a corner.

Or, what is it they say . . . Necessity is the mother of invention!


Love them or hate them, you can't deny that these shoes were made for this dress.
And speaking of Made For Each Other, I thought this
multi-color scarf
would also be useful and effective with this dress.
Uncanny, the similarity in color schemes between these three items (dress, scarf, shoes).
Is it odd for me to say that I don't love the color scheme? Navy with Christmas red and spearmint green. But it works.


In addition to warning you that I would buy this dress, I threatened to wear it with my faux fur scarf.

Let it never be said that The Directrice doesn't make good on her threats.
The Photographer made a note next to this photo, which said, "Use Full Size." So . . . although I almost never post a full-size photo, I am honoring his request. (The Photographer also begs you to remember that clicking on any photo brings up its full-size version.)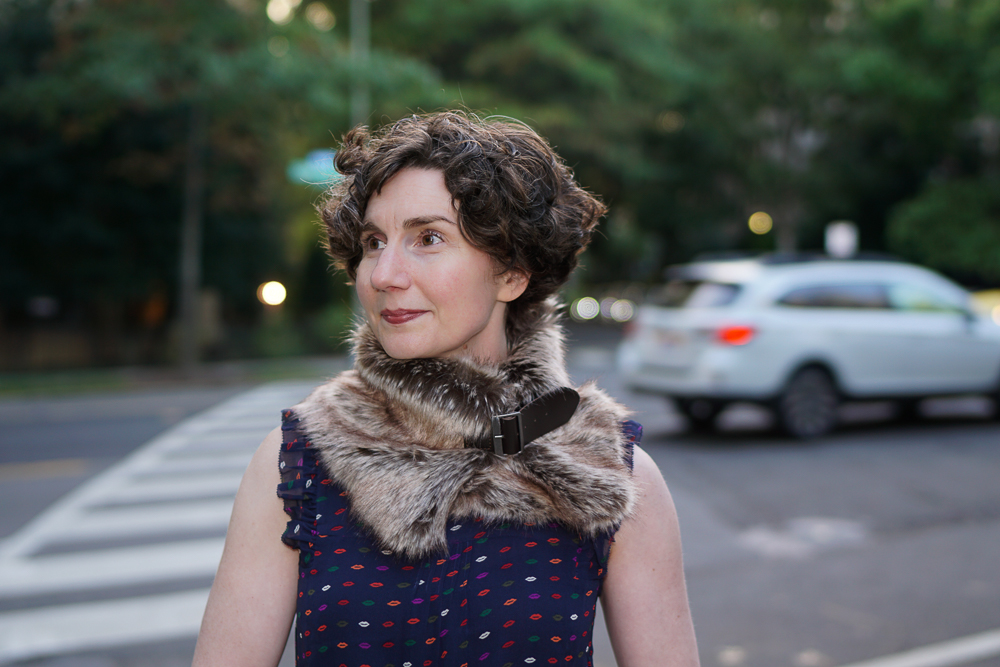 Why am I wearing this ridiculous scarf-collar?

I figure that once one has decided to wear a dress with lips printed all over it,
and compounded that decision with multi-tone golfing shoes, one is practically compelled to go Full Dowager and add a fur. In my case, a faux fur.

Dress: JCrew; Scarf: Tory Burch; Shoes: Tory Burch; Faux Fur: Helen Moore; Bag: Coach

* I believe that this turn of phrase is from Salt-n-Pepa (Let's Talk About Sex)