I grew up in northern New England (the southern part of northern New England, if you follow), which means that I spent my youth in cold temperatures. My mother dressed me appropriately in snowsuits, boots, and hats when I was little, but as soon as I was a teenager, I followed the local custom and ran around all winter hatless, wearing Tretorn sneakers without socks. The folly of youth!

As an adult, I have embraced hats. They really do help you stay warm. I also have developed some views about how to wear hats stylishly. NOTE: I am not going to tell you what hat styles complement certain face shapes or hairstyles because I honestly don't know. For that, I recommend going to a hat shop and trying all the hats on. You'll know when one flatters you because you will suddenly be bathed in a soft light and hear other-worldly choral music.



First and foremost, I am all about the soft, crushable hat. I live in a city apartment and don't have space for storing a half dozen blocked hats. I have a hat drawer.
Second, your hat should coordinate with your coat and your scarf. This doesn't mean that they should all be the same color or that your hat and scarf must match. Au contraire! I generally select a scarf that coordinates with my outfit and then pick a hat that coordinates with that scarf and my coat.

And then some days I just wear a black coat with a black hat and scarf.
Perhaps you are reading this and saying to yourself,
Directrice, it's all I can do in the morning to get dressed. I can't be fussing with scarves and hats!
Be assured: hats and scarves are for
extra credit
, the cherry on top of the sundae. But there is something very polished about a look that includes harmonizing outerwear. Now back to the wisdom!
Third, hand-knitted caps are charming. If you can't smooth your way in with a prolific knitter, visit a local craft show or Etsy.

Fourth, I am particularly partial to berets, which anyone can wear . . . although I must admit that the French wear them with more élan than the rest of us.

The key is: Don't stress about how, exactly, the beret is sitting on your head. The beret knows what to do.


While white and black are a classic pairing, I prefer camel or brown with a winter white coat. And leopard print gloves, of course.


And this one is my favorite of all the beloved hats: a beret embellished with a few buckles.

Finally, I have special head gear for bitter, bitter cold and the days following heavy snow.

Correctly or incorrectly, I believe that the right hat — a cheerful hat — boosts public morale and creates esprit de corps. People cannot help but smile at a cheerful hat. So I wear this awesome hat that my mother found for me in Fitzwilliam, New Hampshire and people do smile at me.
If my theory holds, surely this is the hat that can bring peace to the Middle East.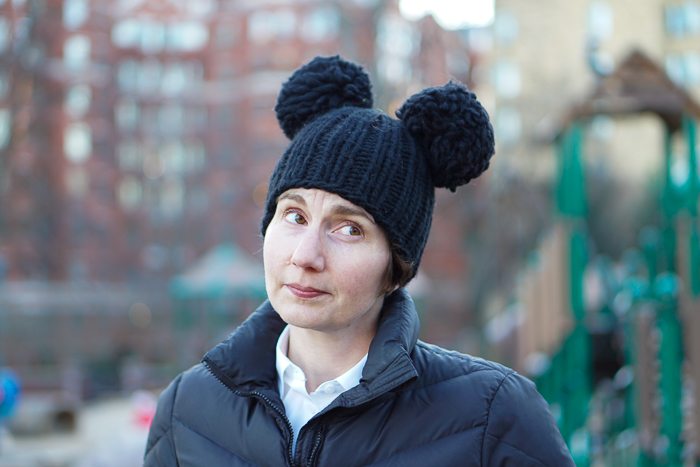 Top Hat makes me think of Top Hat, which led me to ruminate on Fred Astaire-Ginger Rogers movies more generally. I rank them like this: (1) Top Hat; (2) Shall We Dance; (3) Swingtime; (4) all the others, except Follow the Fleet, which is dead last. Upon consulting the Internet, I found that many people rate Swingtime first or second. Perhaps it is time to re-visit some of these . . .
Shearling hat: Surrell; Grey crocheted hat: Pistil; Green hat: Geraldine Tayar; Plaid beret: Liz Claiborne (my mother bought this beret for me when I was in high school); Brown hat: Zazu & Violets in Berkeley CA; Beret w/ buckles: Lola; Two Pom Pom hat: Eugenia Kim