We've had a lovely fall in Washington, D.C., warm (but not too hot) through September and into October.  Lovely temperatures, but they do create seasonal dissonance — which we will define as "the psychological unease occasioned by wanting to dress for the season while needing to dress for the weather." That's a working definition.  Please feel free to offer refinements.
The Directrice's Rule is: Wear the colors of the season and fabrics suitable for the temperature.
Remember: leopard is always in season.
For a mild mid-fall day, I am wearing a long-sleeved silk shirt with a light wrap. This wrap, however, is draped across the torso and tied in the back. It resembles a photographer's drape — the kind of thing used in 1950s and 60s yearbook portraits.@
When I first looked through my mother's college yearbook, I thought every woman had the same dress, which did seem a little weird to me. Was I a stupid child? Or an incisive one? I mean, it was a repressively conformist time.
We'll leave that question for another day.
Here is the back of the drape. The ends are knotted below my neck and buttoned at the waist.
Come closer and take a look.
It's very graceful, no? And adds a little warmth, but not too much for a day in the high 60s/low 70s.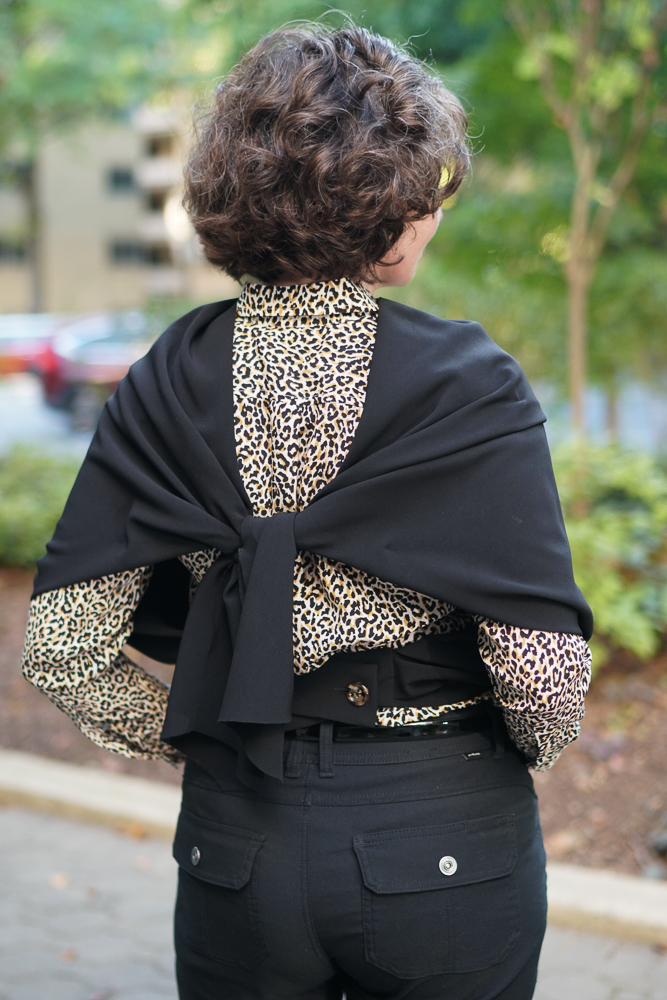 The only downside to this poncho-drape is that it  . . . it  . . . it sort of restricts my arm movements. Is that bad? If my work involved lifting things — canned goods, books, children — it would be ridiculous. But it doesn't! Nevertheless, I must admit that this top is best suited for . . . going out to dinner with The Photographer.
Impractical PonchoDrapeStraightJacket: A.W.A.K.E. Mode; Shirt: JCrew (old, but I told you to buy it years ago!)
@ The photographer's drape is still a thing! It's still being used for yearbook photos. So strange.