'Round about May, when it became apparent that I might not be going anywhere for the remainder of 2020, I bought myself two dresses to wear around the house. I wouldn't call them house-dresses exactly, but they aren't work-wear. Let's call them pan-dresses: dresses to get you through a pandemic.




Behold one of the pan-dresses!

It's NSFW (in ways that shall be revealed), but offers so much to love.

Shibori-inspired print, apron-styling, and quilting.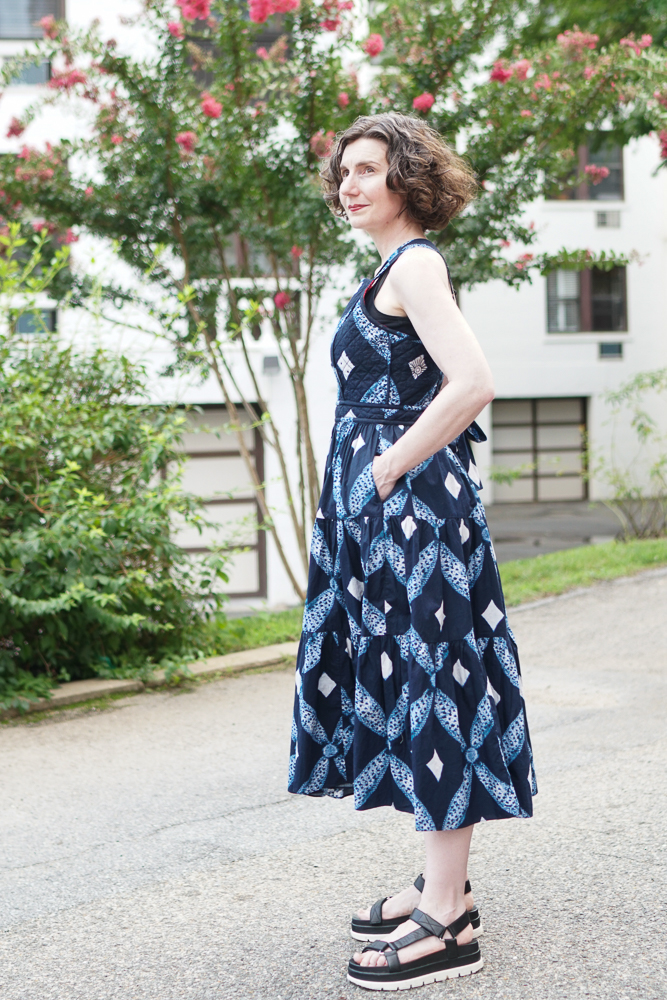 We're all getting a little strange, right?

In March and April, I was cooking and baking a ton. Sometimes, I sat down to eat dinner while wearing my apron. I realized that doing so was actually very convenient because the apron not only protected my clothes while I was working in the kitchen, but while I was eating. Then in May, I eased off the cooking and baking, but continued to wear the apron for meals. In June, I realized that without the cooking, I was wearing a bib.

Weird. And pitiful. But it's such a good idea.
O.K. Never mind the bizarre confessions. Come closer and see the quilting.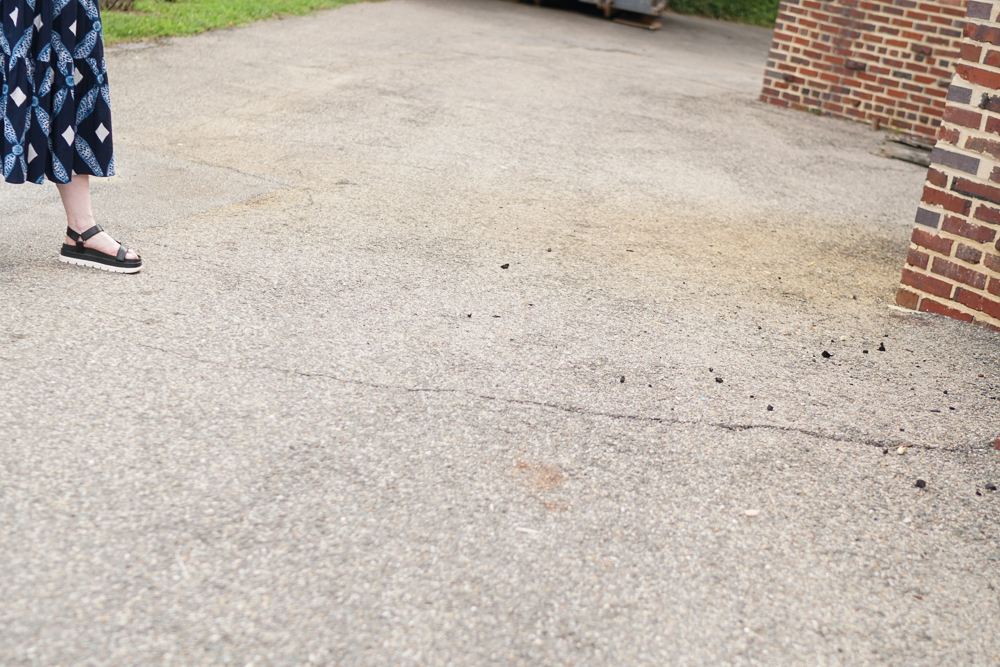 Don't be afraid. I am wearing a mask.

Do you see that blue thing in the background? That's my nemesis.



There. Can you see the diamond patterned quilting on the bodice of the dress?

It's purely decorative — in fact, some might say that adding layers (for quilting) to the bodice of a sundress is a design flaw in warn-weather clothing — but so charming.



You may need to come closer to see this.

See? Very charming.

What's that? You want to hear about my nemesis?

Get comfortable. We may be here for awhile.

The building next door to mine launched a big capital improvement project — replacing all windows — in February.
That squat dumpster is where all the old windows are tossed. It is one of a fleet of equally unprepossessing dumpsters. Two or three times a week the full dumpster is replaced with an empty one.
Hearing rubbish going into the dumpster — shattering glass, weights dropped on metal — is a minor irritation of city living. But hearing the dumpster being replaced two or three times a week is driving me crazy. It involves a truck backing up, which seems to take — no exaggeration — 30 minutes to align perfectly with the dumpster, so that it can be dragged by cables and gears — which sound like a hundred banshees — on to the bed of a flatbed truck. And I am always in a meeting when this happens.

I have no beef with the toilet that was brought on-site for the workers. It was actually a source of some amusement in February. On the weekends, when no work was being done on the building and no workers were around, I noticed a surprising number of men+ using it, as thought it were a public restroom on the Mall.*


It was very odd because we are not near any tourist attractions and the stores and restaurants in the neighborhood have bathrooms for customers. So I am not sure how people were finding this portable toilet. Or why
anyone
would open the door of any portable toilet located on private property off a municipal alleyway.
Since March, though, the toilet is very quiet. I never see anyone going in or out.

But we have more important unresolved issues to discuss. My pan-dress!

I told you it was NSFW. The straps are laced through the back panels and tied in a box at the waist. It is supposed to be worn solo — i.e., with an exposed back — but my sense of modesty is so deeply ingrained that I cannot wear a backless dress to work at home! I recognize that this is also weird and pitiful.

I am wearing a silk camisole underneath.

I need to find a better solution as there are far too many straps here.


One last weird/pitiful confession.

The skirt of this dress is pretty full. If Mr. Orange or Philo is napping on the floor, it amuses me to kneel right next to him, cover him with the skirt (like Mother Ginger), and wait for his next move.

They usually do nothing.
Dress: Ulla Johnson Jiya Quilted Midi Dress; Shoes: J-Slides
+ "Surprising number" means two or three. Not
so
many. But I was surprised that there were any.
* I am not suggesting that there was
social activity
going on inside the toilet. These men would just zip in and out as though they were using the convenience on a road trip. But they were on foot and, as previously mentioned, the toilet is on private property, abutting a building, off an alleyway.