This post shows two core lessons of The Directrice in practice.

Any guesses?
First, if you find dress in a classic style that fits you perfectly, and it comes in two colors, buy both. You've seen this dress before, in a wonderful terra-cotta color.
Right here
.
Second, a white dress is so nice in the summer. So fresh.



As much as I love white dresses, I try not to get too attached.

I wouldn't spend a lot of money on a white summer dress because they are vulnerable to many mishaps: coffee, chocolate ice cream, sunscreen, children's dirty hands, and cat vomit.

Read on.



This dress was sale-on-sale over the winter and so I bought it in January, envisioning a very different summer.

I am pleased to have it nevertheless because it's pretty and comfortable to work in.


You could pair any sandals and jewelry with this dress and look put-together. I am wearing "the" sandals of 2020 (still too lazy to go downstairs to retrieve the summer shoes) and a green stone necklace.

This particular green also feels fresh to me. And I want to eat it.
Generally, I am pretty good about not spilling things on my clothes. Occasionally I might spill some Diet Coke, but that miracle drink practically beads up and rolls away. So I wear white without fear.

The other day, while wearing this dress, I heard Mr. Orange starting to retch in the kitchen. He was sitting in one of the chairs that I finally had slipcovered and I could not wait for events to unfold, so I put my hands around his mid-section and moved him to the floor.

Oh no!

I moved him into the arc of his own projectile vomiting. Such an indignity for a cat who keeps himself so scrupulously tidy. (He's tidy, but he does tend to vomit on the furniture, in his favorite resting spots. I've never had a cat do that.) In my attempts to console him and clean him, I got his vomit on this dress. So gross.
No fears! A little Oxyclean removed all of the evidence.
Moving the cat was the right call.


Continuing our confessional bent regarding the strange impulses and irrational demands of this summer, I've been wanting an enormous hat. Not simply a big hat. Enormous. I can't stop looking at them on the Internet.

I've resisted anything straw because large, structured hats are no friend to the city-dweller. There's no place to store them. If I had limitless space, I would buy this one.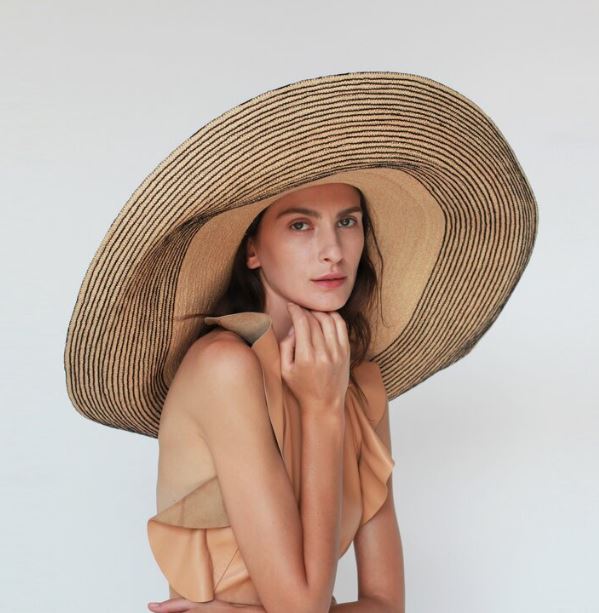 But I don't have limitless space, so I only deal in crushable hats. This one is partially satisfying my fixation.



This hat will be perfect for sitting in the sun on a windy day.

Who do I look like in profile? Think back. It's someone from your childhood.
Dress: Love Binetti; Hat: Marrakshi Life; Shoes: J-Slides
* Lola Hats says The Spinner can be rolled up like a baguette.