One of the keys to extending the life of your clothes is taking care of them: proper laundering, storage, and repair. Another is altering them, as needed, to create the right look or fit. If you don't like the way something looks, you won't wear it. That means listening to your inner voice when it says, "Wouldn't this look better if . . ."

I bought this navy Isabel Marant dress in late 2017 or early 2018. Pre-purchase, I was intrigued by its intentionally loose fit. Once it was mine, I wondered if it just looked baggy.
Back in 2018, Fatima took in the top half, honoring the loose fit, but getting rid of excess fabric. We left the skirt alone.
But the skirt sat heavily on my mind for years. Take a few seconds to savor with that ludicrous metaphor. "The skirt sat heavily on her mind . . ."

Fast forward to 2022. With most of my pretty office clothes hanging untouched in the closet for two years, I decided it was time to fix this dress. Priorities! See also: Optimism.
Accordingly, Fatima narrowed and tapered the skirt.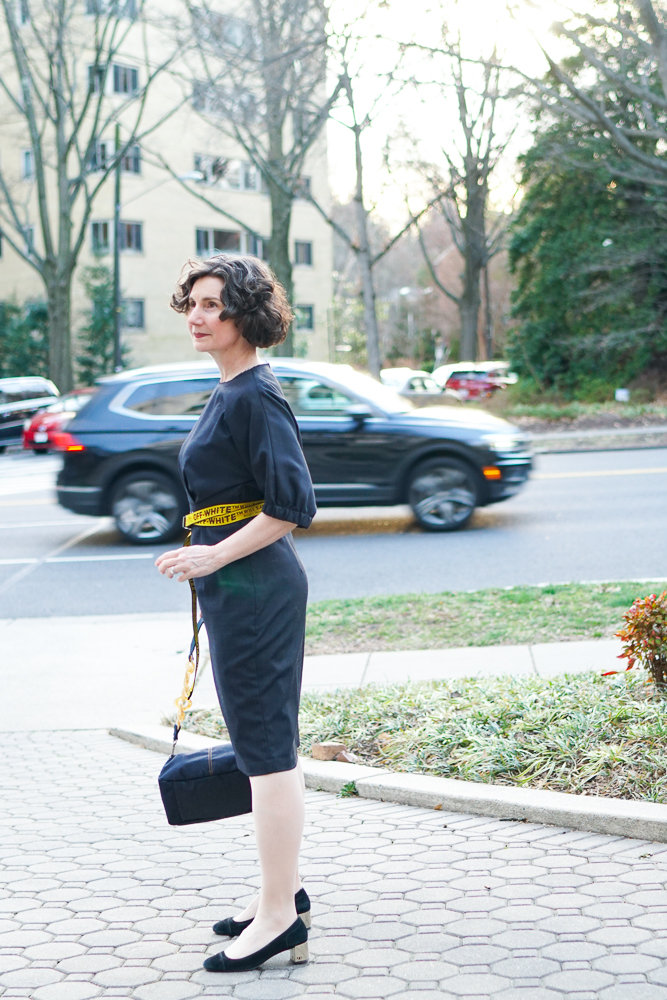 Though I am a few pounds heavier in 2023 than I was in 2018, I think I look more svelte in these photos. That is the miracle of tailoring. Here is the link to the original post; judge for yourself.
Despite the more form-fitting skirt, the cut of this dress still provides a lot of ease. It's worky, but not so dressy that it looks out of place in my current office environment.
These industrial webbing Off-White belts are almost always shown unknotted, with a long flowing tail end. I usually wear mine wrapped twice around my waist and then knotted. But here, I thought that a dangling line of yellow would be fun.
I wore this dress and belt to a professional conference in 2018 and it was a huge hit. But at certain times and in certain places, the Weight Securing System may not strike the right cord. Then, the dress can be normalled up with a skinny black belt.
I suppose I could have pinned a pearly brooch or something understated to the dress. But the swan felt right.
This Emily Cobb brooch is 3-D printed nylon and weighs nothing, which is perfect for this tropical weight wool dress.
If you haven't seen my recent posts, look back at this and this. You know I love to hear from you (is anyone out there?), so leave a comment.
Brooch: Emily Cobb from Sienna Patti Gallery