Stripes have been a not infrequent topic of posts on this blog. I am, and will always be, a fan.



Here is the latest entry in the Directrice's big book of stripes, the Stripeclopedia.

This is a new purchase from COS.

I believe it was Ursula from Cadiz who first told me (us, collectively, Directorate) about COS. COS is an H&M Group company — more natural fibers, higher quality fabrics, and directional designs reminiscent of Maison Margiela, Jil Sander, and Marni. COS consistently produces interesting pieces at reasonable prices, a fraction of those high-end designers.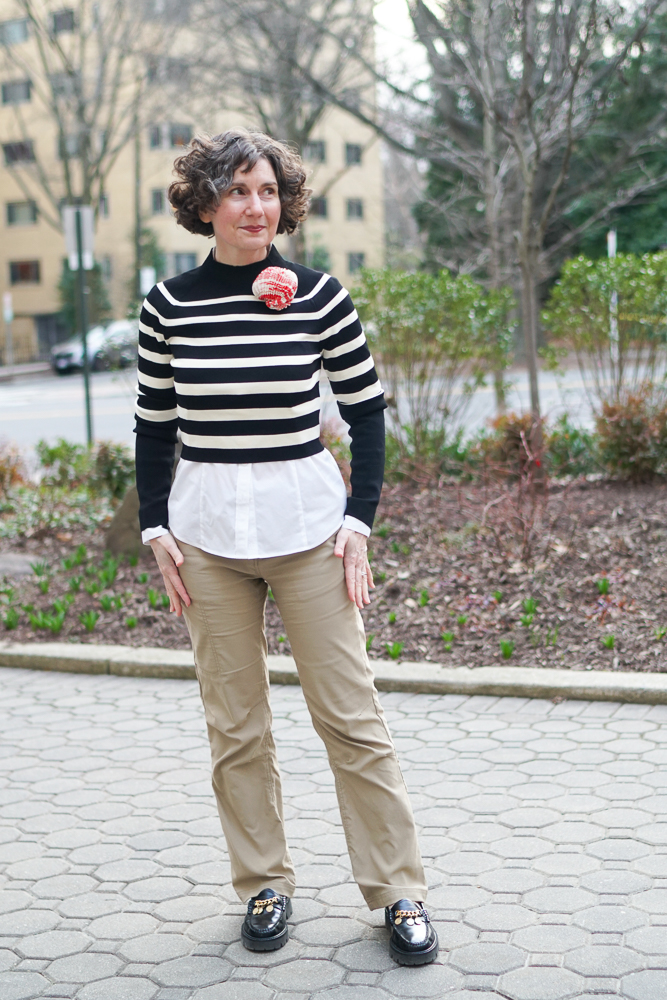 I am not sure if this is a sweater or a top. It's made of synthetic fibers with a lot of heft and a luxe finish, very similar in weight and feel to this
striped top
from years ago. It's not for travel, because it would weigh more than several tops and a sweater combined, but it's perfect for the way we work now: casual but polished.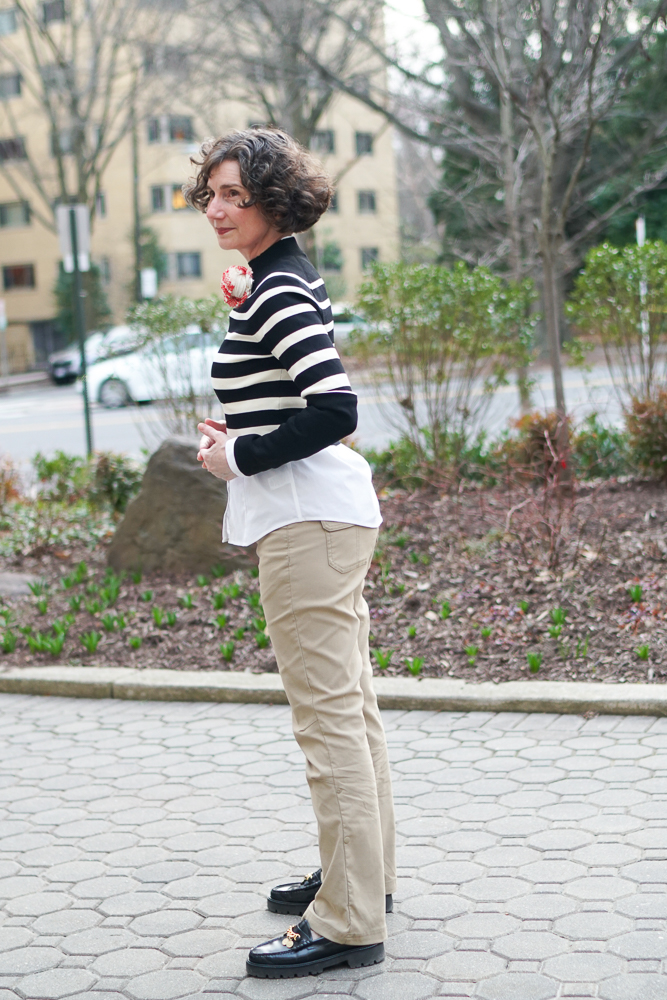 For all that I routinely tell The Photographer, "Designers should consult with me before they go into production!" — I couldn't have designed this. Two details make it sublime. First, the width of the top three stripes is graduated. This gives the graphic a graceful scale. Second, the stripes stop at the elbow on the sleeves. This creates a beautiful balance of action and rest, positive and negative space between the cropped length of the torso and the full length of the sleeves.
And now, the cherry atop the sundae: a striped brooch.
A friend once told me that one should never feel bad about spending money on art. This applies to art jewelry!
This gorgeous piece by
Kazumi Nagano
came from
Galerie Noel Guyomarc'h
in Montreal. I love how the organic seashell form is rendered with cheery stripes.

Only one cold-weather drawback here: Coats!

I carried it to work (a box tucked inside my tote) and put it on there.
Top: COS
Cropped Knitted Mock-Neck Top
; Shirt: Talbots
Perfect Shirt
(see also this
tunic
and this
patterned shirt
); Pants: Prana Halle II Pant; Shoes: G.H. Bass Weejuns