It seems like we just got here, but non. It's been two weeks and it's time to go home. As you read this, I am probably engaged in an in-flight marathon of Marvel Comics movies: Captain America: The Winter Soldier; Captain America: Civil War; Captain America: It's Mueller Time!
After leaving the desert, we flew to Santiago, and then drove to Valparaiso, a port city of approximately 500,000 residents, thousands of stray dogs,* and 45 hills. It felt so good to be back at sea level . . . our natural comfort zone.

We were woken by an earthquake on our first morning in Valparaiso — 6.2 on the Richter Scale, but centered approximately 225 miles away. Our bed vibrated, waking us up at 7:20am. No one seemed to be alarmed, so there was nothing to do but get up and start the day.
The Photographer is always keen to speak with residents who are not hospitality workers when we travel. I suggested that he ask our travel agent to find us a journalist or writer who might be prevailed upon to spend a half-day telling us about Chilean politics and economic history.
Then, there was trade exploration and economic stimulus. Or, put another way, the Directrice went looking for things. I found a charming shop for clothes and jewelry,
Bazar La Pasion
, where I purchased a chic necklace and a witty ring.
Here are the khakis and jacket with a white tunic and floral camisole underneath. You've seen them before. The short jacket gives the tunic a little shape.
Although neither of us has ridden a horse since the age of 12, The Photographer indulged my wish to sit on a horse and walk in super slow motion around the property under the watchful eye of an experienced guide.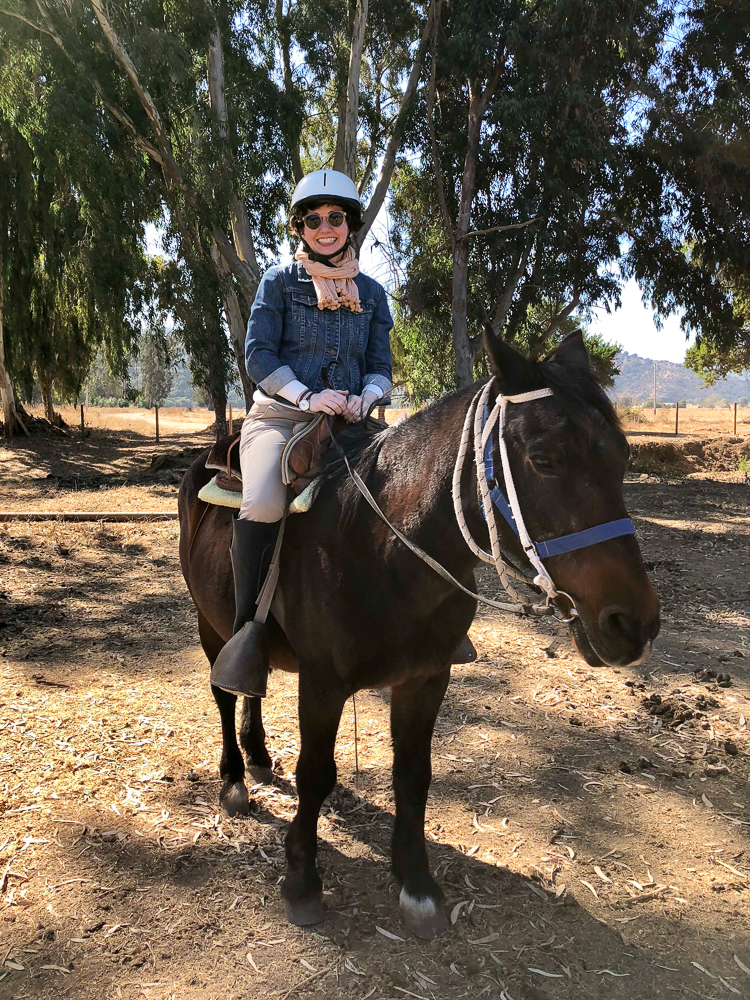 * Actually, the dogs are not strays,
per se
. They are
quiltros
, dogs that are not owned by individuals but rather tended by communities. They generally live outside, but are fed by businesses and individuals and cared for by local veterinarians. They are companionable and docile (indeed, better behaved than many U.S. pets!) and I wanted to bring all of them home with me.