I had an idea recently: that I should wear a slinky black silk dress, belted, over jeans.




Where did this idea come from? It wasn't entirely original.

The belted slinky dress came from Midnight in Paris,* which I watched a couple of weeks ago. The character played by Rachel McAdams (crabby Inez) wears dresses and tunics belted and they looked very stylish. Not chic, but stylish.

Rightly or wrongly, wearing the dress over jeans sprang from my own mind.
To make something like this work, the dress needs to be very fluid, but substantial enough to cover the bumps of the jeans and blouse underneath. This dress is a heavy silk.
A pair of Directrices, back-to-back, will show you the side views.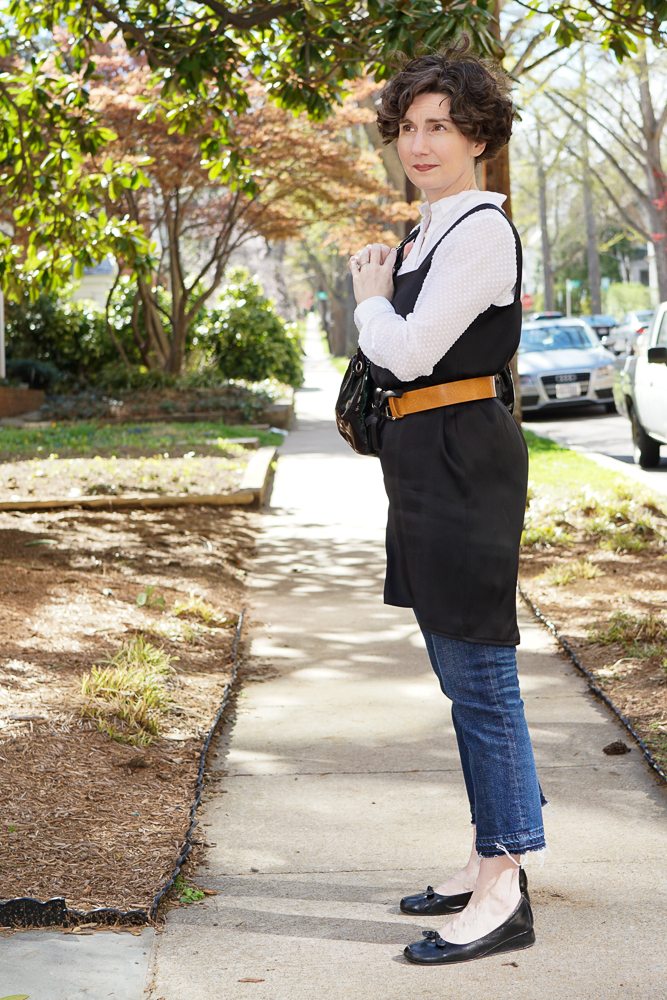 Approach and take note of the slinkiness. Perhaps the dress is slippery rather than slinky. Slinky is a characteristic of bias cuts, and this dress is purely recto-linear.

In the alternative, a form-fitting stretchy slip could work. I thought about wearing a black Spanx slip.
Important note: I had this dress shortened to a minidress length. Arguably, it is a tunic. The dress looks purposefully shorter in the front than back, but it's not; its slippery self has just slipped back on my shoulders.


For the eagle-eyed among you, the straps are of different widths.

Ordinarily, I would say Fun, right? — except the rest of the dress is austere and intellectual, which forces me to consider whether I initially underestimated the straps.

Interestingly, the dress doesn't read asymmetrical. It looks balanced to me.
Here is a familiar face. Two faces!
I liked this belt so much
in black
that I bought a second one in black and tan.


For those who had difficulty visualizing the fastening, puzzle no longer.

The Photographer has photographed it for you.
At this time of year, a large scarf is useful. Today was beautiful, but brisk in the shade. A leopard scarf is just the thing to keep me from feeling cold. It is also
warding off disease
.


In the final analysis, I think I look like an art teacher in this ensemble, which we can all agree is a good thing.


Dress: Maison Margiela from YOOX; Blouse: JCrew; Jeans: JCrew; Belt: Maison Margiela 11; Shoes: Lazio Collezione; Scarf: JCrew; Bag (The Oilslick): Car Shoe
* Setting aside the entire
issue
of
Woody Allen
, I can't not love this movie: the baffling premise of a novel about a nostalgia shop, the plot twist of telescoping trips back in time, and the excellent cast of supporting characters.
Who wants a fight?