I am always scanning my environment, looking for well-dressed people whose ideas I can borrow. Several years ago, I was in LAX airport and saw a woman ahead of me while I waited to order a coffee frappaccino and her ensemble — and her individual chic — have stayed with me for years.


She was wearing a dark blue jacket made of a techno-fabric and dark rinse jeans and carried a metallic gold shoulder bag.

She looked so great!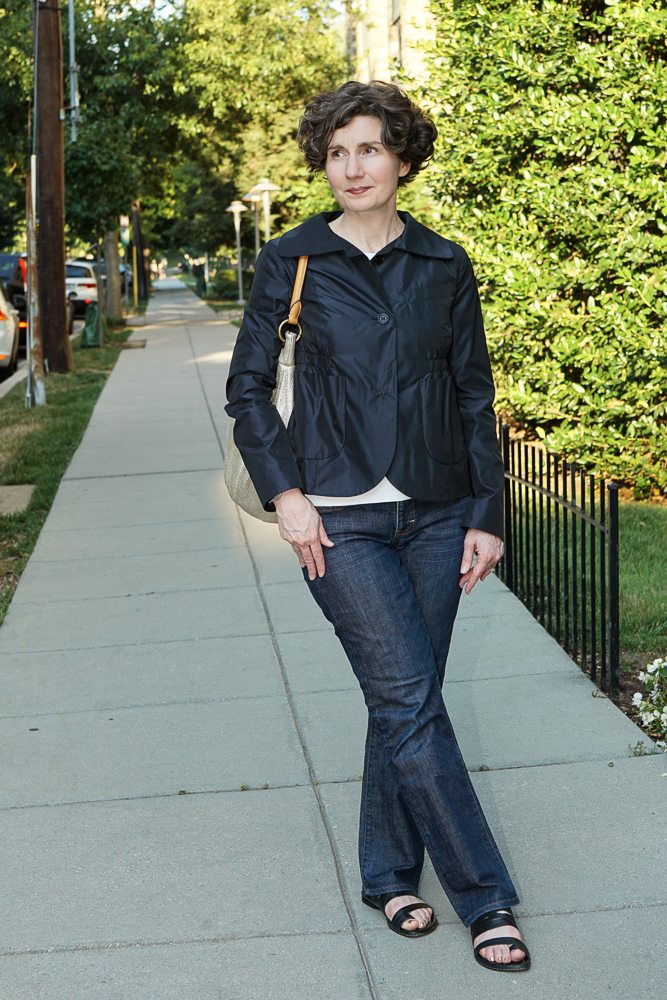 This is me, trying to recreate her great look.

I have added black sandals. I have no idea of what she wore on her feet. To give you some sense of how long ago this sighting occurred — it must have been before I had a phone equipped with a camera. If I'd had a camera, I would have taken a surreptitious photo of her and then we would know what she wore on her feet.



This techno-fabric jacket — I don't even know what "techno-fabric" means, but I've seen the word used on YOOX — has some fun details.



I am going to lay the details out least fun to most fun, but remember: They are all fun.


As implausible as it may seem, the fire hydrant and I are color-coordinated like prom dates.


And now . . . drumroll . . . the best part:

Cornflower blue interior snap!


The Photographer wanted to take some photos of me in motion. He told me to walk and "act natural." No instruction could have elicited more unnatural behavior.

Jacket: Carven; T-shirt and cotton camisole (underneath): JCrew; Jeans: JCrew; Bag: JCrew; Shoes: Donald J. Pliner