Continuing our conversation about the way we dress now, I am trying to wear every jacket and statement top in my closet . . . with my favorite four-season, all-occasion Prana hiking pants. A worthy undertaking!
Only the truly committed Directrice readers will remember this Vera Wang Lavender Label jacket which was first (and only) shown
in 2015
, though it has enjoyed many days out of the closet in the years since.
Vera Wang's Lavender Label was really fun — feminine, architectural jackets and dresses — but sadly is no more. You can still find pieces on consignment sites. In addition to this short, fitted, black jacket, I have a beautiful chartreuse (the ultimate weirdy green)
swing jacket
that is challenging to wear but totally charming.


I know that there is some disagreement among us regarding short-sleeved jackets, but I am a fan. Setting aside whether one wants to wear a short-sleeved jacket with bare arms (I am of two minds on that question), they are perfect for showing an interesting long-sleeved blouse.

I stumbled on this jacket-blouse combination while cleaning out my closet, when the jacket and blouse were both sitting in the "potential give-away" pile.

I know! Madness! They are perfect together. Indeed, each looks better with the other. So they are back in the closet.



Top to bottom, you are seeing: a metallic, jacquard fitted jacket, a chiffon silk blouse shot with metallic threads, action slacks, and blinged-out Bass Weejun loafers. It's the way we work now.




This seems appropriately post-pandemic to me.

It's interesting, but comfortable; structured, but not restrictive; playful, but not unserious.


If I substituted a pair of black wool trousers and ballet flats, I'd be ready for a concert at the Kennedy Center.

Yes. I wear more worky clothes to the Kennedy Center than I do to my office because I am showing a higher level of respect for the performing arts and shared cultural experiences. Also, a concert or performance only lasts 2-3 hours.


Next level pattern-mixing involves mixing similar patterns — here, two florals — which is harder than it sounds.



Arguably, this outfit involves mixed metals, too. The jacket has a silver cast, but the blouse is shot with gold threads.
For every photo that appears in one of these posts, there are easily 5 that don't get picked. The miracle of digital photography! The Photographer and I zip outside for 10 minute photo sessions trying to catch the best light of the day and click click click. Often I don't even look at the photos until we are back inside, later in the day.
For whatever reason, this set had some unusually funny rejects. Let these be my special gift to start your week off right.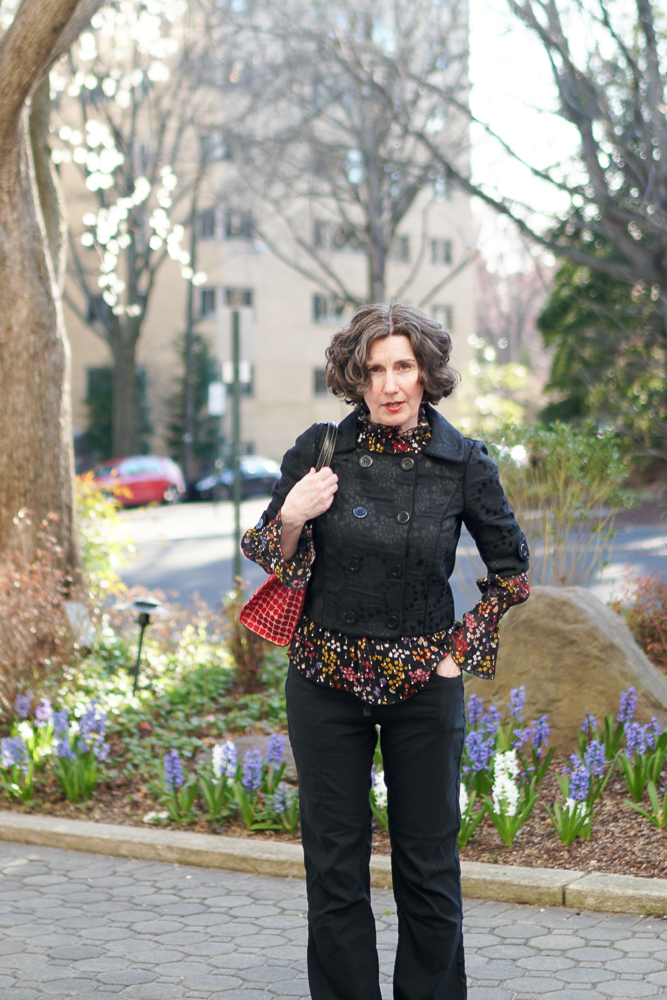 Here I appear to be looking into the void, and it is not good.

Again: How? Why? The Photographer is always surprised (and amused) by the range of expressions and attitudes he captures.



Jacket: Vera Wang Lavender Label; Blouse: See by Chloe; Pants: Prana Halle II; Shoes: Bass Weejuns