What to do when you like the clothes that you have but crave fresh looks and don't have much more closet space for new acquisitions? Or when you have so many things that it is a challenge to wear all of them in the course of a season?

You must contrive!
You re-combine your old separates into new outfits. You've seen
this blouse
before and you've seen
this dress
before, but you've never seen them together. Until now.


I bought this blouse a year ago, on a hunch that it would be useful.

It is very useful. The drape of the scarf neckline is so graceful as it is tied into a bow. The bow fills in the neckline of my Cotton Mather dress very nicely.


Come closer and take note. But also take note of the partially completed apartment re-fresh.
The office cabinetry was installed last week.

I've been drawing up plans for his office in my head, and on paper, for the last three years. The space is tricky — only 6 feet deep and 12 feet long and The Photographer had his own demands. The office is a former sleeping porch, turned winterized solarium, re-purposed as an office; it is connected to the dining room and living room by french doors and therefore is visible from both.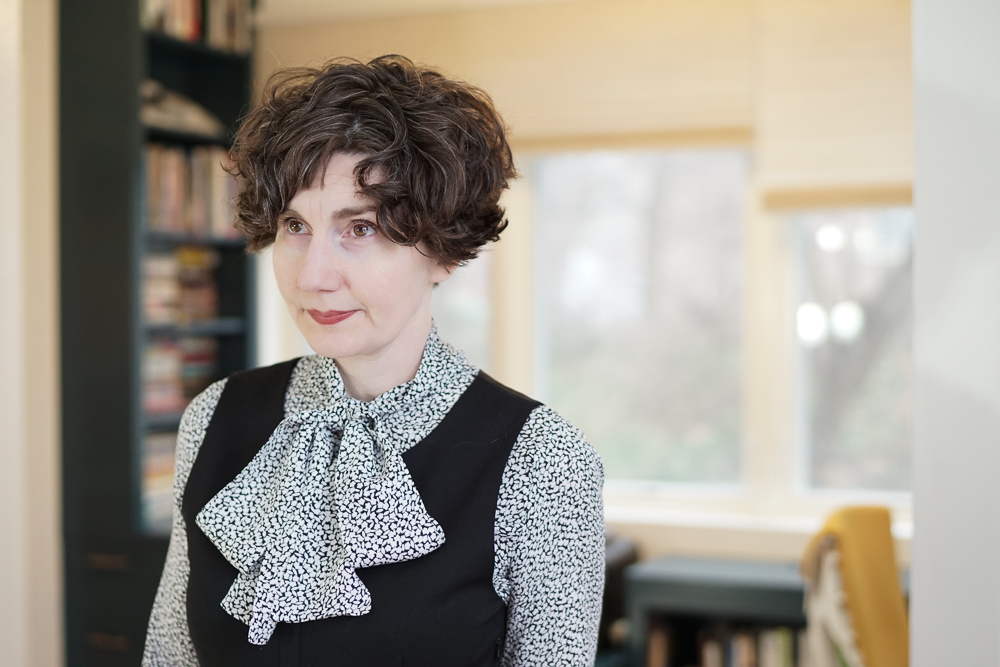 Before we step into the office, let's take a quick look at the bow.


And the bag.

The Photographer wanted maximum shelving for books, but I wanted some case storage because I was tired of looking at stacks of paper and office supplies on tables (including the dining room table) and cabinets. I also wanted something more interesting than a straight run of uniform cabinets.

So, we have two deep file drawers topped with a flat drawer (24 inches deep and 36 inches tall), a small cabinet at lower height for the printer, printing cartridges, paper, and other office supplies (only 20 inches deep and 24 inches tall) and a long stretch of shelves for books (only 12 inches deep and 32 inches high). Along the perpendicular wall, we built very shallow shelves (only 9 inches deep) from cabinet height to the ceiling.

Next, I will hang the U.S.S. Enterprise from the ceiling.
Once the dimensions and layout were fixed, I spent a lot of time cogitating about the color, the profile of the doors, and the hardware. I am very pleased with these choices.
Next, I need to find suitable carpeting. The tiles that looked so beautiful when this was a screened porch furnished with yellow floral cushions on wrought-iron chairs is clashing violently with the new cabinetry. I am thinking something ivory colored, with a simple graphic pattern (pencil stripes or diamond outlines) in a camel or chocolate brown. And then I need to find fabric for his office chair. Perhaps have a leather blotter in dark blue or green leather cut for his ergo-desk.
For those who wonder how the office will relate to the dining room and kitchen and have a Benjamin Moore fan-deck handy,* here is the plan: the dining room, currently Crowne Hill Yellow, will be painted with a custom color that is 50% of Cottontail; the kitchen, currently Rock Harbor Violet, will be painted Suntan which is a dark shade of the Cottontail family.**


This is the new fabric for the dining room. This shade of blue (lots of yellow in it)
relates well to the yellows and oranges in the living room and works well with the teal green-blue of the office cabinets.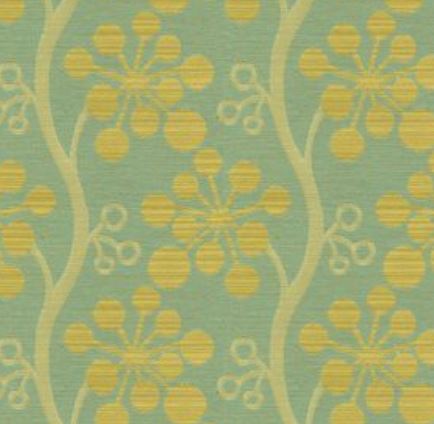 The piggy bank can't be seen in the photo above. Oink oink!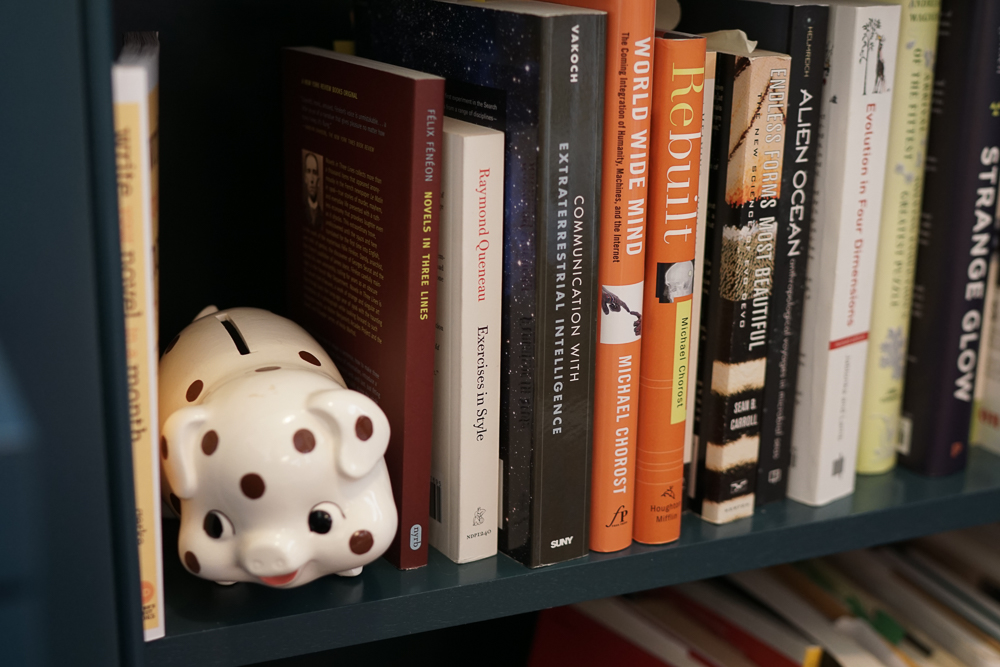 * I know that at least one of you must have a Benjamin Moore fan deck. Or, has a large collection of color chips. Please step forward and tell me that I am correct.

** Forgive me, Elena.