When I switched from print to digital media to get my daily news, I was amazed — amazed — at how often the ads I saw were from somewhat obscure sites that I actually patronized and featured things that I had actually looked at. The coincidences boggled the mind.



Sometimes I wonder how I can simultaneously be so smart and so stupid. I did not realize that my digital movements were being tracked and that the ads were personalized for me.

I am, however, rightly amazed at the way that YOOX and other retailers pick new labels for me that I might like based on things I have bought. Such clever algorithms.

YOOX recently showed me this dress.


Contrast top-stitching!
Black and blue together!
Vaguely nautical!
Pencil skirt!

I was very impressed and bought it immediately.


At ease with my passivity, I decided that I should also buy a floral blouse to wear underneath, as YOOX had shown the dress.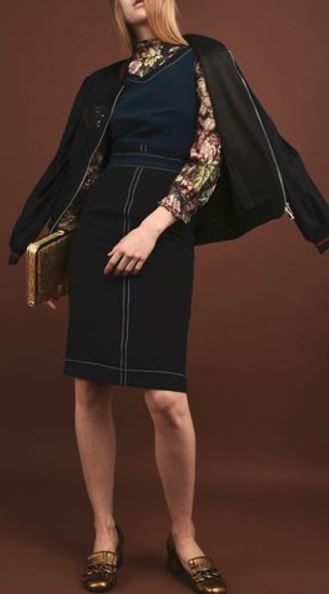 My complacency was only skin deep, however. I exerted myself to find a blouse that I felt would be more harmonious.

I don't think I've ever owned a blouse with one of these scarf-bows. I wouldn't want a closet full of them, but I like this one and think it will prove very useful.
I've previously warned you that many European designers do not use vanity sizing schemes and therefore advised you to go a size or two up when ordering French and Italian labels. (Do you remember these admonitions?) I ordered a Small and a Medium and then had to go back for the Large.
The Medium fit, the way a sausage casing fits a sausage, and the Large was too big through the torso.

So I took both to Fatima, though I had sort of convinced myself that the skin-tight Medium fit. Fatima disabused me of that delusion with a gesture so subtle that it approximated the shake of a head without any actual movement. She may have flicked her eyes. It was gentle, but final. I must learn to do this.


Together, we decided that the Large fit properly through hips and could be made right by adding a seam down the center of the top and taking in a couple of inches. She also shortened the bodice from the shoulders, which is a simple alteration on a sleeveless dress. We left a little extra fabric to create a slight blouson effect.


One last thing. The dress was decorated with a pointless, linear bow at the waist.

It was very easy for Fatima to remove.

A micro-bonus! The Photographer was testing a new lens and making me pose around the apartment late one night.

The Photographer:Lillian Bassman=The Directrice:Suzy Parker!
Dress:
George J. Love
from YOOX; Blouse:
Michael Kors
from YOOX (says it's blue, but I think it's black); Shoes: Tory Burch; Bag: Coach