I'm back with a new post that combines new and old things.


A number of years ago, one of my closest friends moved from Washington D.C. to Berkeley CA. She was never the sort to accumulate paper and ephemera, so packing and moving did not appear to be a particularly grueling experience, but in sorting through her closet, we did discover that she had FIVE black leather jackets.
To be fair, they were all very different (you've heard this
before
), but nevertheless, it was very pleasing for me to learn that even my role model in anti-materialism had a weak spot.



I, too, have a weak spot! Denim jackets.

When I spotted this jacket on TheRealReal several weeks ago — NWT, very inexpensive — I knew that it would add something valuable to my wardrobe. Dark, fitted, collared, cropped: Just the thing to combat air-conditioning.
Here it is with an old Jil Sander dress that you've seen before,
here
and
here
.
You will note in previous posts, I have shown it with different shoes. For early summer, it looks best with bare legs and flats with a half-inch heel.


There is, however, a lesson here.

I was so won over by the jacket's dark rinse, shape, and decorative stitching (a distinctive twist on the traditional contrast stitching), that I didn't even bother to look at all of the photos provided by The RealReal.



If I had, I would have seen this.
Do you think you've guessed the lesson I am trying to teach? Always look at the back? Fair enough. One should always look at things from all angles before making a decision.

But perhaps there are two lessons here.

If I had seen these hideous fuzzy varsity letters, I might not have purchased the jacket. And it turns out that the letters were easy to remove. Not buying the jacket would have been a missed opportunity.
Fortune favors the bold — and possibly the stupid.


Here I am, happy as a stupid clam with my modified Marc Jacobs denim jacket.

Note the decorative stitching around the lower pockets. It's interesting, but not zany.


Have you noticed my necklace?

A reader — Missannethrope — made it for me. Not content to simply be a lawyer and insightful Directrice commenter . . she's also a jewelry maker and she works with metal.

Come closer and take a look!

Step right up! Don't be shy.

This charming image came from an old children's book. The image is adhered to the glass using copper-foil backed tape, and then the tape is covered in lead-free silver solder.


Have you ever seen anything so charming? Look at that winsome expression!
For anyone wondering about the sculpture that is visible in some of these photos, we are at U.D.C. I want to hug this mass of coiled steel cord, which is — somehow — human and endearing.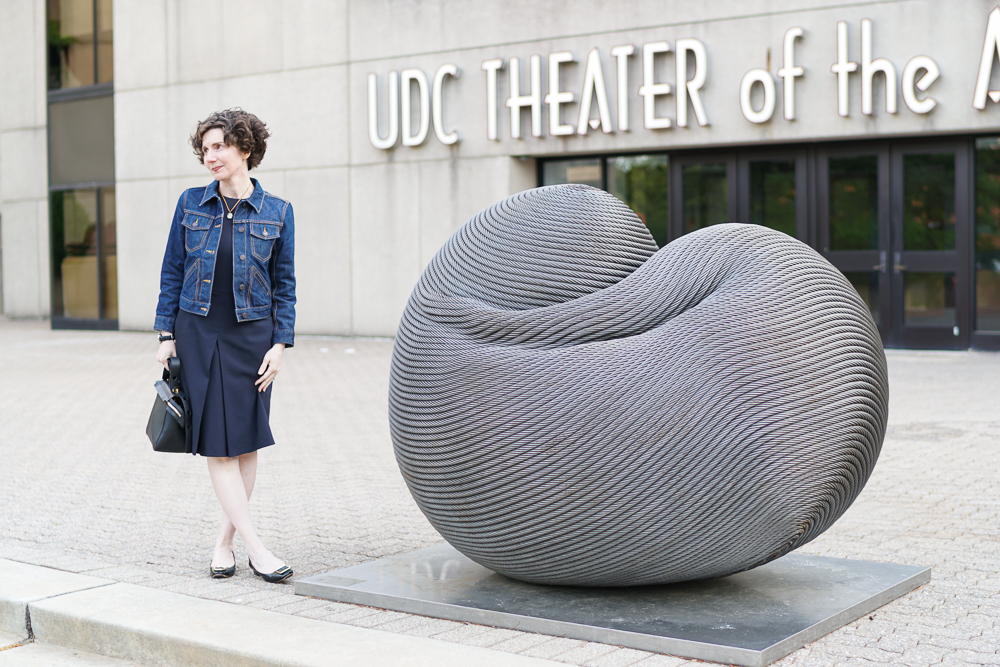 Jacket: Marc Jacobs from The RealReal; Dress: Jil Sander; Shoes: Tory Burch; Bag: Sophie Hulme; Necklace: our very own Missannethrope!