We've discussed the virtues of dresses before. The ease of wearing a dress (efficiency, comfort) has caused me to allocate a substantial percentage of my wardrobe budget to dresses.

I write that as though I actually have a clothing budget that is diligently planned and then executed. Non, non. It is more accurate to say that, looking backward, I can see that a substantial percentage of my clothing expenditures is spent on dresses.



I do like to vary the look of my dresses.

It's easy to do this by changing my jewelry (substituting a brooch for a necklace) or shoes (substituting shoes for boots), but I like the challenge of layering a dress — wearing a blouse or jersey under it or a belt or sweater over it.
For instance,
I bought this sleeveless dress
a month ago (sleeveless, but sold as an AW 2015 dress), and wanted to wear it immediately. The sculptural ruffle running over my right shoulder prevents me from wearing a jacket or sweater over the dress, so I wore a blouse under it.
For the record, the blouse is as thin as tissue paper — but sleeves are sleeves, and thus the blouse winterizes the dress.
NB: The Directrice is not a professional model, braving winter temperatures in a thin dress and blouse just to obtain the benefit of natural light in these pictures. It's an unseasonably warm day here — 65 degrees — and I am very comfortable here in the sun.

This dress has a number of wonderful details, presented in the following photo-essay: "The Directrice: A Woman of Parts."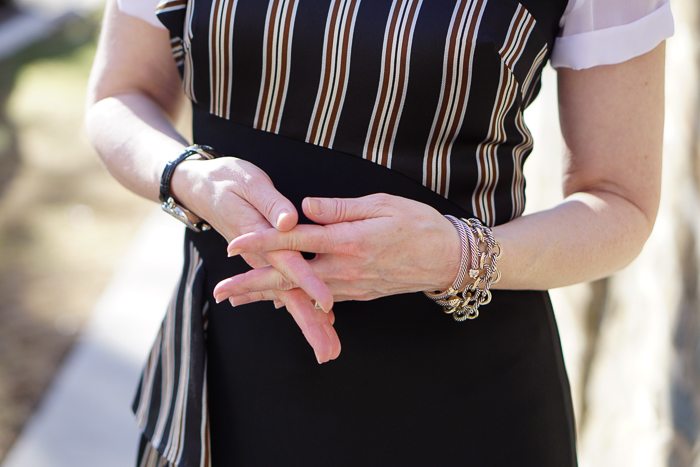 The dress is made of three different silks. The predominant fabric is a plain, opaque, black silk. The striped fabric inset is a semi-sheer silk georgette. And then down at the hem, there is another inset of a sheer, solid black silk georgette.

To prevent anything (i.e., layers, underwear, body) from showing through the semi-sheer and sheer insets, I am wearing a full slip, which is also black. The slip is also filling in the armscyes, which are a little deeper than I like.

This dress would look good with a short or long-sleeved filmy black blouse under it, too.

Because it is winter, I am wearing a pair of boots which provide warmth and seasonal consonance.
I bought these riding boots from YOOX last year. They are made by a manufacturer I'd never heard of — Donna Piu (which could be, for all I know, the biggest name in boots in Italy) — but I ordered them in the spirit of exploration. My courage has been rewarded because I am now in love with them.
Dress: 3.1 Phillip Lim
still available through FarFetch
(and it will probably appear on YOOX and The Outnet later this year); Blouse: Alice & Olivia; Boots: Donna Piu; Bag: Kate Spade; Bracelets: David Yurman; Sunglasses: Illesteva
Milan IV Amber