During the summer, nothing is cooler than a floaty dress. I've been planning the posts for the rest of the summer and there are a number of dresses involved, but to keep things interesting (and informative) I will be focusing on accessories. To some extent.



But not today! Today is all about the cut of my dress. It's another Fifty Cent Dress — but this dress, while looking like Fifty Cents only cost a dime (or so) because I found it on Gilt.

Let's talk about cost.

This dress was final sale on Gilt, so I ordered a 6 rather than a 4 and the 6 was a little too big through the bodice. Fatima was able to take it in, but as you can probably imagine, the over-corset required some precise work to be re-sized.

As a result, the math required to rationalize the dress is nearly as complex as the math required to chart a lunar mission — but worth the effort. The dress was marked down 80% from its original retail price, but I had to pay Fatima $160 to fix it. So, not a cheap dress, but the cost of the dress and the alterations combined was still a fraction of the original retail price . . . which I never would have paid.


Isn't the background terrific? It's a mural at U.D.C.


Now that you've taken the dress in (by "taken in" I mean viewed and processed, not altered), come closer to see the details.

I'm just going to fix my hair while you approach.



You must come closer.



If you can't actually make out the details, I will feel that I've failed.

Don't make me feel like a failure.
OK. Here is our last ditch effort: an obscenely close, headless photo.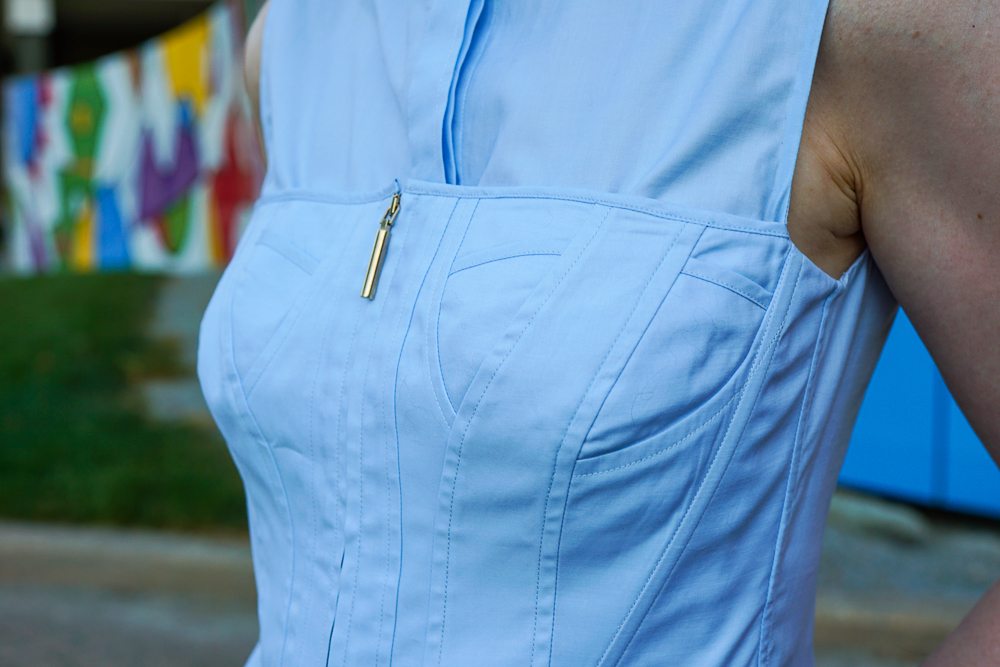 After taking photos, we stopped at our neighborhood market for a few necessities: a soda-fountain soda for The Directrice and a can of tuna for the cats.


In keeping with my accessories pledge above: If I had been thinking while I put on this dress — really thinking — I would have added this moonstone bracelet.



Dress: Jason Wu; Shoes: Rebecca Minkoff; Bag: Ferragamo