If I am only going to the office two days a week, does that make the second day a constructive Friday? For denim purposes?

The question is somewhat academic regarding jeans because . . . my jeans are a little tight right now. I gained a few pounds during Year 2 of the pandemic — no one knows why — and we'll have to see if it's a life-change (menopause) or just too many sweets.*
I was discussing post-pandemic wardrobe with a colleague and speculated that since I've been working out with a trainer for eight months, surely some of the weight gain — maybe 2 lbs. — was muscle? And she said, without missing a beat, "That's science!" That is a great colleague.
But the question isn't academic solely because my jeans are too tight.
The question is academic because denim — denim jackets, shirts, skirts — are right everyday. Denim is life.
I saw this headline — "Can You Be Too Old For A Denim Jacket?" — on the New York Times website a few weeks ago and shouted, "Are you insane?" at my laptop.
Vanessa Friedman said that one is never too old for a denim jacket, but I think it was misleading and ill-advised to even print the query.
The better query is, "How many denim jackets are too many?"
Would anyone like to offer an answer?
That's right. Mathematicians haven't counted high enough for us to have an answer. For now, Graham's Number will do.
I found this denim jacket on The RealReal and thought it might be a fun addition to The Directrice denim jacket collection. It's like a reverse dip-dye (dip-bleach) that is slightly unnerving. When I wear it, I look like I am disappearing.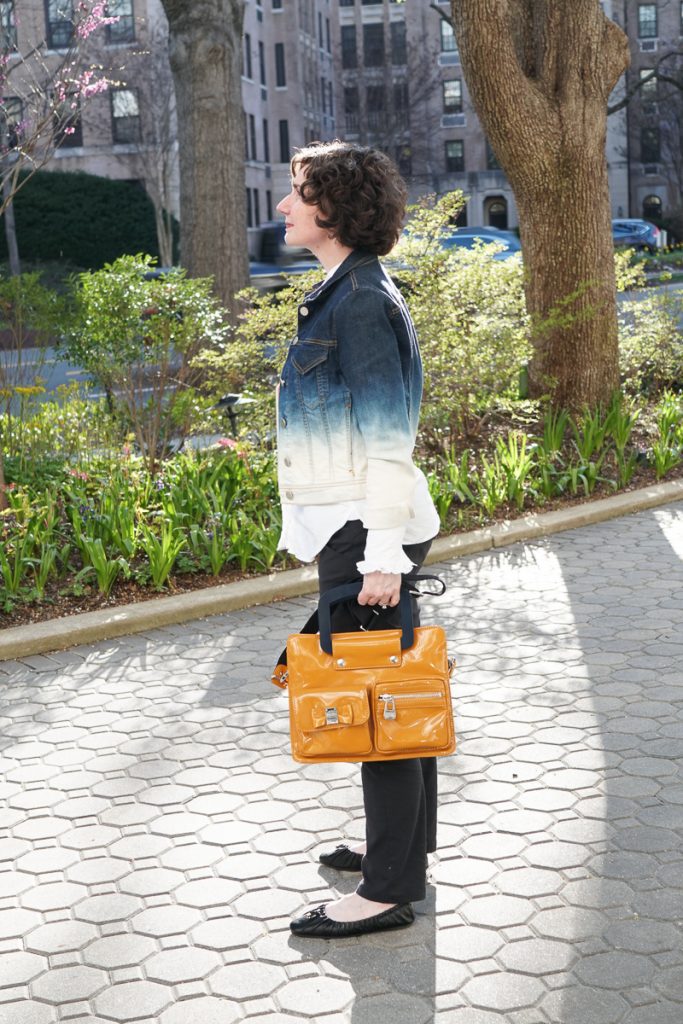 I have all sorts of odd treasures that I've been accumulating over the last 24 months. Such things as this orange patent-leather briefcase.
One of our neighbors passed by while we were taking pictures. She and I laughed at the bag, but as she walked away she said, "You're almost making it look like a necessity."
Here is what the Disappearing Jacket and Essential Bag look like when rushing The Photographer.
Come closer and take note of the details.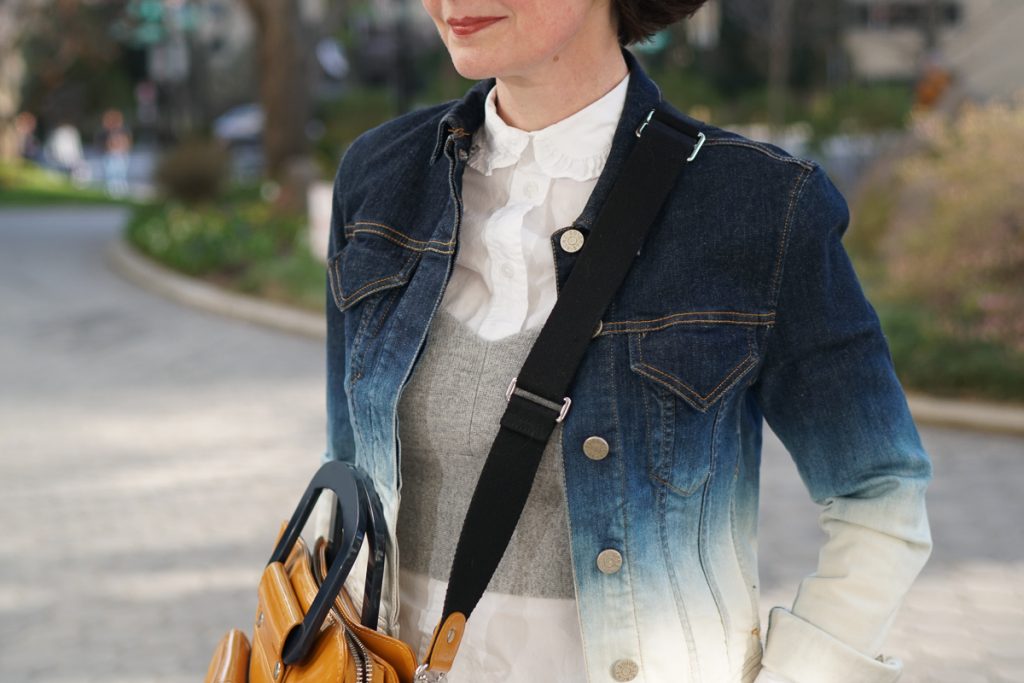 And the bag. So much to love here. Or as I say to Mr. Orange, "So much loving of you."
I justified this purchase — Sonia Rykiel from The RealReal — because it was very inexpensive and the bag is as slim as a redweld of papers and thus fits easily on a shelf in the closet.

Interestingly, the bag holds all of my work necessities perfectly — perhaps because it is divided into two rectangular compartments that are each approximately 12″ long, 10″ deep, and 2″ wide. Everything is visible+ and stays in place. Keys go in one front pocket and lipstick in the other.
We have no winner of the Keynote Address right-of-first-refusal. Obviously, I need to improve the indexing system of this blog to include named garments like "James Webb Teleskirt," "Trojan Cupcake" and "Flamenco Life-Vest."
Flamenco Life-Vest seemed like the right choice for my first concert in two years.
* We do know the cause. It's sweets and I regret nothing.
+ I am now carrying FOUR pairs of glasses: reading glasses, back-up reading glasses, driving glasses (just in case I need to take the wheel . . . on Metro), and sunglasses.