When I tried on all of my fall/winter clothes in November, I decided that an old corduroy jacket would no longer be living with us. The decision made me a little sad because I had worn the jacket on my first date with The Photographer . . . in 2009. I am a little sentimental.




What was it that rubbed me the wrong way?

Certainly not the texture, which is a fine wale corduroy — almost like velvet.

It was the fit. The jacket seemed a little boxy and shapeless.



But then I thought on it, and realized that there's always one trick to try before calling it quits.

A belt.

Not just any belt! A seasonally inspired, Ghost of Christmas Present belt in regal purple.



I showed this belt to The Photographer and he blinked. But even he had to admit that it "set-off" the black jacket very nicely
Under the jacket, I am wearing a long-sleeved blouse in cotton voile over a black silk tank — which you've seen together
before
.
Remember: Different shades of black work together perfectly when they involve different textures.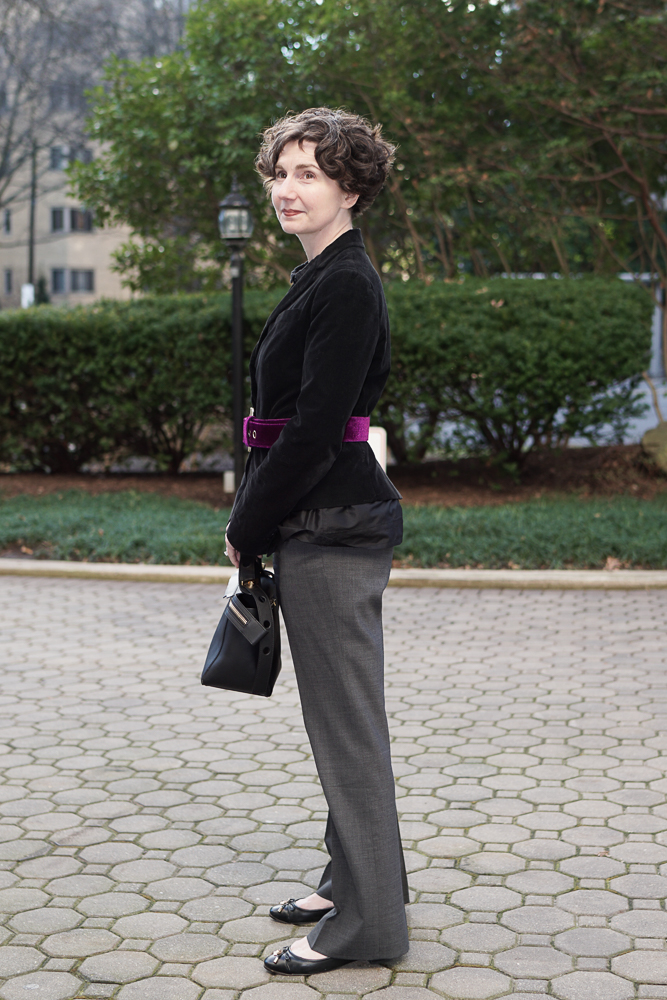 I wore this jacket/blouse/tank/belt combination to work on a Casual Friday with jeans and black sneakers and then changed into grey pants and low wedges to attend an evening concert.



Let's take a moment to enjoy this purple belt.

The color is so intense. I want to drink it.
An Administrative Announcement: I've heard that some of you have not been receiving my alerts. If you are a subscriber to my mailing list, you should check your spam box for my announcements and liberate my emails. Doing so will legitimize my address and help me and other subscribers.
Jacket: Theory; Blouse: Athe by Vanessa Bruno; Tank: JCrew; Pants: JCrew; Shoes: Coach; Belt: B-low the Belt
Blake Velvet Belt
from Shopbop