Traveling to a place where you expect bad weather is a challenge, particularly for a person* like me — who thinks that traveling with more than one pair of shoes reflects a failure of imagination, common sense, and moral fiber.**


Snow boots are bulky. That's a true fact. There is no graceful way, upon arriving at a meeting, appointment, or hearing, to gracefully change into professional shoes and tuck the boots away. And if the weather clears and you no longer need them outside, what do you do with them then?

I was looking at the Cole Haan website last week and was struck by an idea.

Low, waterproof boots, like these:


I could wear these little boots to walk around in rain and wet, slushy snow — but they are small enough to be slipped into a totebag upon arrival at a meeting.

They are also small enough to wear comfortably on a plane. In fact, they might even be pleasingly cozy during a flight. In all the flights I've taken over the years, I've never once felt that my feet were too warm in-flight.


Building upon this good idea, I have realized this old jacket is perfect for travel as well.

It's one garment, but composed of two distinct parts: a wool melton vest and a merino wool cardigan. It looks like a jacket — well, it is a jacket — but folds up as easily as a sweater. It could even be worn over the shoulders with the sleeves tied around the neck, if one felt too warm.


To minimize bulk, I am wearing a sleeveless collared jersey, a long sleeved t-shirt and a sweater vest under the jacket.


This single-button jacket has a cutaway silhouette. It's very feminine and looks good with many types of pants. It could be worn for certain business meetings.
You may remember this jacket — you've seen it before, in
February 2015
.


Now something fun — a patterned bag.

Black and white (ivory) are obviously versatile but not exciting. The interior, however, is the most lively coral color: a burst of energy every time I open the bag.

Can you tell what this pattern is?
Come closer and take a better look.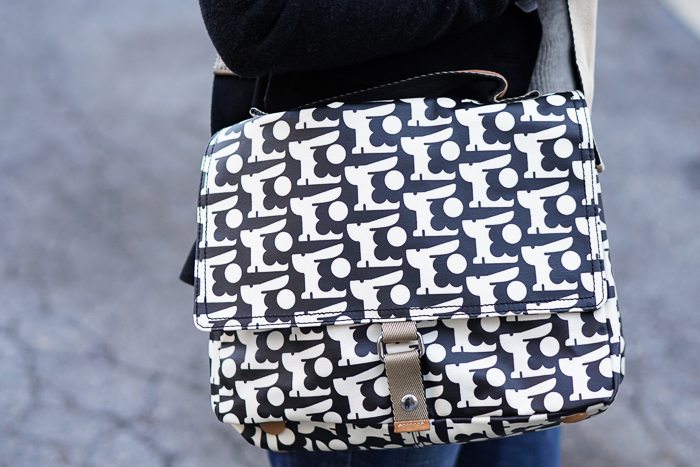 One last look at the boots. Of course the laces make the boots; I never would have taken a second look if the laces had been black.

Note: Thick laces like these are easy to manage in bad weather, in airports, and on planes.


To start your weekend off right, on the Thursday morning of a four-day work week, I give you Harper and Posy.

Have a fantastic weekend!




Jacket: Hanii Y; Sweater vest: JCrew; Jeans: Lucky Brand; Shoes: Cole Haan; Bag: Orla Kiely; Watch: TechnoMarine

* A nut. Nut like me.
** Obviously packing an alternate pair of shoes is not a
moral failing
. But the inefficiency does stick in my craw. Interestingly,+ I recently packed two pairs of shoes — flats to wear with a suit and low heels to wear with a dress — for a 2-day trip that involved a bad weather forecast, a meeting on Day 1, and a hearing on Day 2. I did so after concluding that a dress and coordinating heels (perfect for meeting) would take up less room in my suitcase than a second jacket/trouser/blouse combination that I could wear with the flats. Think about that over the weekend.
+ I cannot believe I lead into that sentence with the word "interestingly" because . . . neither that sentence, nor the one that followed it, was all that interesting.