I will admit a guilty pleasure: I have really enjoyed the Hunger Games movies (the first two). I found them wildly entertaining, as well as well-acted and well-produced. I would not, however, list them among Good Movies for Clothes (see this post) — except that I was struck by a misshapen sweater vest that Katniss wears in the opening scenes of the second film, while she's hunting furry creatures with a bow and arrow and realizes she no longer has the ability to kill after being forced to participate in the Games. Do you know the vest I mean? Grey, thick, lopsided?

It seems designed to keep her a little warmer, but not actually warm. That seems about right for District 12.



When I saw a plausible facsimile on YOOX, I pounced.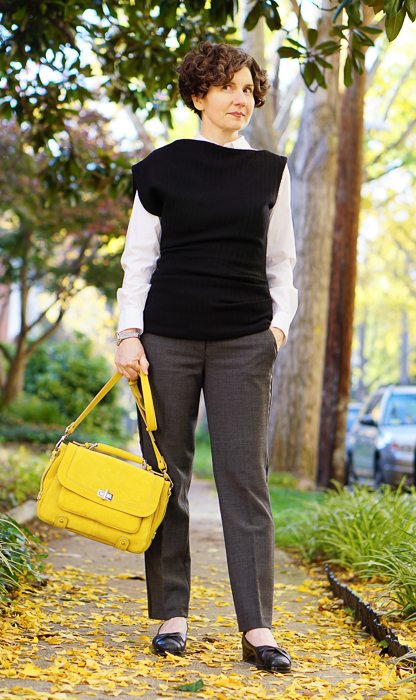 Just the thing for work, which is like a watered-down version of The Hunger Games when free sandwiches are available in the kitchen.



Here are my grey flannel pants, adorned with a leather tuxedo stripe.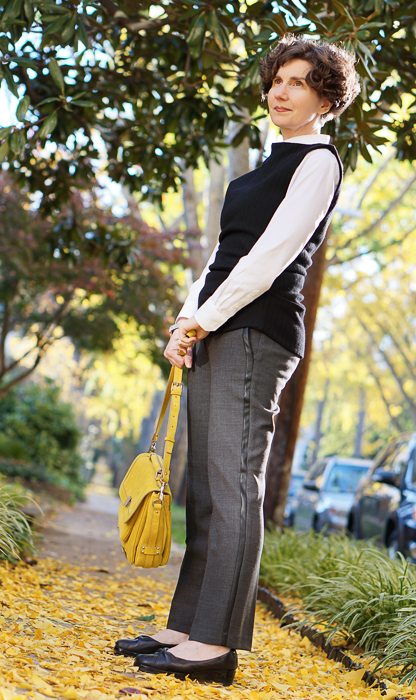 You may remember a twisty top that I wore during the summer, Tip-Top? This sweater is by the same label and there are some similarities in the design.

Did that cluster of photos make you dizzy? I think it was too much.

And now the details: a sparkly watch band and a yellow bag to brighten things up.

Are those details too little? Here, let me help you with our new amazing zoom feature.

ZOOM: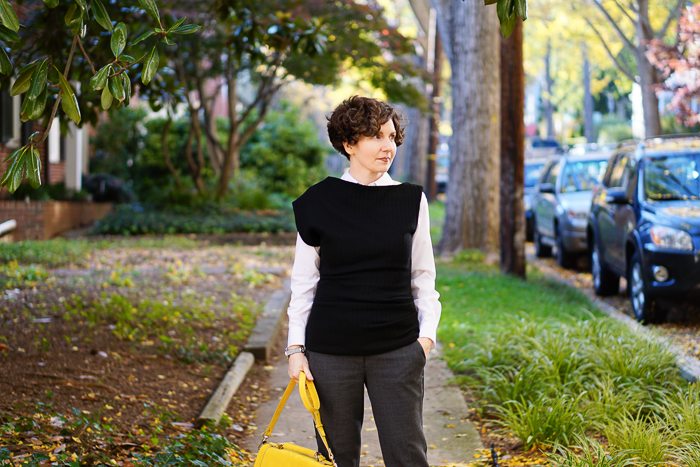 Sweater: J.W. Anderson; Blouse: Talbots; Pants: JCrew; Shoes: Taryn Rose; Bag: Barbara Bui School's Out Satchel from YOOX; Watch: Michele Serein 16
And now, a YOOX miracle. I found this Barbara Bui bag on YOOX in 2014 and put it in my "Dream Box." As I dithered, it sold out — but I left it in my Dream Box and almost one year later, it came back in stock and YOOX notified me. A miracle of the sort that Effie Trinket could appreciate.