True or False: It is not appropriate to wear a halter to work.



True.

And false.

The question defies binary choice. Blame the author of the test.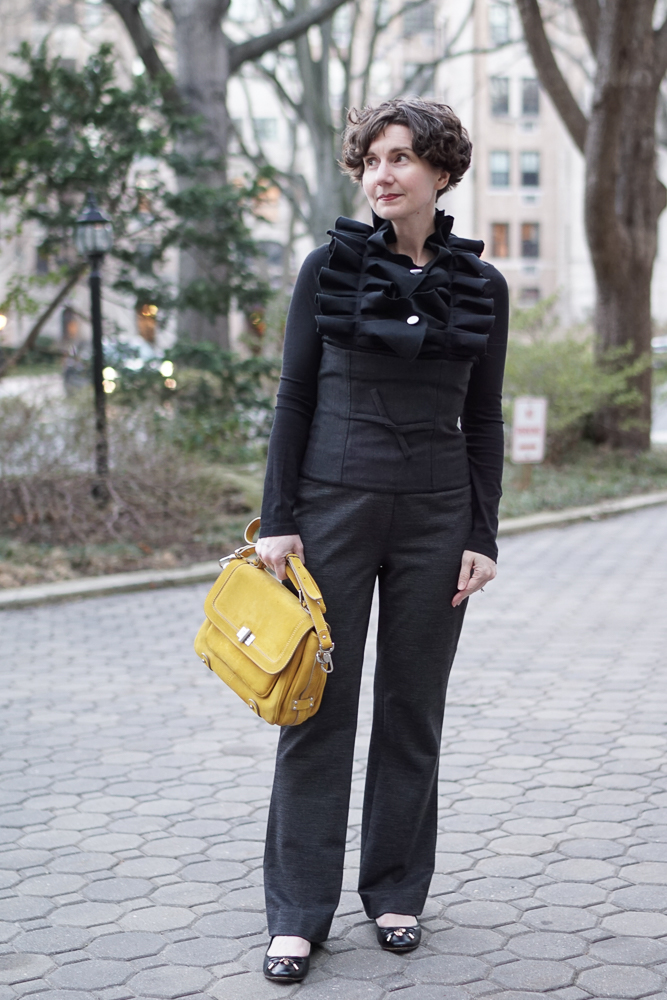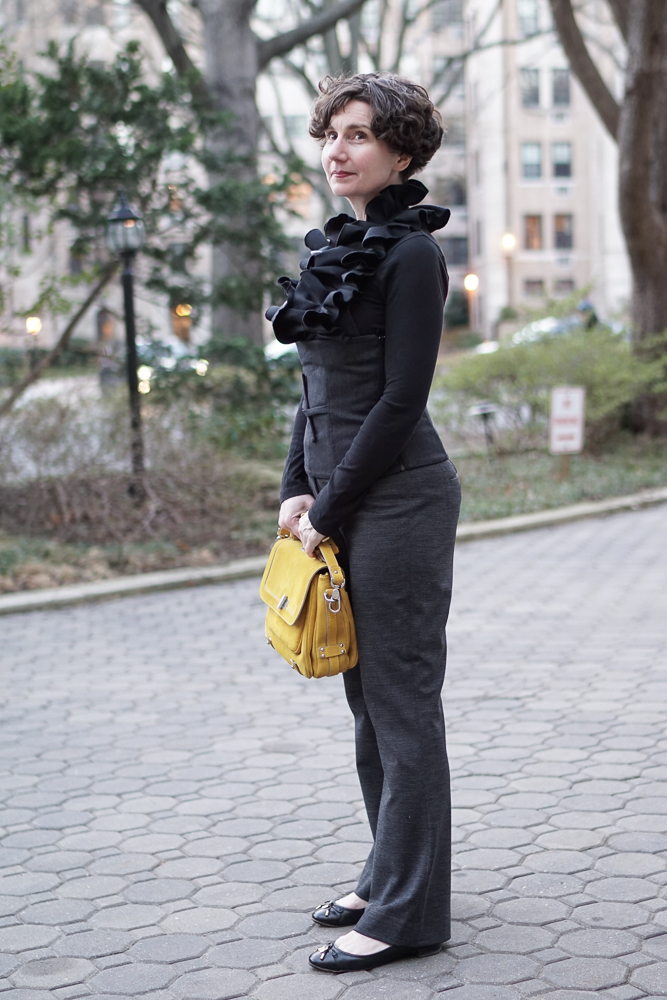 It is not appropriate to wear a halter qua halter to work.

But you can wear one layered with another top to create something altogether different.

Like so. Look to the left.
I am wearing this halter — another prize from the post-holiday Sacking of the Internet — over a tissue weight tee shirt. The tee shirt matches the upper part of this color-blocked piece and my trousers match the lower. A casual observer might think I was wearing: a jumpsuit; a corset over a long-sleeved tuxedo blouse (a tuxedo shirt from 1975) and trousers; a mixed-fabric long-sleeved jersey and pants. The mind boggles.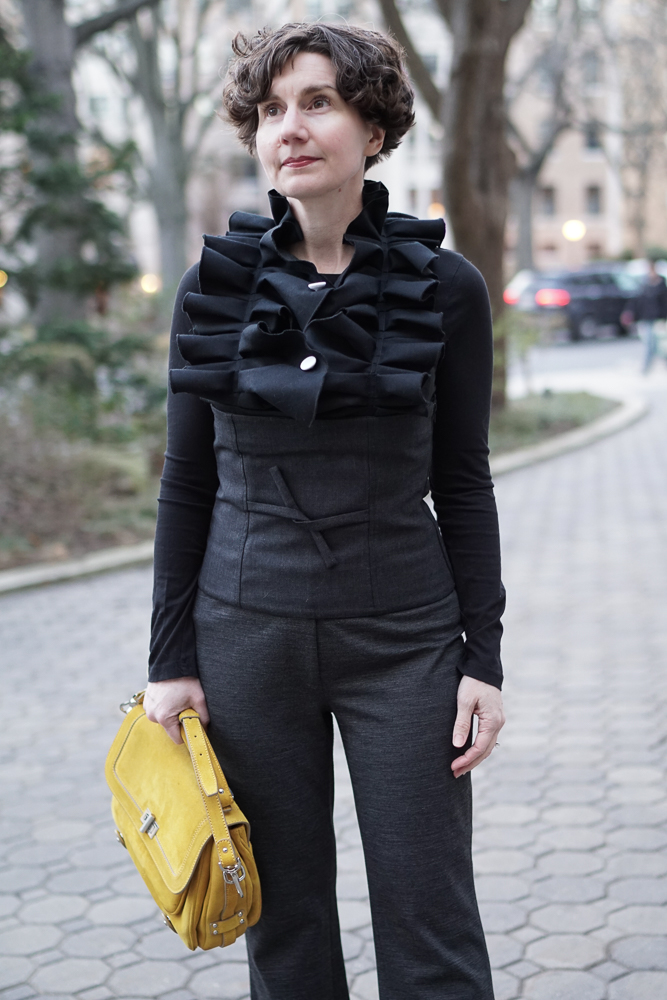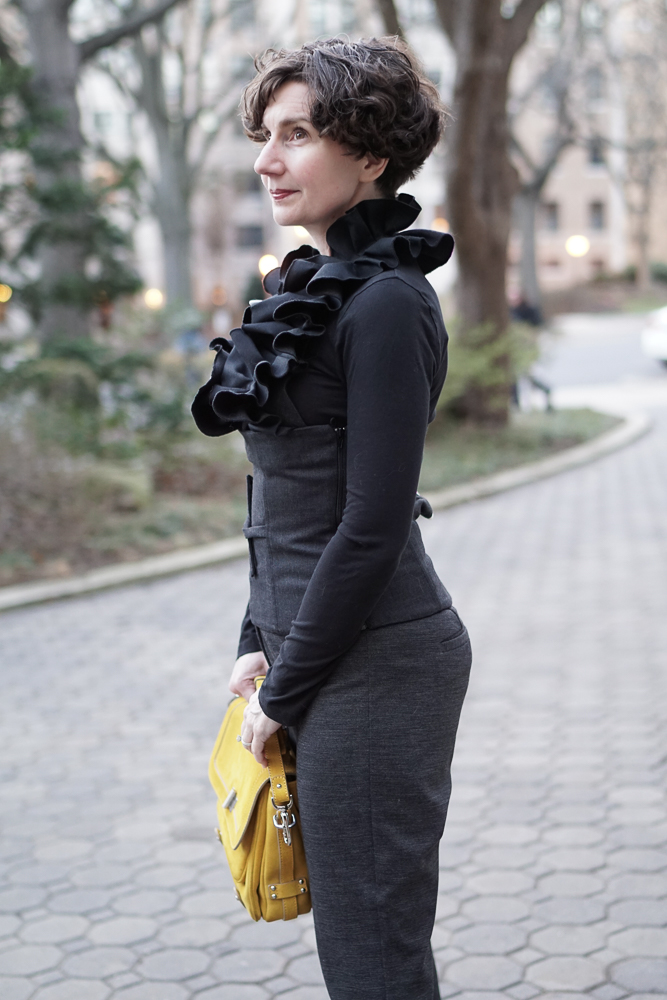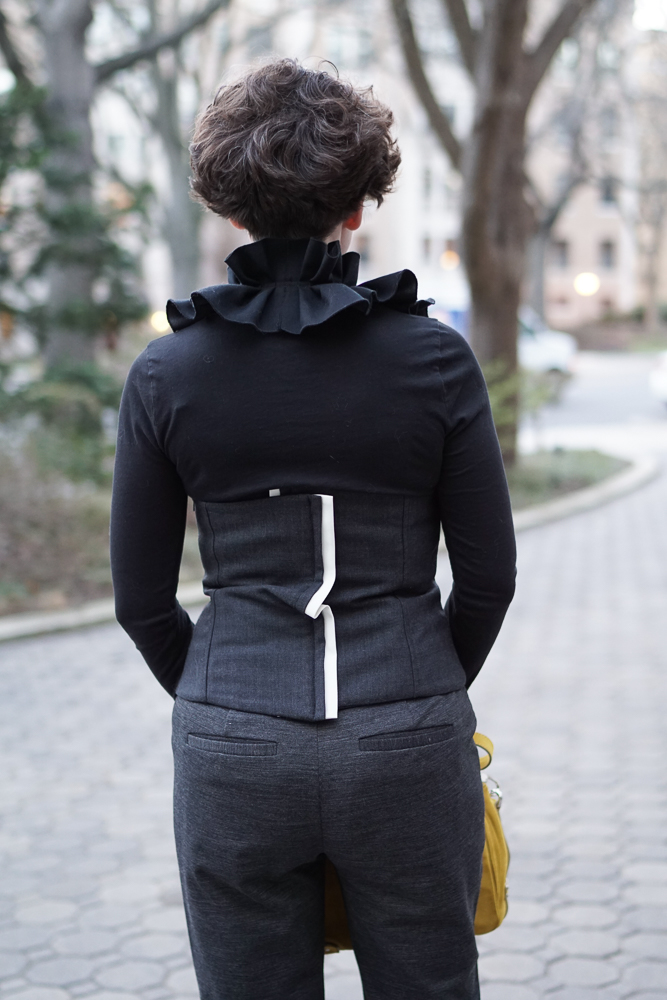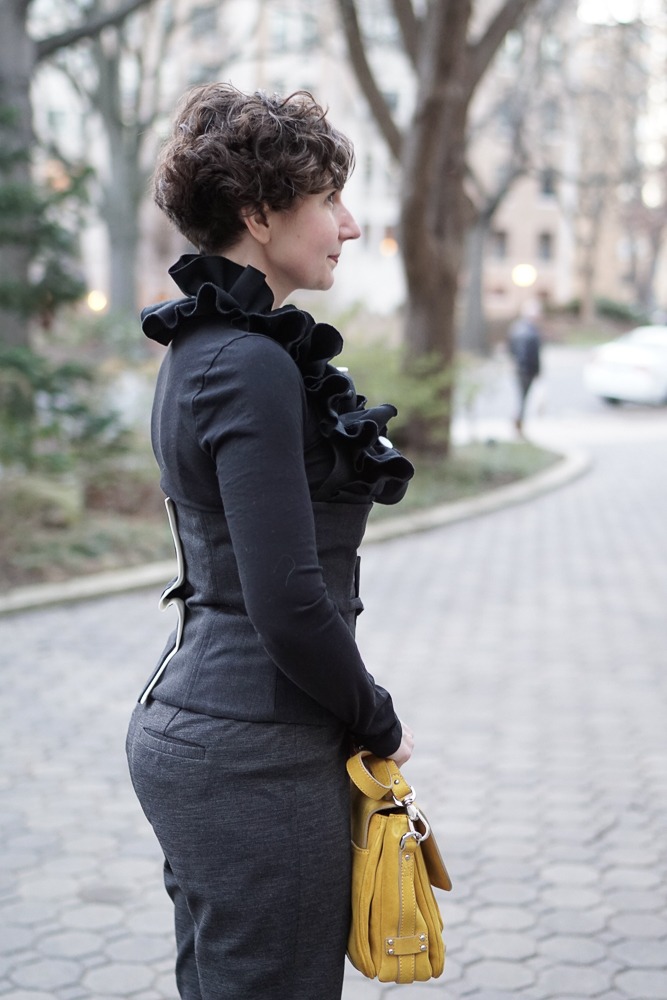 I love so many things about this top: the pairing of the wild ruffles with grey flannel;
the graphic white buttons nestled among those black ruffles; the crooked seam down the pack, decorated with white piping.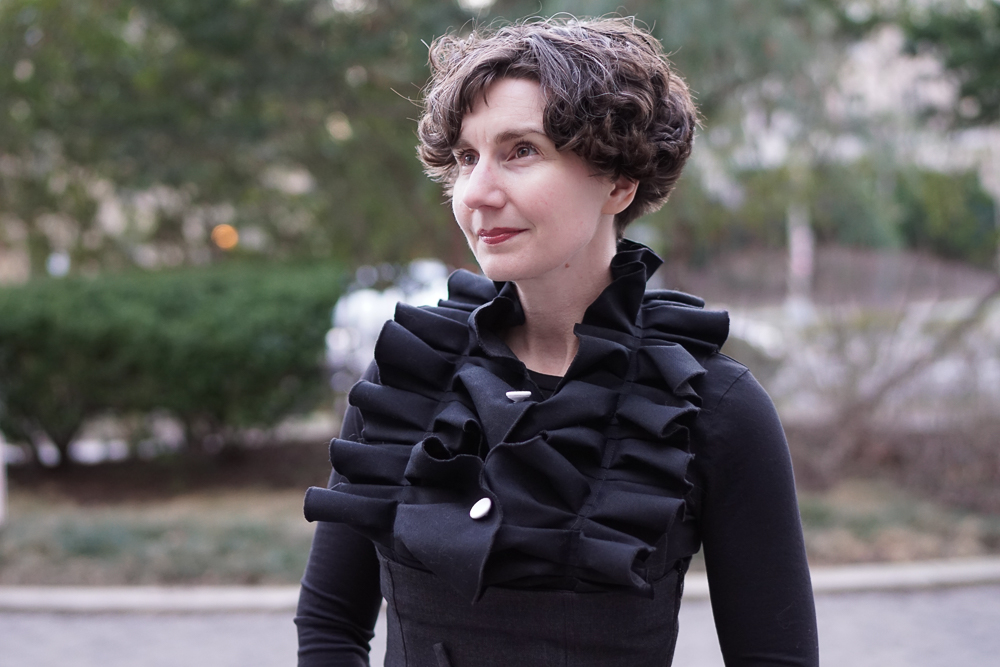 I see several combinations for this top. Just to start:
Feel free to share your ideas!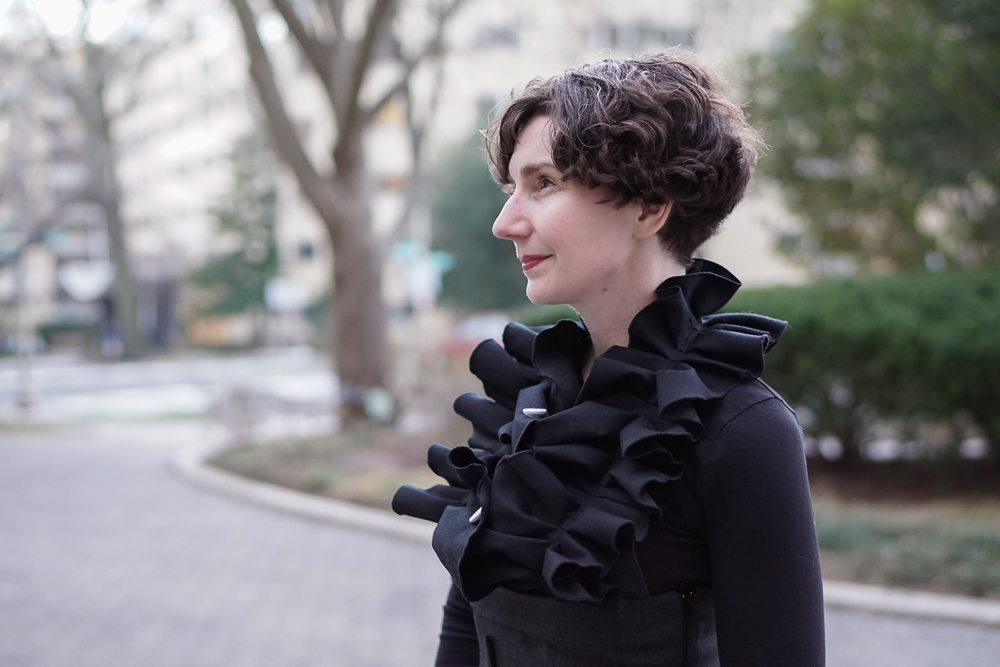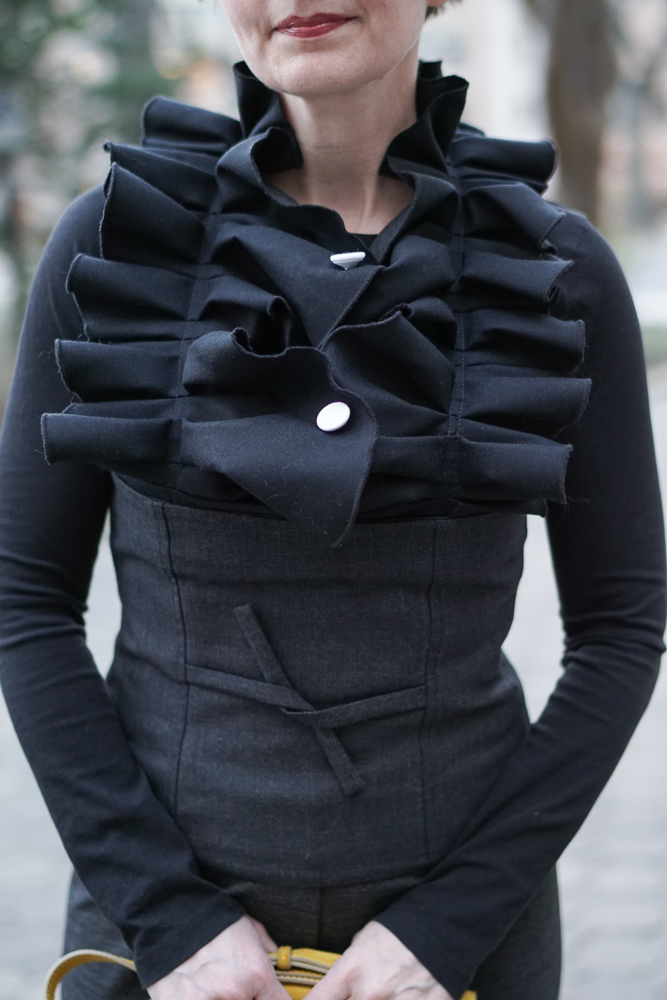 As close as those photos were, I think you need to be more closer, don't you?

Come more closer now.


The Photographer, showing an unusual responsibility for checking and tidying his model before shooting, tried to smooth the wrinkle in the back by tugging on the hem. To no avail. That wrinkle is an eccentric soft pleat, part of the design. It can't be tugged away.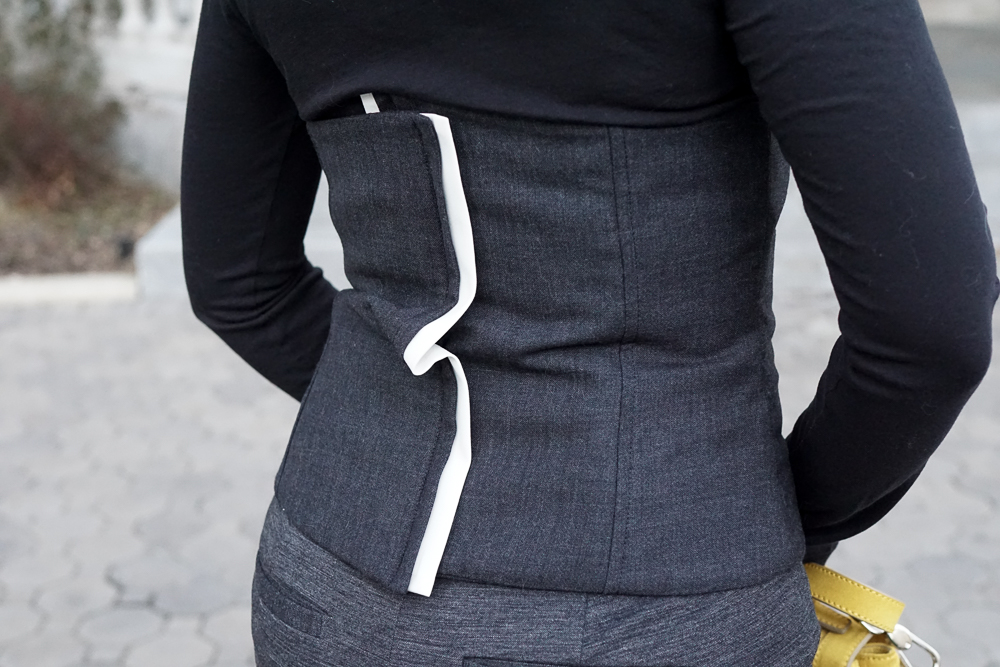 Top: Jacquemus Flamenco Top; Tee shirt: JCrew; Pants: Ann Taylor; Shoes: Coach; Bag: Barbara Bui

And now, a few miscellaneous items . . .

An Apology: The site was mysteriously down last Thursday and Friday. Even I, the C.E.O. of Directrice Global Industries Ltd. was locked out while my website designer/trouble-shooter tried to diagnose the problem. As a result, Thursday's post did not go up until late Friday. I apologize for breaking the schedule . . . but this is a good time to remind visitors that you should always scan the home page digest, which lists the ten most recent posts, for any that you might have missed.

Self-congratulation: I visited the Shopbop sale last week and saw this dress. You saw it here first.