I have three sets of clothes: summer, winter, and in-between. The in-between clothes live in my bedroom closets year round, but the summer and winter clothes have to take turns. The process of switching them out is a semi-annual ritual that involves a surprising amount of physical labor and even more mental anguish.

No small part of the physical labor and mental anguish is caused by the fact that I try almost everything on — to make sure that it fits, that it is in good repair, and that it is still loved, or at least liked.
Imagine my horror when I realized that
this dress
was too short.
Note that I described my reaction as
horror
and not
surprise
. At the end of last summer, I made the mistake of disobeying the care label on this 100% cotton dress — which said DRY CLEAN ONLY — and threw it in the washing machine. It came out weirdly wrinkled and noticeably smaller than its sister (the
raspberry sorbet
version). I sent it to the drycleaner hoping that it would come back smoother and longer.


It did not. It came back smoother, but not longer. So I folded it up and put it in the giveaway pile. And then I had an idea: I could layer it over another dress!

Why not? I had just the dress for this purpose.



When I bought this slip dress back in 2016, I was uncertain about the length, but decided to wait and see. After this summer's wardrobe audit, I brought the dress to Fatima with instructions to take it up to knee-length.




Such vision! Such foresight?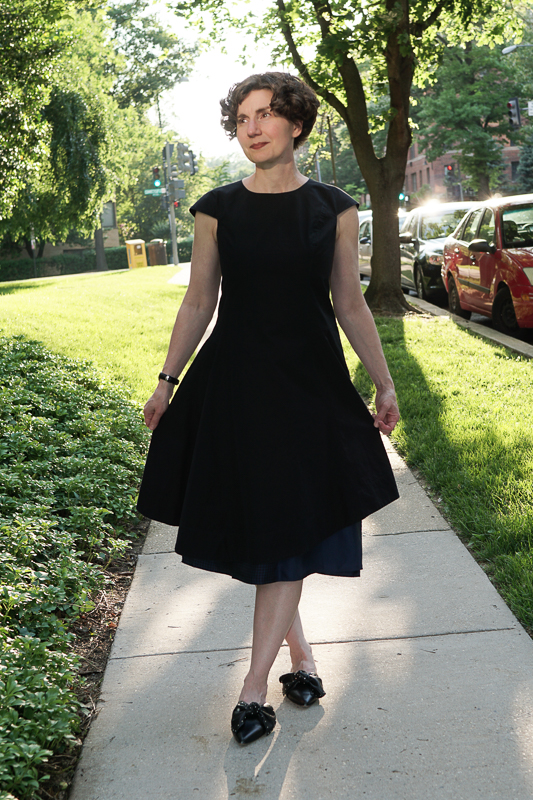 I think this is an interesting combination on a couple of levels. I love the inky blue paired with black. I like the menswear patterns combined with a feminine dress. I am intrigued by the layering of these distinct shapes — particularly because the black dress has such a definite form.



The black dress is stiff and angular — and moves out from my body a little like a 17th Century skirt over panniers. Sort of. The slip is fluid silk.

In a perfect world, the slip would be ingeniously sewn on the bias to create a fluted skirt that would relate to (not parallel) the lines of the dress, but achieving that effect would cost far more than I am willing to invest for a gesture that only you and I would appreciate.



To the left, you can see that I am accepting the path of least resistance and cost. Perhaps we will revisit the shape of the slip dress in Summer 2020?


Let's take a moment to appreciate the mules, which have insinuated themselves into anoher outfit. I wore them Monday-Thursday last week.


The only drawback to this pairing is that I look kind of pregnant in profile. I am not pregnant.

The over-dress is a loose fitting, vaguely trapeze silhouette. The under-dress is lightweight but voluminous. In ideal circumstances, the over-dress would constrain the under-dress; here, instead, the under-dress is inflating the over-dress. Hmmmmm.


Nevertheless, I think this works — and it prolongs the life of my black cotton dress until I can devise a better solution.

Dress: Jil Sander; Slip dress: Helmut Lang; Mules: Rebecca Minkoff
* I brought four old pieces to Fatima for tinkering. More to follow.