Typically, I start these posts with a completed outfit and then break it down. Today, just for variety, we are going to build an outfit up.



We start with a lightweight blouse, which is perfect for layering.

This one, from Y-3, is made of 100% polyester — but it's very fine and has the weight and feel of a silk-cotton blend. How polyester can have so many faces is quite the mystery to me, but I have to assume that it relates to the gauge of the fibers (is it thread? is it yarn?) and the pattern of the weave.

The cut of this blouse should work under a sweater even though it is voluminous because of (1) the split hem and (2) the pliable hand. We'll know soon enough.


Before the reveal, just wanted to show you the yoke, which bears Y-3's motif — three little stripes.
And now . . . Step 2: A cozy, shrunken cardigan. Just the thing to wear over the blouse. The blouse is constrained, but hardly a hostage. If you don't believe me, ask the blouse yourself.




We could stop here. Indeed, I did stop here and wore this to the office on a quiet day a couple of weeks ago.

Or we could make it beTTeR.

Before we make it better, please look at the buttons. The ones that came with the sweater were very pedestrian and also black — which seemed limiting to me. I replaced them with these elegant Italian buttons from G Street Fabrics.
Step 3: A smart, little jacket.
What could be better than the Stewart plaid? Nothing!


This ingenious little jacket is made of crisp poly-nylon.

I originally thought I would wear it on the weekends, for errands and constitutional walks, but I find that I want to wear it everywhere.
I also had thought that I would remove the chest pockets and possibly the braided trim, but have decided that I love the jacket exactly as it is/was.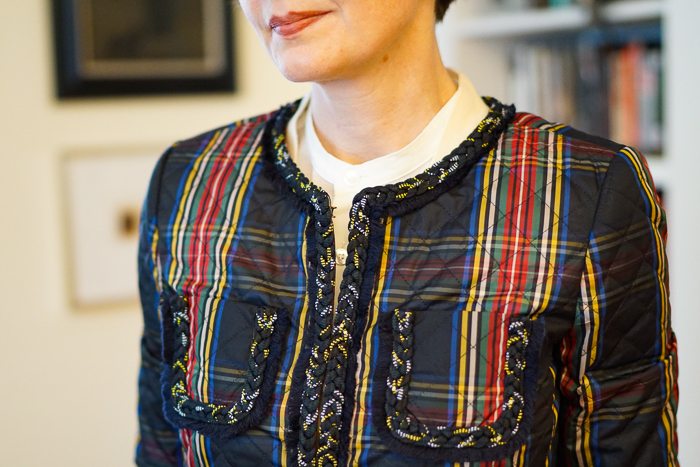 A final observation: A vibrant plaid is delightful, but can be overwhelming in large amounts. This jacket may work well, in part, because of the liberties JCrew took in interpreting this particular plaid. Rather than the traditional red ground (Royal Stewart), black was used, and the horizontal stripes are faint.
To all of you who answered the call and mentioned this blog on social media: thank you so much! I so appreciate your help.
To everyone: Have a fantastic weekend!
Jacket: JCrew
Quilted Lady Jacket in Stewart Plaid
; Sweater: JCrew; Blouse: Y-3
from YOOX
; Corduroys: Talbots; Bag: Coach; Shoes: Lazio Collezione