Before we begin, a micro-plea . . .

Dear Directrice Readers: One of my 2017 resolutions is to increase the readership of this blog. Could you help me…today? Are you worried that I am about to ask for money? Be not afraid. If you've enjoyed this blog over the past two years, would you post a mention of it to your favorite social media outlet — Twitter, Facebook, or Instagram? Or post a comment on another one of your favorite style blogs encouraging readers to visit? Or, bring in one solid reader-friend. Thank you! Most affectionately yours, The Directrice
Like all of you, I check a number of news sources every day. I start with the hard news (the New York Times) and end with lighter entertainment (Go Fug Yourself) and hit about eight other sites in between, which include a few style blogs.


While news-gathering several weeks ago, I saw a striking outfit — a blue pinstripe blouse with gigantic balloon sleeves under a short-sleeved, grey boucle sweater with black trousers.

This memorable photo was a street-style picture, not an ad or op-ad post, so I couldn't track down any of the individual pieces. I also can no longer find the photo. Here is the best that I could do: my own black sweater, my own grey trousers, and a blue blouse from ASOS. Not bad.

I have also thought about wearing this blouse and pants with one of my DSquared2 double-knit tops —
grey
or
black
— but I am not sure if the blouse will fit smoothly underneath. Those double-knit tops are very snug.


This blouse was completely boxy when I bought it, so I presented it to Fatima and asked her to add some darts to it.

I may be completely delusional, but I think I could have done the work myself* if I weren't so afraid of my new sewing machine. I say "new" machine, but I actually bought it in 2008 and have been tip-toeing around it ever since. I know exactly when I bought it because I was working on a sewing project and trying to understand the scary new machine while watching President Obama's first inauguration on television. It was a very happy day.


This shade of blue is refreshing and (I think) flattering to many skin tones. It looks beautiful with black, grey, tan, and white.



What have I wrought? Let's break it down.

We have a high Victorian collar.
We have an awesome brooch.

I bought this brooch at the Washington Craft Show in 2005 or 2006. The bulbs at the center are actual tiny lightbulbs.

Here, a pitch for independent artists who hand-make jewelry: We should support them!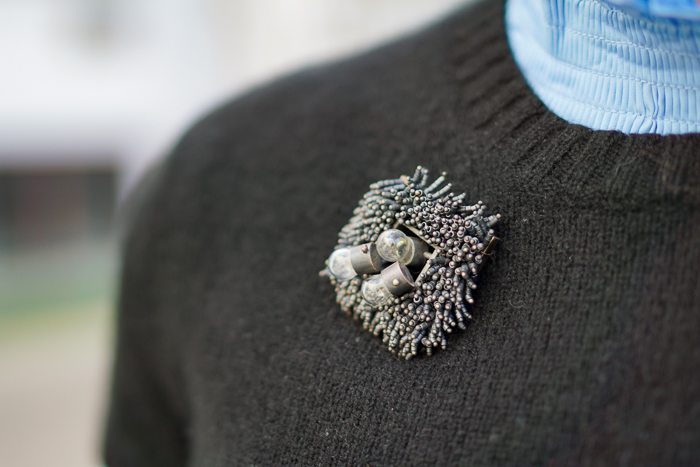 And we have the centerpiece of my vision: poofy sleeves.

These sleeves will probably be out — scorned and reviled — by AW 2017 and then I will feel so foolish. But for now, fun! Right? Just don't buy the $800 version of this blouse, O.K.?
Blouse: Style Mafia from ASOS; Sweater: JCrew; Pants: JCrew; Shoes: 8 from YOOX; Bag: Coach Gramercy Satchel; Brooch: Karen Gilbert (visit her website
here
and see many beautiful things)
* To be clear, I could not have sewn the darts well enough to wear the blouse without a sweater over it. I could have done
a crappy job
that would have achieved my chief purpose: to slim the blouse down
so that
I could wear a sweater or double-knit top over it.
** Don't let an unnerving closure put you off, though. The independent artist is often willing and able to modify her design to make it a little more user-friendly and is interested in customer feedback.