Today is my birthday and I am 46!

For any younger women reading this blog, let me assure you that good things come with age and that your 40s will be a terrific decade. Just be certain to wear sunblock while you wait for the wisdom and confidence that come with experience.



I bought this jersey and satin top a couple of years ago (2013?) and it remains a favorite. The peplum is so divinely full — six panels, bias-cut — it almost feels like a little skater's dress.

The craftsmanship is also very fine; it could almost be worn inside out, so beautifully is it finished. You know I dig that.


One of the downsides of aging is that my vision has abruptly gone from 20/20 to . . . something else. I need reading glasses now and send the most alarming emails and texts from my iPhone if I am not wearing them.

I bought these pants thinking that the tuxedo stripe down the side was satin, but found when I got them home that it was leather. You could fairly ask why I didn't try them on or at least touch them before buying them. I have no good answer.

I must admit that the leather detail is very cool and adds a little unexpected edge.
But back to the plus-side of the ledger! Age has given me the moxie to wear this bizarre necklace, and the dignity to carry it off. I think.
For those who haven't read my thoughts on the power and the glory of
The Conversation-Stopping Necklace
, you may enjoy this earlier post.
Don't be shy. Come a little closer.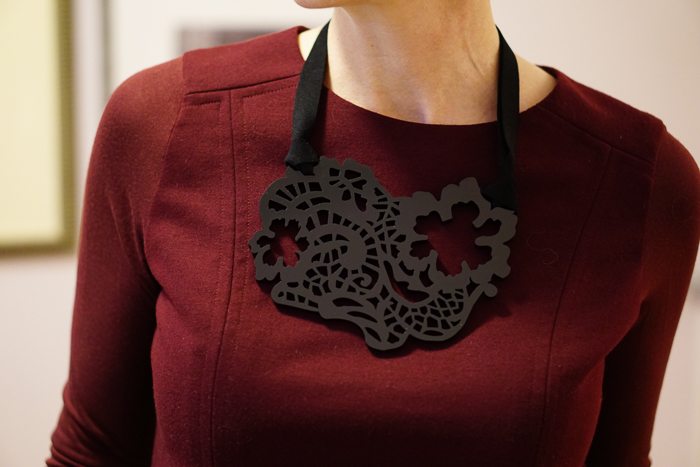 I spied this necklace while walking around Piazzo Tasso in Sorrento, Italy. I spied it from a distance of at least 20 feet, across a busy street, while walking briskly. That's what I call arresting.
Top: Julie Haus; Pants: JCrew Campbell; Necklace: Mimimimosa Pizzo; Shoes: French Sole New York