A robust cohort of The Directorate — representing two continents and four countries — met on Zoom last Saturday. It was an event. Life-changing advice was dispensed (and not just by me)+ and many appreciations were offered (from me to readers, from readers to The Photographer and me, from readers to one another), so I'd say it was a great success. I had a wonderful time and was so delighted to match faces to names, including those belonging to some long-time readers.



One topic that we did not delve into was pandemic-related eccentricity. Perhaps that's a topic best saved for a post-pandemic meeting . . . when we'll know whether the eccentricities have hardened into personality, lifestyle, or habit.

For me, wrinkled khakis have become the norm. I apologize, but it's just the way I live now.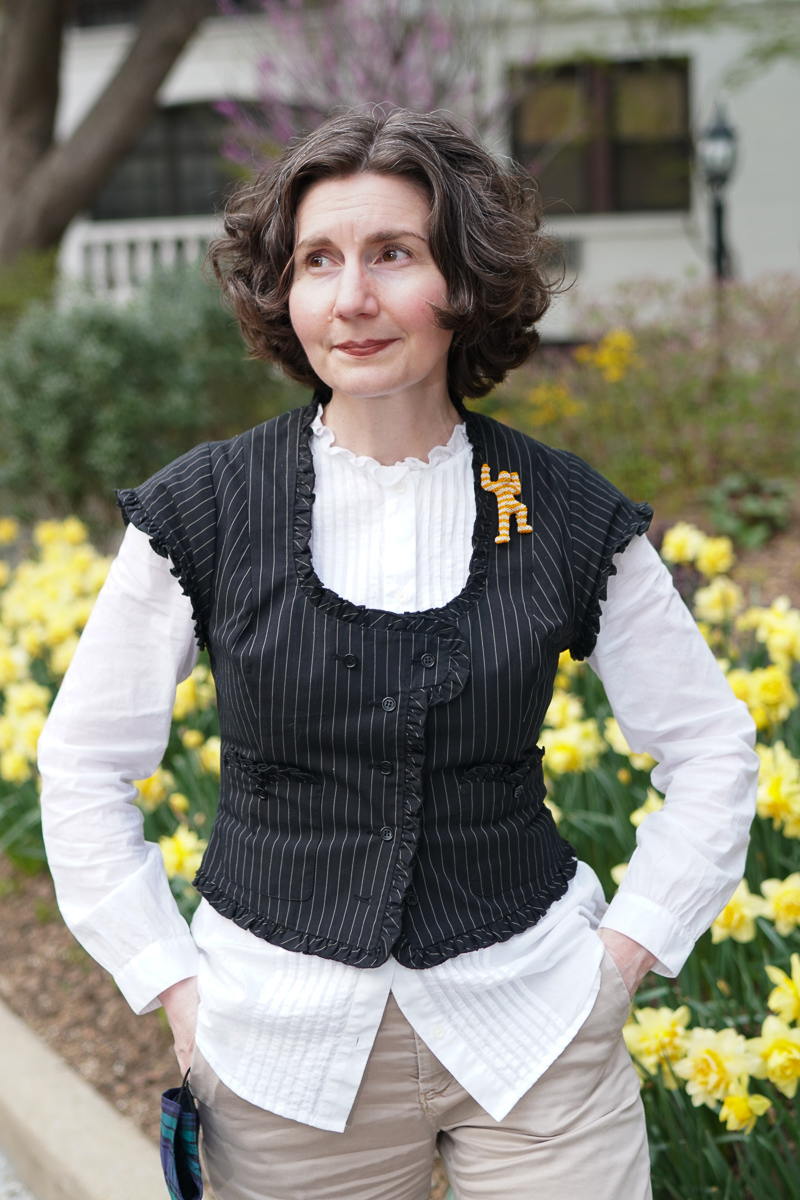 We did discuss the "Zoom frame" and what looks best on camera for work meetings and presentations.

Brooches, as you know, have carried me through the last year . . . and I am counting on today's brooch to obliterate my wrinkled pants from your mind. If I may say so, this one is pretty fantastic.

Meet Climbing Man.



Is Climbing Man delighting you? Because he's been delighting me for weeks.

Would I wear this court? No. Absolutely not.

Would I wear it to meet with a client? No. Well, maybe one client. There is one who would get it.

Would I wear it to any other meeting? Oh yes. Have already done so.

There is something funny and winsome about this little figure. I love the little graphic punch of his stripes. I love that he is climbing up my vest. He could be part of the Internet, hand-delivering a few thousand bytes of information.
Come closer for some beholding.
This piece was made by an artist,
David Chatt
, who makes jewelery and small
objets
with glass beads. He takes small toys and trinkets and covers them with glass beads, which are sewed together and into place by hand.

I'll pause in my discussion of the brooch to note that WFHing prevented me from rushing this vest to Fatima for alteration* — and I think that's a good thing. My initial impulse was to trim and reshape these cap sleeves into shoulder straps. But now I think they are perfect as they are.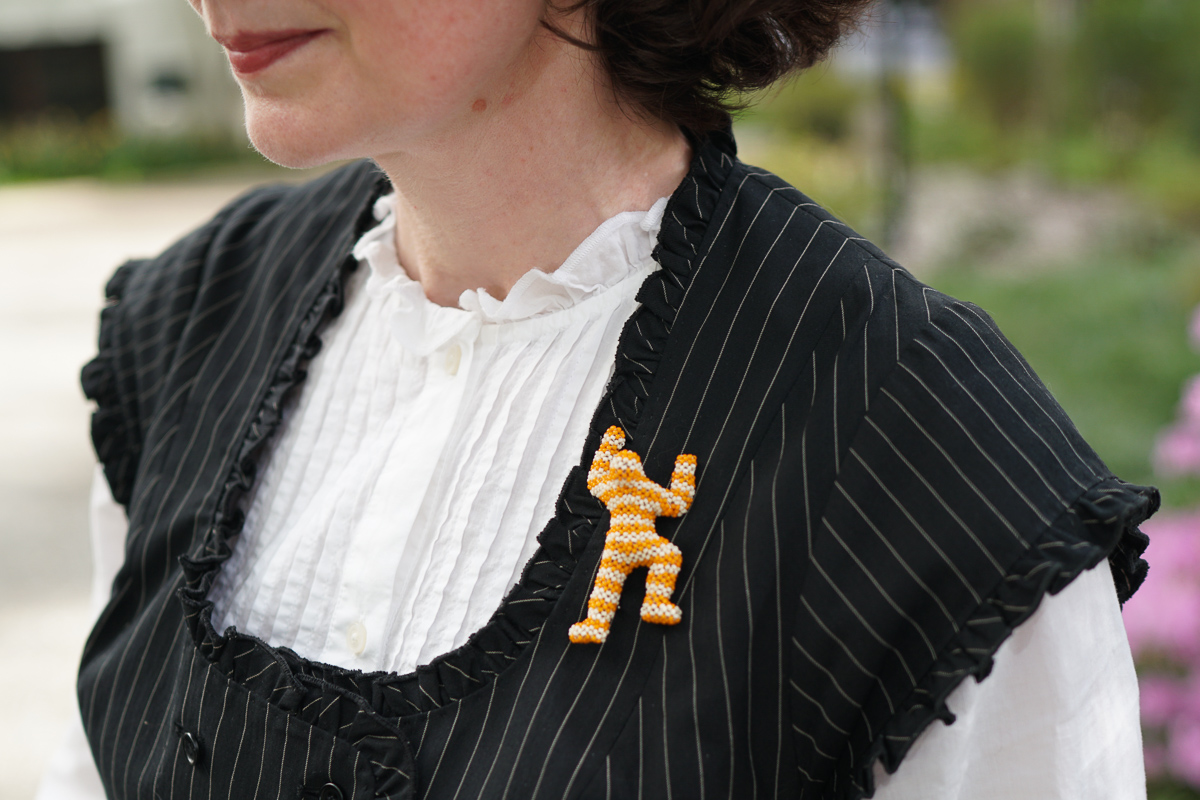 I feel like Climbing Man could become my confidante. Possibly my alter-ego.
Blouse: JCrew
Ruffleneck Tuxedo Shirt in Lightweight Cotton Poplin
(Note: This shirt is one of my few new clothes purchases of the last year and it's terrific. Also, it's on sale.); Vest: Paul Smith; Super-sad Pants: Banana Republic X LightRoom; Shoes: Rebecca Minkoff; Brooch: Climbing Man by
David Chatt
represented by
Sienna Patti
+ Good luck at your job interview, Marie! Let us know if orange carries the day.
* Fatima and I had a splendid Zoom
tete-a-tete
last week. I mailed her a box of clothes — pinned by me and accompanied with primitive diagrams — and everything came back today, perfectly altered.