It's another casual Friday. In Washington D.C. during the summer, that means layering for extreme temperatures: 100 degrees outside, commercial freezer inside.

This jacket, from Benetton, is a workhorse that's been in my closet for almost 12 years. The color is a buttery tan, which is flattering to the complexion, and the button tabs at the waist give shape.

I sometimes wear this outfit when I am traveling because I like each of the constituent parts and therefore am likely to mix them into other outfits. But for travel, I add one more piece: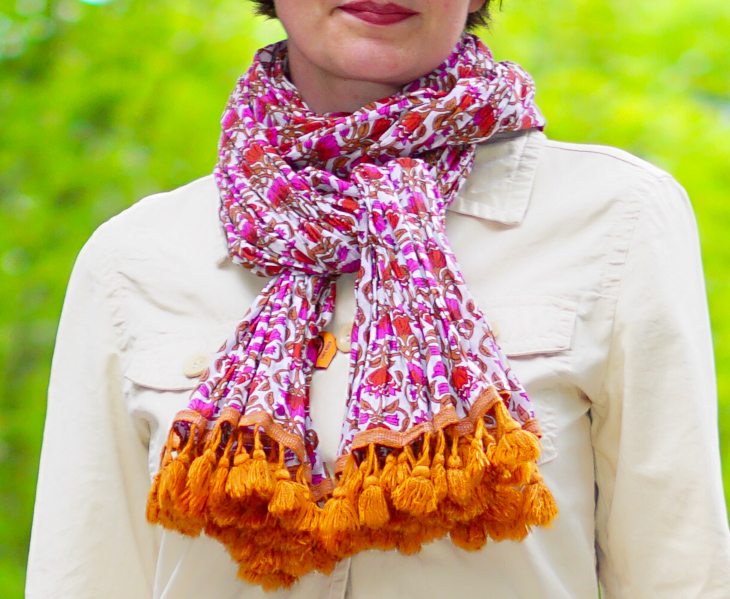 Everyone loves this scarf.
Wearing this scarf to the airport is a form of public service; the scarf spreads good cheer over a pretty dismal scene. A baby can have this effect, too, but at the airport babies seem to inspire cheer and apprehension in equal parts. While there is little better than a chortling baby (perhaps
a baby panda
, rolling around?), babies have been known, on occasion, to undergo rapid emotional reversals and express dissatisfaction without inhibition in close quarters. The scarf, however, is like a rock, so even weary flight attendants brighten when they see it.
Have a fantastic weekend!
Jacket: United Colors of Benetton; Top: Blaque Label; Jeans: Lucky Brand; Scarf: Tory Burch: Bag: Tory Burch York Buckle Tote in Pale Oak; Shoes: French Sole New York; Watch: Michele Serein 16