Continuing our awkward transition from winter to summer, I am relying heavily on cropped trousers and m' little mules.




It's too soon for sandals. Plus, the sandals are all downstairs, fraternizing with Christmas decorations. And I'm not sure that I will even have the time or strength to retrieve them this weekend.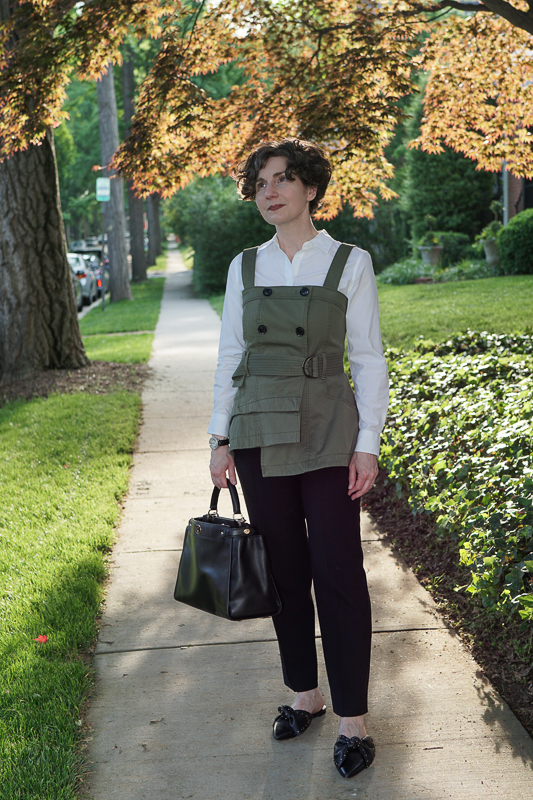 This vest is certainly a three-season garment. With a short sleeved black and white striped t-shirt, it may even appear at the height of summer. Wouldn't it look smart with white jeans?

While you ponder that question, allow me to turn for you. This vest needs to be appreciated from all angles.

Three hundred and sixty degrees is not enough! We must zoom in and enlarge.
I say Best Vest, but it may be
my second-best vest
. It's a close call.

This vest has many charms; pockets are among them.
Finally, the mules that have stolen my heart. I was uncertain when I bought these last fall (
Robe and Slippers
), but that uncertainty has burned off like an early morning fog and is replaced by hot, blazing love. They are still available and I think I may need to buy a back-up pair for future days.
Have a fantastic weekend!
For those who are watching
The Americans
: I haven't seen Episode 9, so please do not give anything away, but feel free to share your
general
Season 6 excitement/hysteria/anxiety about how things might go down. I may have to take the next the week off to wait for Episode 10. The Photographer and I are planning our own fan-fiction episodes to fill the abyss; first, we must learn mixed martial arts, or at least stunt-fighting. (What will the neighbors make of that?) I am hoping Arkady Ivanovich gets his own spin-off — The Rezidentura — in which he behaves decently and is nonplussed by the activities of his staff every week. It may be a sit-com.
Vest: Marissa Webb Lani Trench Vest; Blouse: Talbots Perfect Shirt; Pants: JCrew; Shoes: Rebecca Minkoff
Alexis Mule with Studs
; Bag: Marc by Marc Jacobs