The title of this post may color the way you see what I am about to show you. Try to imagine this outfit in November or February.

I may have gone overboard on Marissa Webb in November. I bought a
black vest
,
an unknowable jacket
, and this fatigue green vest that I have been admiring for two years. (I think it's been two years. She has shown this trench vest or one very like it for the last two years.)
The two vests are investment pieces, sort of. I can imagine wearing them for years and years. They're beautifully made, flattering, and not particularly trendy. I'll be able to wear them year-round — with white jeans in the summer, with black pants in the winter, with turtlenecks, blouses, or tee shirts underneath.


Have we talked about fatigue green and red as a combination?

As every child learns, green and red are complementary colors.

But that's a theoretical principle. On one's person, the relevant questions are: Which green, which red, and how much of each?

I like a cherry red or scarlet with fatigue green. I would be hesitant to pair maroon or crimson with this green* — but I throw that question out to the room. What do you think?

The most important lesson here, however, is at the bottom of the frame. What shoes do you wear when you've combined red, green, and ivory? And a floral pattern? I considered red (too much of a muchness), black, the Dainty Sianos and then I realized there is one clear answer in a situation like this: LeOpARd! Leopard, of course.**
It's quite simple: Chaos + Chaos = Order.
Come a little closer to take in the vest's details. Also, please note that I finally asked Fatima to remove the wing collar on this blouse and make it into a
Mandarin collar
. She and I agreed: Very elegant.
Let's have a moment of appreciation for the tree!
APPLAUSE!
Taking out the ornaments is such a treat every year. I always forget how fun they are.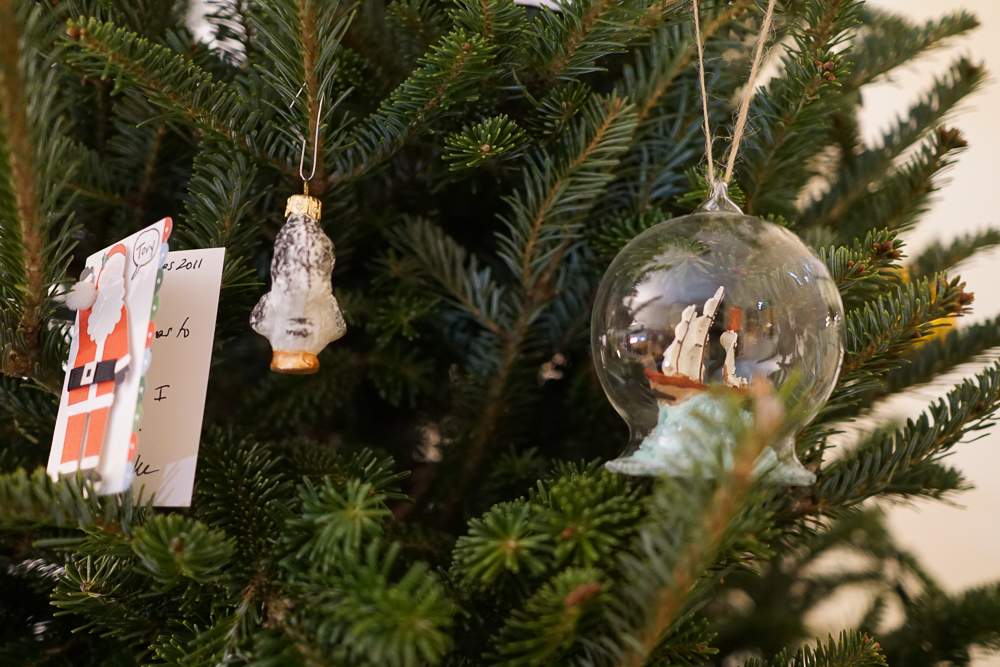 Vest: Marissa Webb; Blouse: JCrew; Pants: Talbots; Shoes: Cole Haan
* I would wear a celadon green with crimson.
** Never forget: Leopard print shoes are
surprisingly useful
.