You've said that you want to see how I re-use and re-wear my clothes. I hope you meant it, because I can't show you new clothes every week. I don't even want to show you new clothes every week because I like the clothes I have now. So, let's visit the crypt today and dust something off.




Last summer (June 2016) I showed you this silk foulard print tank. Look closely; it's there, peeking out from the jacket.

When this photo was snapped, it was 80 degrees (Fahrenheit) outside.



Two winters ago (March 2015) I showed you this black jacket. Even then it was old, but a favorite of mine because of its charming cut, defined but-not-tight waist, and lining (which, admittedly, is a pleasure reserved to me).

By the way, I like still love this outfit. I wore it to court a couple of weeks ago . . . an outing that shall be the subject of a post in the near future.



Many times between these two posts I have advised that the easiest Casual Friday outfit is a smart jacket with a white blouse and jeans. True or false?

True! Now, for extra credit, I've added another layer. Call it a tank, a waistcoat, a vest, or a shell — doesn't matter — the intermediary adds a little color and a little interest.




Is the intermediary necessary? Absolutely not.

But why not? Although you cannot perceive the feel and sound of this tank, it's a crisp silk that whispers when I move around. A little silky whispering improves the day, in my opinion.


The tank is peeking out from the black blazer, which allows the different patterns printed on the fabric to show; you can see the paisley quadrant in this profile shot.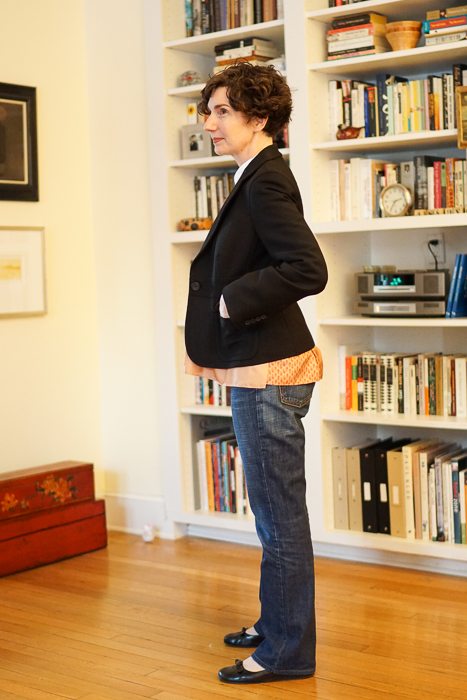 There is a small problem with this tank. It's a little low cut. This problem could be easily fixed by shortening the straps, but that would create a different problem: the overall length of the tank would be too short. Cropped silhouettes need to be fitted, not floaty. I think this is generally true, but it is especially true for me because I only wear cropped tops over longer blouses.



Casual but professional. For an even more casual look, a v-neck cardigan could be worn instead of a blazer.


This jacket looks good buttoned up. Ideally, a jacket should look equally good buttoned and unbuttoned, but not all of them do. Heavier fabrics tend to do better than lightweight ones when unbuttoned, because the fabric holds a certain amount of structure.



Have a fantastic weekend!
Jacket: JCrew; Tank: Helmut Lang; Blouse; Talbots; Jeans: Lucky; Shoes: Lazio Collezione