Blurry, abstract prints are an exception to my general rule about print dresses. If the print is blurry and abstract enough, it's really not a print at all. It's an uneven solid.



Still, I admired this dress on YOOX and The Outnet for some time before ordering it. It's black and bright blue (International Klein Blue?) with white spots, which look to me like flashes of light. Headlights? UFOs? That's in the eye of the beholder.

When the package arrived, it was so light that I said to myself, Oh no. They forgot to put the dress in the box. I honestly thought that YOOX had shipped an empty box to me.

Think about that: the dress weighs nothing.


What other properties might be associated with weightlessness in a fabric?

That's right. It's see-through. You can see the neckline of my slip through the dress.
Hmmmmm. So it isn't really a dress. It's an overdress. And I need to wear it over something that isn't see-through.


Ideally, I would be wearing it over a black dress cut in the same A-line silhouette, but I don't have one. So I am wearing it over a heavy black slip, which I think works.


The dress can be rendered less risque with a little jacket.

Clearly, once I decided the denim jacket was appropriate for the office, a see-through dress was only a half-step behind. This is what we call, in the law, a slippery slope.

When the weather turns to summer, this dress will be perfect with some black platform sandals.

If I'm not wearing a jacket, the dress might benefit from a necklace. Not just any necklace. A special necklace. A necklace that can speak to the flashes of light.

I think we can agree that only one necklace will do . . .



You do remember this one, don't you?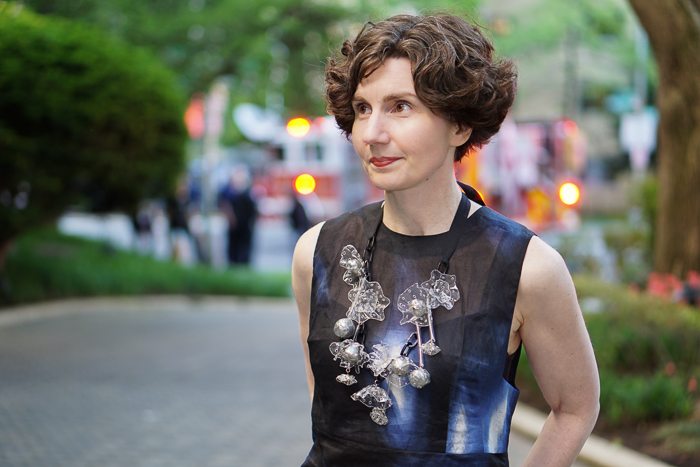 If you are appalled, may I suggest that you take a step back and take a second look?

The overdress and plastic jewels are kind of made for one another, which is not surprising because they are both Marni. Seeing that in print makes me feel like I took the easy way out — but the dress and necklace are from different seasons.
I thought I'd written about Laurie Colwin before, but I did a search of this blog for her name and nothing turned up, so I will now recommend for your summer reading . . . the exquisite short novels of Laurie Colwin. I would start with Happy All the Time (which will make you happy) and then read Shine On, Bright and Dangerous Object (which which will make your heart ache), and then Family Happiness (which you will find reasonable and civilized, although you may be surprised to find yourself finding it so). After that, I leave the choices to you. She writes beautifully about human relationships and domestic arrangements — and by domestic arrangements, I mean table linens and meal planning. Her two volumes of food writing are also charming. Enjoy!
Dress: Marni from YOOX (still available, does not run large — I am wearing a 6 — also is FINAL SALE); Slip: Calvin Klein; Shoes: French Sole New York; Necklace: Marni; Bag: Marc by Marc Jacobs Natasha Crossbody