A colleague recently gave me a beautiful necklace of fabric covered beads. She knows that I love vintage textiles, unusual accessories, round things.



The beads were very pretty strung as a single strand (16 inches long), but it occurred to me that if the beads were clustered they might have an even greater visual impact. And none would be hidden from view at the back of my neck.

It was easy as pie to snip the existing cord, re-string them in groups of seven on three strands of . . . dental floss . . . and anchor the new strands to the original findings. I did it in fifteen minutes while sitting on my bed under the reproachful gaze of Mr. Orange.




A patient woman might have practiced with dental floss — the material I had on hand — and then gone to a bead store to buy a proper stringing material before wearing the necklace in public, but I am not a patient woman.


I didn't just wear this dental floss necklace to work. I also wore it to a D.C. Bar meeting.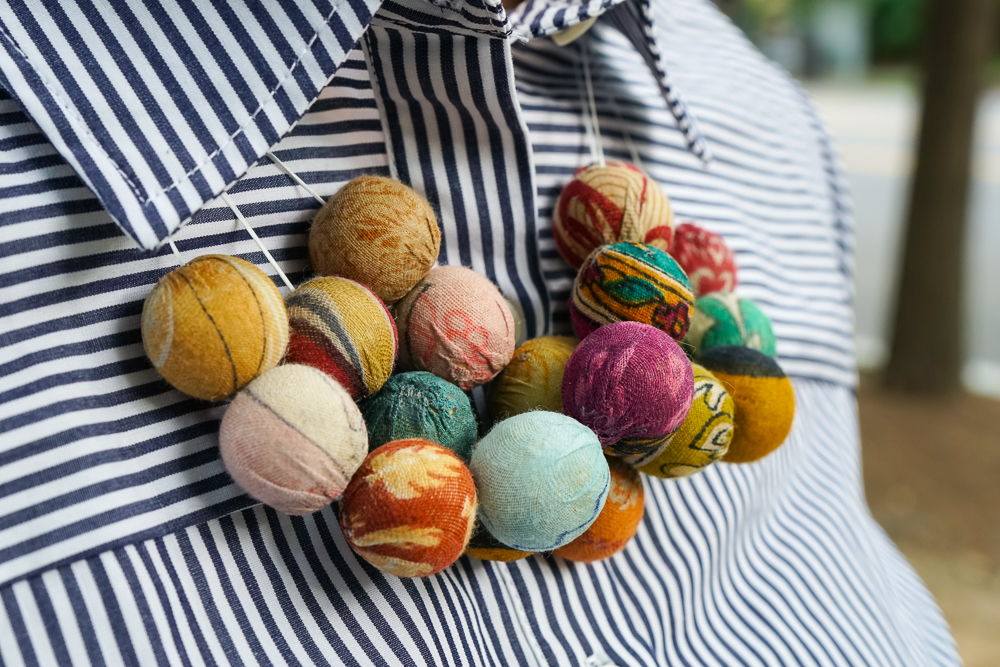 So much to love in this necklace: the vintage prints, the shape of these beads, the marvelous combination of colors. It's perfect in every respect and especially lovable for its quirky, unstudied perfection. You will see it again this summer.
Today, it's paired with another unstudied charmer: a pinstriped shirtdress, which fit perfectly, straight off the rack.


I think I advised you to buy this JCrew shirt dress several months ago.

I hope you took my advice. It's very well cut.

Unfortunately, I think it's sold out now.


I am not sure if a bow at my waist is overkill when combined with the necklace — but I think it's O.K. The weight of this fabric is perfect for tying a jaunty bow.
Have a fantastic weekend! Watch
Fleabag
.
Dress: JCrew; Necklace: A gift, but you can find fabric-covered beads on Etsy; Shoes: JCrew; Bag: Sophie Hulme