SO much ground to cover in this post.





First things first. Emerging from pandemic isolation (for real, this time), my love of grey flannel is stronger than ever.

I bought this Jil Sander dress from The RealReal at some point in 2021, knowing that eventually we'd be high-stepping down to the Metro together.

That day arrived a couple of weeks ago, when I was scheduled to work downtown and take a colleague out for a celebratory dinner at Tosca.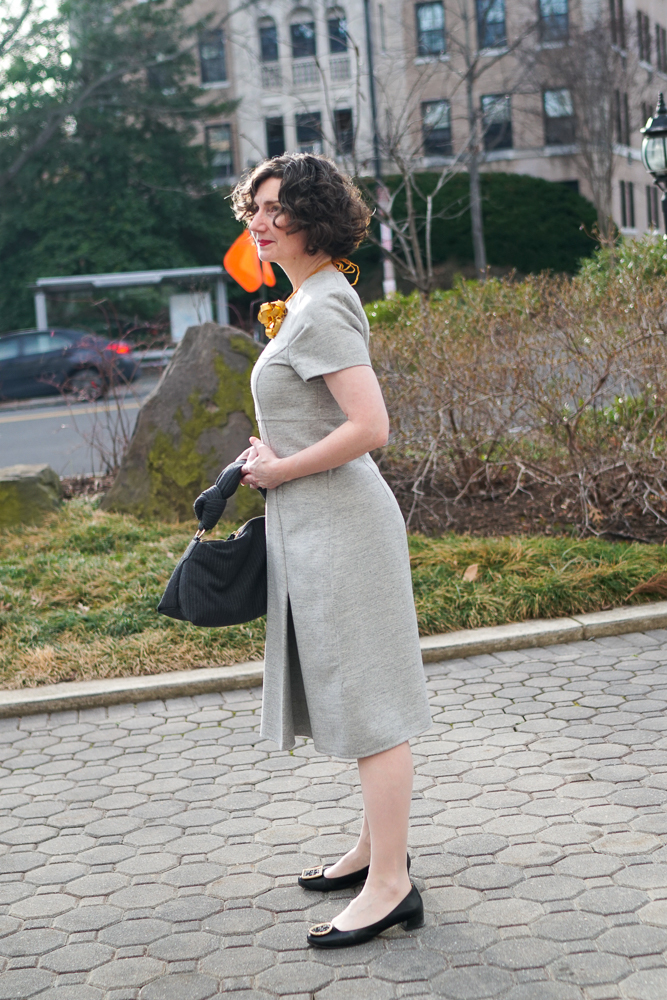 I'd loved this dress, described as "compact" wool flannel, when it was released by Jil Sander in 2015 or 2016, but I couldn't decide at that time whether I wanted it enough to need it.+

I'm not saying it's the most flattering thing I've ever worn. But it is, as Fatima and I say about all of my directional, purposefully ill-fitting clothes, it's very European and that is pleasing to me.



Perhaps you are thinking, "It's a little stiff and wide Directrice and makes you look like a dingy iceberg." Let me assure you: It was much wider when I got it.

Fatima added a diagonal seam from the waist to the hip and folded the excess fabric into a generous pleat.



Please take note of the horizontal seams across the bodice, the vertical contouring seams (adding a little modest shape), and the pinch pleats shaping the sleeves.

Charmante!
This. This bling-tastic necklace.
Gold looks beautiful with grey. You heard
my views
on this long, long ago.
You've seen this necklace
before
.
But in the intervening years, I decide to play with it.
I was inspired by some of Lynn Latta's beautiful ceramic sculptures and decided to pinch and bend these links to create a more compact, abstract pendant.
I think it suits my style better than the large links.


Finishing things off, a grey flannel, pinstriped bag.
Switching gears! It's been a
long time
since I posted any outerwear and winter accessories. My definitive guide to winter coats is here. You may find some exceptional bargains (Max Mara and Cinzia Rocca are my favorites) at the tail end of the season.
This orange beret is the perfect antidote to bleak winter days.
I wrote a post
on hats
several years ago. All but the brown cloche are still in rotation, and I have added a few new ones since. I have to keep my hat game going, you know.
I feel 95 percent certain that this Harris Tweed fabric tag is an intentional design element. It's tightly top-stitched on all four sides of the label. A visible fabric tag (typically seen on jacket and coat sleeves just above the wrist) is usually oblong and lightly tacked down with a couple of invisible stitches on the short ends.

The Photographer is not convinced.
Dress: Jil Sander from The RealReal; Bag: Dries Van Noten; Necklace: inspired by
Lynn Latta
; Hat: Weekend Max Mara (Winter 2021/22)
+ Can we agree that "want" turns to "clinical need" when the desire for a material possession intrudes on one's thoughts every night during the wind-down portion of the day (when you should really be looking at cat videos).
++ This was Fleabag's attempt to stop her sister's perseverating about an unfortunate haircut.