As if my complex relationship with printed fabrics weren't a heavy enough burden . . . now is as good a time as any to confess my weakness for brocades.
So much to love about brocades. They're:
shiny, except when they're plush and that's good, too;
complex;
rich!
But . . . they are also busy and stiff and look better on sofas than on people.

And yet . . .


The heart wants what the heart wants.

I'd love this skirt on the basis of the brocade alone . . . but there's more. Jacquard!

This skirt defies logic. If I were wrapped and covered in brocade, I would be overwhelmed by the pattern. Similarly, if I were wrapped and covered in this stiff jacquard, I would be overwhelmed by the fabric. Thusly, I should be overwhelmed by this stiff, busy skirt. Instead, this patchwork of busy and stiff fabrics strikes the perfect balance, which is particularly mystifying when you consider that the seams and contrasts of pieced-work add another dimension of visual complexity. So interesting, how the eye is fooled.


The brocade is a dark, inky blue and the jacquard combines dark grey, navy, and royal blue. Perhaps the skirt would look best with an inky blue or dark grey sweater, but I don't have a fitted sweater in either of those colors, so I've paired it with black.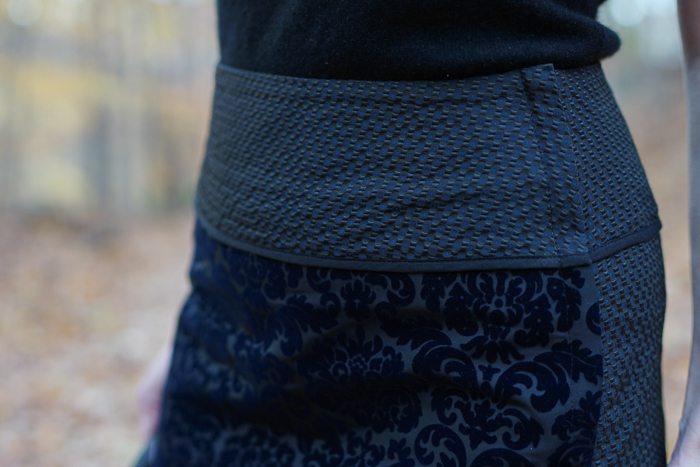 I am a little embarrassed (un peu) to admit that I have three fitted black sweaters — but each has a different neckline, sleeve, and silhouette. I tried all of them and decided the shape and length of these little cap sleeves worked best with this a-line skirt.

I also wavered on whether or not the sweater should be tucked in. Although I was concerned that the skirt's yoke would create too many horizontal lines (shortening lines!), I think that the look is more polished when the sweater is tucked in. Taking a step back, it kind of looks like a sumptuous dress.

Perhaps you are wishing that you could see photos showing the rejected sweaters and the untucked silhouette? Good idea! If only I had thought to take such pictures.
Would you like to see the piecing and asymmetry in this skirt? Should I turn to my left?
Skirt: Hache from YOOX; Sweater: JCrew; Shoes: Tory Burch Twiggie Mismatched Low-heeled Pumps; Bag: Coach