One last transitional fall look, even though we are a couple of weeks past the actual transition from summer to fall . . . and arguably are moving from fall to winter.



I am wearing black cotton: a cotton jacket with a little sheen to it (and white top-stitching)
with a black floral sleeveless blouse underneath.

The top-stitching gives me pause. It reads "spring" to me, but I bought the jacket last January on sale with 2016 A/W merchandise. I am going to ascribe this dissonance to the label — Comme des Garcons — which has never seemed overly concerned with minute, bourgeois considerations like, "Is this flattering to the figure?" and "Where would anyone wear it?"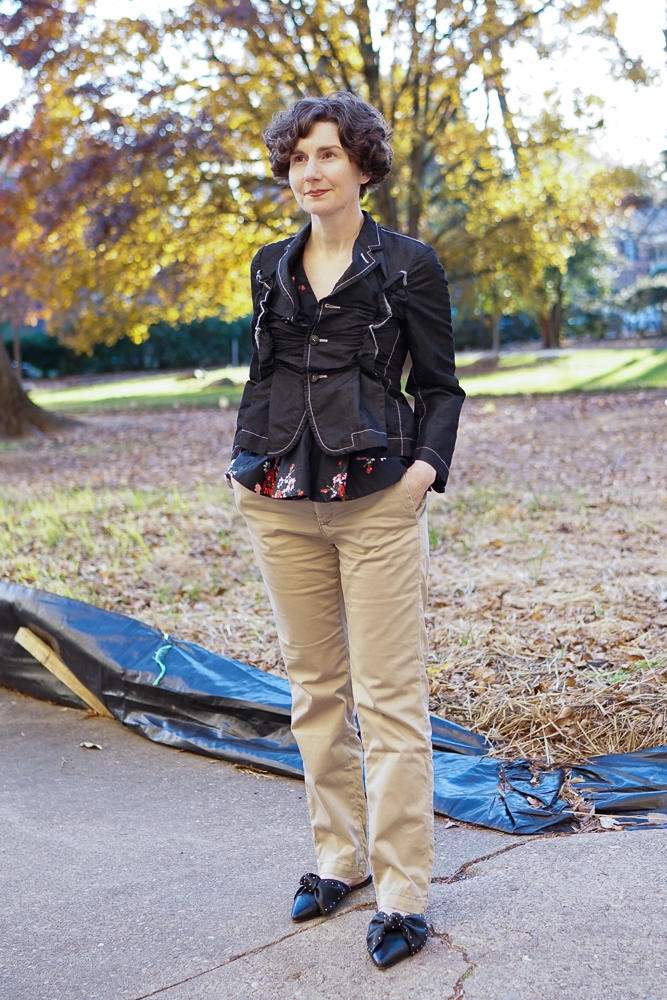 Is the creative force behind the label fretting about whether white top-stitching reads spring v. fall?


Thus, here I am in my ruffled, ruched, top-stitched jacket . . . wondering whether it is better to side with Washington D.C. or Comme des Garcons.
My initial thought was to wear this jacket with a striped tee shirt underneath. But then I thought that the jacket, with its madcap qualities, deserved a quirky friend. Poof, poOf, POOF.


Perhaps you are reading this wondering, Who among us is going to tell the Directrice that her jacket is two, maybe three, sizes too small?

I know! It's bonkers, right? The way it's straining at the buttons and pulling at the vent.



I know it looks absurd, but I swear that I am wearing it as intended. When I received it, I kept going back to the Barney's website to check.


And this is what I saw. A model stuffed into my absurd jacket.

If I am being totally honest, though, I have gained 3 pounds since I bought the jacket last January.**


Unexpectedly, it's not uncomfortable. The fabric is stretchy. I do feel like there is some chance that one of the buttons will pop off . . . possibly with dangerous force.
Jacket: Tricot Comme des Garcons; Top: Rebecca Taylor; Pants: Banana Republic; Shoes: Rebecca Minkoff



* My hunch is justified. In two minutes of research, I learned that this style is called a Pierrot Jacket and was worn in the 1780s and 1790s.

Love the quilted skirt, too.
** Actually, if I am being totally honest, I have gained 5 pounds since last January. C'est un mystere.