As you know, I am an unregenerate tinkerer, always altering my clothes. I often forget to show you "BEFORE" photos and therefore will try to do better in 2017.



This is me doing better.

Writing this blog is an on-going exercise in self-reflection and one of the things that I have realized is that my life, depending on one's perspective, could be described as a never-ending search for white shirts.

The life expectancy of a white shirt is so short that as soon as I buy one, I begin thinking about its replacement.

I found this white dress on YOOX, but I think it will make a perfect white top — to wear under sweaters or jackets.


I fully admit that I appear to be wearing a shower curtain. But trust me; this dress will be an extremely useful and appealing layering piece when it is shortened to the top of my thighs.

Interestingly, the care label has dire warnings. The author did not think it was sufficient to advise: Dry Clean Only. I have additionally been warned: DO NOT WASH IN WATER.
I've read a lot of care labels, and I've never seen that instruction before.

Could there be an eLeCTriCaL cuRReNt running through this dress?
I recently did a Google search for corset-style belts — something wider than a belt but smaller than a bustier — and want to advise you to tread carefully if you attempt the same. You will see a lot of things that are NSFW — NSF wearing to work, N even SF looking at while at W.


Amidst all the cheaply made lingerie, I also found this, and it kind of made my day: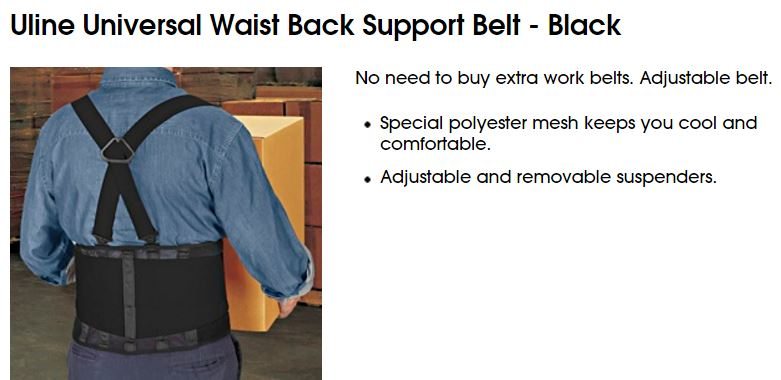 There is a part of me — a big part — that wants to buy this Uline belt and wear it to work
just to see if anyone would dare say anything about it
.




Failing to find anything suitable, and realizing that I was going to wade through a lot of cheaply made garments while looking, I abandoned my Google search and went to YOOX, where I found this beautiful Isabel Marant thing:
This . . . apparatus . . . is made of soft pleated fabric, which is black with metallic threads running through it. It's kind of sumptuous, isn't it?

I am not sure if it is supposed to close completely at the front, or if this gap is O.K. I may have to fix the end of this twill tape closure; it's frayed and, again, I am not sure if that is an intentional design or just damage.
And finally, for those of you who've been wondering about my kitchen chairs: They are here!



Behold!

They are very comfortable. The Photographer likes zipping up and down our kitchen in his chair and I fear that eventually there will be some horrible cat or human injury.

I am quite pleased with them. "Quite" in the American sense — which means "really" (which would be pronounced "rilly").

It turns out that having the chairs upholstered at the factory with my own fabric would have added a couple of months on to the lead-time, so I opted for a Knoll fabric and will have slip-covers made this spring.

After
putting a number of choices in front of you
, I have a new idea for fabric: Satsumi by Donghia.