I wonder about the lives of people who attend lots of formal events. I don't even own a gown . . . unless my wedding dress counts? The dressiest my lifestyle calls for is a shiny knee-length dress.



I do, periodically, need to be a little dressed up. Fancier than business dress, but not formal. For such purposes, I like the idea of tuxedo dressing — but I think that works best on someone taller and leaner than me.

That didn't stop me from acquiring a pair of tuxedo stripe pants last winter.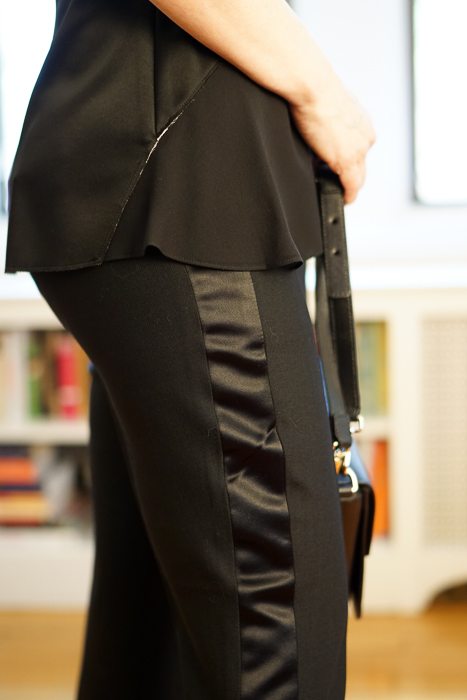 On the one hand, the pants were unnecessary because I already have a pair of black, cropped wool trousers.

On the other hand: satin stripe!



Having established that I cannot pull off the full tuxedo look — think Lauren Bacall — I have reached for my preferred silhouette: sleeveless, defined waist, peplum.



For dressy purposes, I am wearing a top made of chiffon (dressy) and satin (synthetic) fabric. The satin is cut in irregular pieces and then top-stitched together.


If you look closely, you can see a hint of white on the raw edges.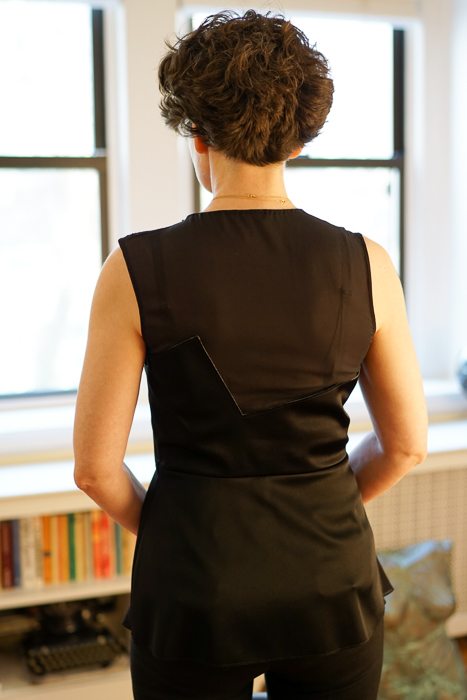 And now a view of the back, which I think is very pretty.

Rightly or wrongly, I wore a coffee colored regular bra (the color of coffee ice cream) under this top after deciding that black bras were more noticeable. In low light (evening!) I think this works. In bright daylight, what would work best? The question is rhetorical because this is not a daytime ensemble.
Have a fantastic weekend!
Top: 3.1 Phillip Lim; Pants: JCrew; Shoes: Lazio Collezione; Baroque pearl necklace: Samira 13; Diamond pendant: Grammy Esther*
* Grammy Esther is my grandmother, not a brand. This necklace was hers.