With my general love of green and my particular fondness for weirdy green, it's surprising that I haven't published more posts on mixing greens. Apparently it's been FIVE YEARS since my last (official) mixed green post. In the intervening years, I gave away the peacock patterned blouse featured in that earlier post. I wish I hadn't. Where is it now?




Easy come, easy go, I guess.

One thing that will never go is this JCrew twin-set in the best shade of apple green.

Apple with loden green. Perfect together.




Rounding things out are platform Supergas in a camouflage print. These sneakers will be handy in case I ever want to appear footless while standing in the grass . . . although I will have to remove my white socks.



All of that is well and good but the real star here is my fine, feathered friend.

One of my male colleagues complimented this brooch, saying that it immediately made him think of Bjork wearing that dress for the Oscars — the one that both made her look like a swan and made her look like she was carrying a dead swan. We agreed it was an unsettling (but unforgettable) look. This brooch, however, he declared was "swan done right."
Technically, this is a whooping crane, not a swan. But I have such a fondness for swans — dating back to reading
The Trumpet of the Swan
in elementary school — that I will continue to think of it as such.
Come closer my darlings, and take a look. This brooch, made by Emily Cobb, was fabricated with nylon and acrylic. It weighs nothing. I could probably wear it with a cotton oxford blouse.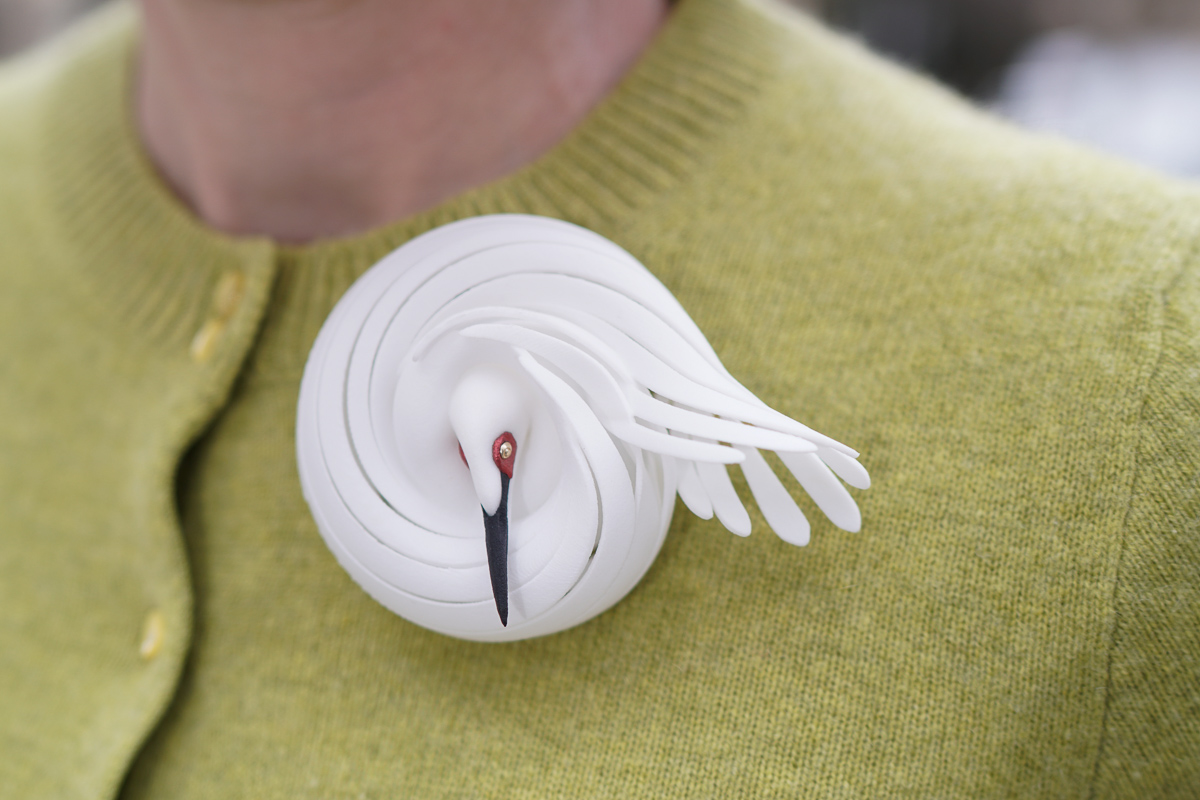 Emily Cobb
is represented by
Sienna Patti Contemporary
in Lenox, Massachusetts. Please take a minute to visit this beautiful gallery on-line and enjoy the beautiful collection that Sienna Patti has curated.
Moving from watercress to flight, I have flying dreams a few times each year and whenever I wake from one, I am briefly elated because I think that I can fly. And then I remember that I cannot. Sometimes, I remember that I cannot fly during one of these dreams and then my flying sputters and turns into something more enhanced like pogo-stick jumping, which can be very alarming.

Do any of you have flying dreams?
Switching gears to the meeting of The Directorate on Zoom: The date is Saturday, April 10th at 8:30 p.m. Does that work for North America and New Zealand/Australia? I will send an invite to everyone who submitted a comment last week saying that she wanted to join. Anyone who missed the first invitation can submit a comment below; just say you want in. And go back to read last week's post!
How is this for format: We'll chat for 45-60 minutes and divide the time between me answering questions (Ask the Directrice about her Middle East Peace Plan! Or for her budget for providing quality long-term care to the country's aging senior population!) and a quick zip around the Zoom-room so that I can be properly introduced to each of you. I'd love to have faces and voices to match with your handles.